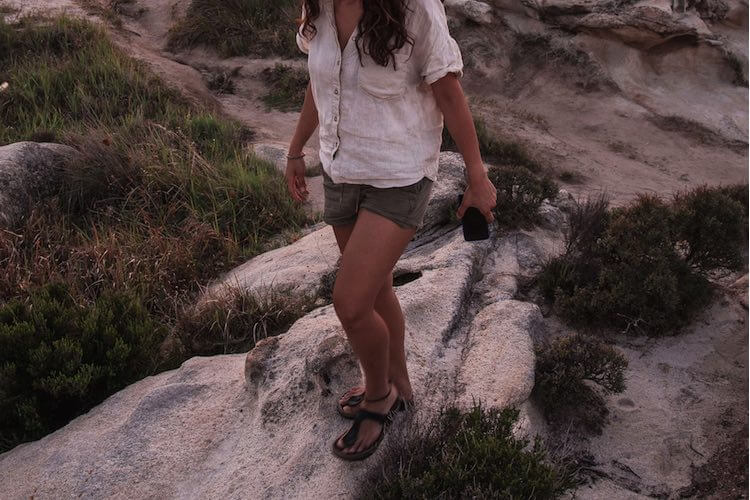 Birkenstock sandals have become the go-to flats for women during warmer weather due to their sheer versatility and timeless design. This is one wardrobe staple worthy of investment as they go with just about everything.
Read on for our complete guide to styling yours for all occasions with these women's Birkenstock sandals outfits, or jump to each section using the links below:
How To Wear Birkenstock Sandals With Jeans
Women's Birkenstock sandals look great with jeans of any colour, the key is choosing denim that sits just above the ankle. Alternatively, roll up the hem of your jeans to showcase your sandals in all their glory. Our favourite model to wear with jeans is the Birkenstock Arizona - showcased in the outfit above. The two-strap classic design is instantly recognizable and will inject some attitude into your denim outfits.
How To Wear Birkenstock Sandals With Dresses
Combine comfort with style by ditching your summer flip-flops for Birkenstock sandals and pair with your favourite summer dresses. They're perfect for all outdoor escapes with the cork footbed constantly conforming to the shape of your foot. Wear yours with a sleeved mini dress for weekend city breaks or with a slip dress for holiday adventures.
How To Wear Birkenstock Sandals With Leggings
Women's Birkenstocks and leggings are the perfect match for both work and play. Keep your summer style game on point at the office by wearing black one-strap sandals with black leggings and a light blue shirt, while jackets tied around the waist will instantly dress down the outfit on off duty days. You can also add texture to the outfit by wearing a leather biker jacket with leggings and Birkenstocks like the look featured above.
How To Wear Birkenstock Sandals With Skirts
Wearing Birkenstocks with a skater skirt creates a super cute outfit that will give you endless options throughout summer. Add a denim shirt for festivals, or keep it boho chic with a Bardot top. Birkenstock sandals work just as well with longer skirts, with the pleated midi skirt outfit above showing how to create an off-duty model look with white Birkenstocks and some shimmer!
How To Wear Birkenstock Sandals With Jumpsuits
Jumpsuits generally look best with heeled shoes but there is one exception – Birkenstocks. The comfy flats are smart enough to wear with a jumpsuit to work and the only rule to stick to is to match the sandals to the colour of your jumpsuit. Follow this and you're guaranteed sartorial success like these Birkenstock outfits above demonstrate.
How To Wear Birkenstock Sandals With Shorts
Birkenstock sandals and denim shorts is a classic look that's not going anywhere anytime soon. If you want to try something new, go for understated chic by opting for relaxed fit shorts teamed up with toe-post Birkenstocks and a high neck top. Choose similar colour hues and when in doubt, blacks and greys are a girl's best friend.
How To Wear Birkenstock Sandals With Dungarees
Add some sparkle to your dungaree outfits by pairing with metallic Birkenstocks for instant shine throughout the summer season. We love metallic styles worn with black denim dungarees layered over a white cami, while short white dungarees worn with a Breton top will create a throwback style that's simply perfect for festivals.
How To Wear Birkenstocks In Winter
Wearing Birkenstock sandals in winter isn't easy, especially when the temperature is in the single digits. No-one wants to freeze their toes off and to put it bluntly, you'll turn heads for all the wrong reasons if you stroll into the office in sandals. If you do want to wear them in winter, this is the one time you can get away with wearing Birkenstocks with socks. The fuzzier the better – just make sure the socks match the colour of the sandals and always opt for jeans over anything else like skirts.
How To Style Birkenstocks For Work
Although most us wouldn't think of turning up at work in Birkenstocks, they can work surprisingly well if you get the rest of the outfit right. The first step is to go for a cropped leg trouser (wide leg styles work particularly well) and always go for non-coloured Birkenstocks. Then add a plain blouse or shirt and layer with a women's blazer when you need to impress.
Our Top Tips On How To Style Women's Birkenstocks
Women's Birkenstock Arizona sandals are the most versatile style and look great for both casual and more formal occasions.


Showcase your Birkenstocks with leggings, jeans and trousers by opting for a cropped or ankle grazer style.


Birkenstock sandals look great with dresses and skirts of any length and are the perfect alternative to heels when you need something comfortable without having to compromise on style.


When you're wearing Birkenstocks with jumpsuits, match the colour of your sandals to the jumpsuit and keep accessories to a minimum.


Metallic Birkenstocks look great teamed up with black and white denim and will instantly add sparkle to your summer outfits.


If you're wearing Birkenstocks to work, always choose a plain colour such as black or dark brown and avoid bright colours.


Winter is the only time you should be wearing Birkenstock sandals with socks, but restrict it to downtime outfits only.