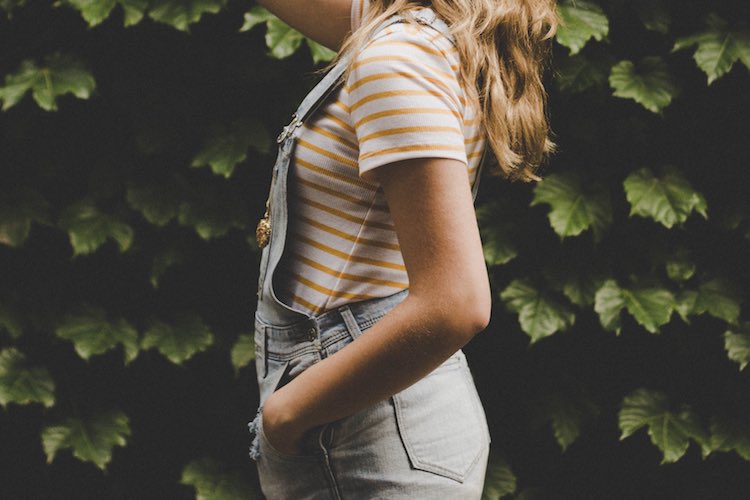 February 21, 2023 |
10 shares
Now a regular feature on catwalks worldwide, women's dungarees have been re-imagined in stylish cuts that are a far cry from the baggy denim overalls of the 90s. There's never been a better selection to find the perfect pair for your wardrobe, whether you're after short dungarees for your summer holidays or high-waisted cuts for 9 to 5 style points.
Not sure how to style yours this season? Read on for our complete guide on how to wear dungarees for all occasions, or use the quick links below to jump straight to the different dungarees outfit ideas…
How To Wear Dungarees
The great thing about dungarees is that they can be festival fierce, cute and girly or office-friendly; all depending on the style and colour you choose. And off course what you wear them with. Take a fresh approach to this wardrobe staple and expand your outfit options by following these stylist tips on how to wear women's dungarees throughout the year…
What To Wear With Black Dungarees
For a daytime alternative to your favourite jumpsuit, opt for long black dungarees and team up with a white top and matching accessories. A monochromatic look works really well, as the black dungaree outfit showcased above demonstrates perfectly.
It's incredibly easy to pull off and the key is to keep it purely black and white throughout. You can also work the trend on downtime days by swapping your sandals for a pair of white trainers. Then add a black biker jacket when the temperature drops.
What To Wear With Khaki Dungarees
Khaki is a great colour for all skin tones, working especially well in summer to complement your sun-kissed skin. Try wearing your khaki dungarees with tan sandals and a basic black or white vest top for easy off-duty outfits, which can be instantly dressed up by swapping your sandals for a pair of heels.
What To Wear With Blue Dungarees
There's a huge selection of blue dungarees both on the high street and online as all of the biggest brands continue to embrace the trend. Like your favourite pair of blue jeans they'll go with just about everything in your wardrobe, quickly becoming one of the hardest working items you own if you know how to style them.
It's all about what you wear under them when you want to mix up your looks from casual to smart. For stylish downtime summer outfits wear a pair of fitted blue dungarees with a Bardot top or t-shirt and complete the look with canvas pumps. Then swap the top for a shirt and your trainers for heeled sandals, court shoes or mules when Monday rolls around again.
What To Wear With White Dungarees
Coloured dungarees may be the classic option but when you want to stand out from the crowd, opt for ecru or white dungarees and you won't be disappointed. These should be your go-to pair for spring/summer only (just think how stained your white jeans get already!) and it's generally best to choose a tapered or slim fit cut on the legs.
Our favourite way to wear white dungarees is with a completely toned down colour scheme – white on white is a tried and tested winner that's not going out of fashion anytime soon. It looks stylish for all occasions and if you want to make the outfit look softer, just opt for cream/ecru tops and accessories instead of white.
How To Wear Short Dungarees
The thicker denim fabric of short dungarees makes them a great alternative to playsuits when you want something more rugged during the warmer months. Wear them with a cold shoulder top and slingbacks for a stylish summer outfit, or be festival ready by teaming up with sandals and a crop top. Checkout more dungaree outfits below to see how you should be wearing yours all-year round.
How To Wear Dungarees In Winter
Dungarees are no longer a no-no for winter. The stylish new cuts lend themselves to wearing with knitwear for a smart silhouette throughout the colder months. Black dungarees are generally the best colour option for winter to hide any stains, but rather than going monochromatic look to greys and tans to inject some colour during the drearier months.
How To Wear Dungarees To Work
With the popularity of jumpsuits in the office, dungarees shouldn't be seen as an option for off-duty days only. If you get cut of the dungarees plus the rest of the outfit right, they can be super office-friendly and will help to elevate your 9 to 5 style game to new heights.
Always opt for high-waisted styles and add a white shirt or Breton top for sartorial success. Then complete the look with heeled sandals or your favourite pair of court shoes. If you do want to wear flats instead of heels with dungarees to work, try a pair of pointed loafers and you won't be disappointed.
Our Top Tips On How To Wear Dungarees
Black dungarees look best with a monochrome colour scheme during the warmer months and are the best option if you plan on wearing your dungarees during winter. The look can be softened by incorporating neutral knitwear into the outfit.


If you're after a classic look, opt for blue dungarees in a standard or short length and team up with everything from Bardot tops to bodysuits.


For stylish outfits throughout summer, try pairing white dungarees with a white or ecru top plus matching accessories. The all-white outfit is guaranteed to take your style to new heights and screams Riviera chic.


Khaki dungarees are great for injecting some attitude into your outfits and have the added bonus of bringing out your tan during the summer months. Just add a black or white tee plus heeled strappy sandals to complete the look.


For office-friendly outfit options, look to high-waisted dungarees worn with a white shirt and heels. Just make sure you avoid any dungarees with distressed detailing and roll up the hems if they're on the long side.