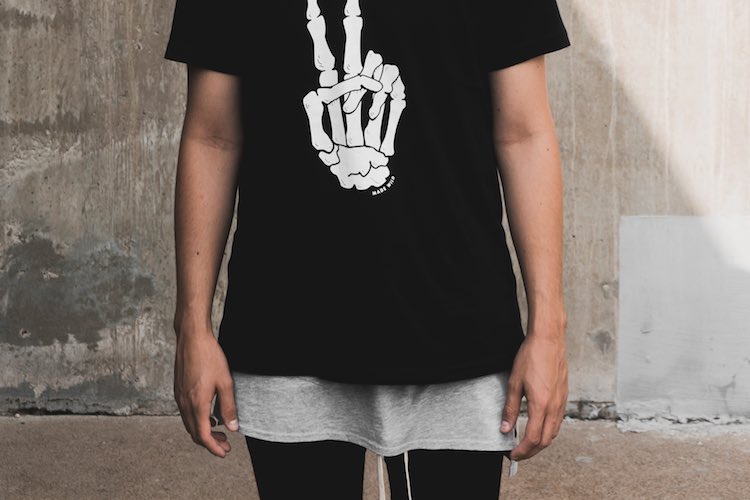 January 30, 2017 |
5 shares
It may have been around for a couple of years but the longline trend has sort of crept up on us as it's now everywhere.
It's not an obvious fashion statement – let's face it, we're talking about slightly long T-shirts here. But it is surprisingly wearable, and has the ability to transform your existing wardrobe by simply mixing up the proportions.
It's important to point out that not everything looks better in longline. Longline trousers, for instance, still look pretty awful.
The idea is to take an item of clothing that is usually worn at a certain length, and make it a little bit longer. T-shirts, hoodies, shirts and jackets have all been swept up in the longline trend, and most high street stores now offer 'longline' collections of their own. Clearly this look is here to stay.
Read on to find out how to wear longline pieces and incorporate them into your outfits...
The Longline T-Shirt
SHOP THE LOOK: Longline Tees | Levis Jeans | Adidas Trainers
This is the perfect entry point to the longline trend. Longline t-shirts shouldn't be any shorter than pocket-length, and they should be slim-fitting rather than baggy.
They work best with slim-fitting or straight legged jeans and a pair of trainers, for a casual, every day look. Longline tees are particularly great for layering. Wear one under a longline plaid shirt or allow the hem to poke out from underneath an oversized sweater, a la Kanye.
The longline hoodie
SHOP THE LOOK: Longline Hoodies | Tapered Joggers | Plimsolls
There is a big difference between 'longline' and 'oversized'. Oversized hoodies are baggy all over, and distinctly unflattering. Longline hoodies are loose rather than baggy, and can actually make you appear slimmer and taller.
The key is to make sure your longline hoodie fits properly around your shoulders and upper arms – this will help balance out your silhouette. If you're wearing your hoodie over a longline t-shirt or vest, make sure the under-layers are longer than the hoodie, so that they don't bunch up underneath and ruin the longline effect.
The longline bomber jacket
SHOP THE LOOK: Longline Bombers | Skinny Jeans | Converse Hi-Tops
We're not talking about full-length coats here – more like a jacket that has been stretched out a bit. Longline bombers are very on-trend at the moment, and they go with just about anything.
Like the classic bomber, longline bombers are made from lightweight material (jersey is always a safe bet), and they have no collar, decent pockets, and some zip details. This makes it a great alternative to your usual trans-seasonal coats (macs, parkas, etc), so you will get plenty of wear out of it.
The longline bomber is its own fashion statement, so keep the colour neutral and the accessories to a minimum. Choose a khaki, grey or black version, and layer over a simple white t-shirt (also longline, of course), and black jeans for a truly modern look.
The longline shirt
SHOP THE LOOK: Longline Shirts | Grey Jeans | Brogues
The best way to approach the longline shirt is to remember that it will NEVER be tucked in. That means it's unlikely to work in a formal setting, so choose a shirt that works well with jeans rather than suits.
Go for a straight-cut shirt in either a plain colour or checked pattern. A simple button-down white shirt looks great over dark-coloured trousers, while a longline plaid shirt is best open, with a plain-coloured longline tee underneath.
While most longline tops work best when layered together, you might want to avoid pairing a longline shirt with a sweater – the 'long shirt hem poking out under a nice jumper' look should probably be left to 90s boy bands.
Our Top Tips On How To Wearing Longline Clothing
Longline tees work best with slim fit jeans and should come down below the pocket on your jeans. Layer underneath a longline sweatshirt when the temperature drops.


If you're wearing a longline hoodie, make sure it's loose rather than baggy as it should still look tailored around the shoulders. Make sure any tops worn underneath are longer than the hoodie to create the perfect layering look.


A longline bomber jacket is a more casual alternative to a trench coat and can be styled with just about anything. Opt for neutral colours to maximize your outfit options.


Longline shirts should never be tucked in and so probably aren't best for a work environment. Go for a white or black shirt teamed up with dark jeans and complete the look with a pair of black brogues.