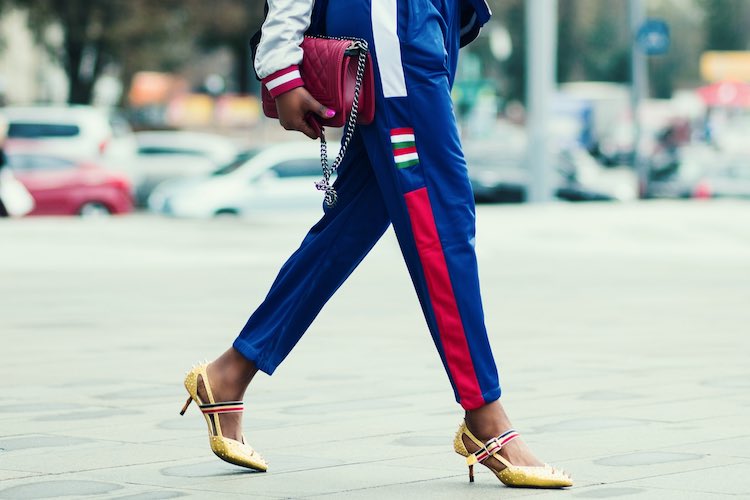 March 18, 2020 |
10 shares
The metallic shoes trend is now officially huge, with all your favourite celebs and Instagrammers alike being papped wearing this statement footwear.
So how do you pull off one of the hottest trends in years like a pro? Read on for our complete guide on how to wear metallic shoes or use the quick links below to jump straight to your favourite style…
How To Wear Metallic Flats
Metallic flats are perfect for adding some sparkle to both your 9 to 5 and downtime outfits. An easy swap for your regular footwear, metallics will look great with most colours in your existing wardrobe. Checkout the different looks for metallic flats below for inspiration this season and beyond.
How To Wear Metallic Loafers
Slip-on metallic loafers offer a great alternative to pointed ballet pumps and look particularly good with skinny trousers. Try teaming up gold or silver metallic loafers with white jeans for a springtime ensemble, or with khaki joggers on off-duty days.
How To Wear Metallic Oxfords
We're loving the range of metallic Oxfords this season and there's never been more choice to choose from. Metallic silver or pink will instantly dress up both black and blue denim, with platform soles offering a couple of extra inches when you need them. Always wear your metallic Oxford shoes without socks for sartorial success.
How To Wear Metallic Brogues
Wearing metallic brogues with a pretty dress or skirt will inject some attitude into your summer outfits while keeping the overall look feminine. We love the outfit idea above, showing less is often more when you're wearing metallic flats.
How To Wear Metallic Sandals
Adding a pair of metallic sandals to your footwear closet is the easiest way to work the trend into your outfits. Gold sandals look great with all black outfits, while also offering a festival-friendly alternative to flip flops. For smarter outfit options, look to one-strap metallic silver Birkenstocks teamed up with grey jeans and a white shirt for office-friendly outfits.
What To Wear With Gold Flats
As the outfit above demonstrates, metallic gold flats are a lot more versatile than you may think. Wear with complementary hues of brown and beige for a toned down look, or with white and black bottoms when you really want them to stand out. The only rule is to not wear gold flats with bright red, as that is one look best left inside Buckingham palace.
What To Wear With Silver Flats
Metallic silver flats generally stand out less than gold, offering a great starting point if you're new to the trend. Try yours teamed up with black or white denim and add pastel shades for easy daytime options, or kick back with silver flats, neutral colours and minimal accessories on downtime days.
How To Wear Metallic Trainers
The metallic shoes trend started with trainers and now some of the biggest names like Converse and Nike have embraced some shine into their latest collections. Whether gold or silver, get inspiration on how to wear metallic trainers with the outfits showcased below.
How To Wear Silver Trainers
When it comes to metallic silver trainers, the shinier the better. If you can, try to get a mirror finish for serious style points and watch as the rest of your outfit is reflected right off them. Wear yours with black trousers and neutral colours during the colder months, while light grey and white should be your go to outfit palette for metallic silver trainers outfits in summer.
How To Wear Gold Trainers
The most stylish way to wear metallic gold trainers is with an all black outfit. Let the trainers be the star of the show by wearing them with black skinny jeans or leggings, a black cami and a black blazer or biker jacket. This look is guaranteed to turn heads for all the right reasons and is so easy to replicate with your existing wardrobe.
How To Wear Metallic Heels
Metallic heels are a girl's best friend, giving you the perfect solution when you're struggling to find a matching pair of heels needed to complete the killer outfit. For formal events, our go to colour is gold but as you'll see below, silver heels won't disappoint.
How To Wear Gold Heels
Metallic pleated skirts are everywhere this season and the outfit above shows how you should be wearing yours. Add a pair of strappy metallic gold heels to up the wow factor and keep the rest of the accessories to a minimum with a gold watch or bracelet to complement the shoes. For less formal occasions, try wearing your gold heels with a blue skirt or trousers.
How To Wear Silver Heels
Mix up your 9 to 5 outfits with a pair of metallic silver court shoes worn with a black midi skirt and plain cami. The outfit above shows how easy you can dress the outfit down with the addition of a denim jacket. Alternatively, wear your silver heels with a blue and white outfit for effortless everyday styling.
How To Wear Metallic Boots
After mastering metallic shoes, the biggest way to make a statement is with metallic boots. There's no way anyone is going to miss them and they'll steal the show every time you wear them. Discover the best outfit options for work and play with our favourite looks showcased below.
How To Wear Gold Boots
The supermodels' favourite, metallic gold shimmer boots add the glam factor to any outfit while giving a subtle nod back to the 80s. Look to a stiletto heel for a stunning silhouette and complete the look with high waisted jeans and band vibe t-shirts.
How To Wear Silver Boots
Metallic silver boots look best in a block heel style and should be a pointed toe to avoid looking like space boots. Team yours up with blue denim for multiple styling options and look to black tops and accessories to keep the rest of the outfit on point.
Our Top Tips On How To Wear Metallic Shoes
Swap your ballet pumps for metallic loafers and team up with skinny jeans for sophisticated downtime styling.


Metallic Oxfords will add some shine to your 9 to 5 outfits, with platform sole styles being the major hit of the trend.


For added attitude, look to metallic loafers and wear with a cute midi dress for summer style points.


Invest in a pair of metallic sandals to dazzle during the warmer months while instantly dressing up your off-day outfits.


Aim for mirror finish metallic trainers to work the trend like a pro into your wardrobe and wear with cropped trousers or skinny jeans for sartorial success.


Metallic heels will elevate your formalwear to new heights and look amazing teamed up with metallic pleated skirts and accessories in similar metallic hues.


Look to metallic boots if you want to make a real style statement and wear yours with high waisted jeans for a stylish ensemble.