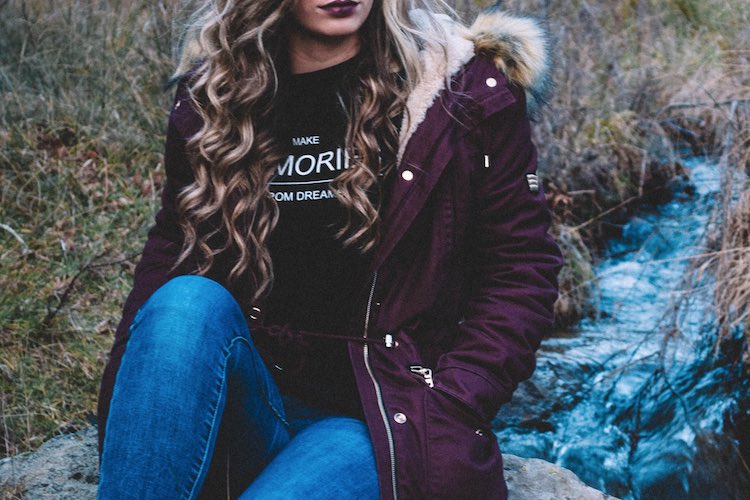 February 15, 2017 |
6 shares
It was once the symbol of the Britpop movement – worn by the likes of Oasis, Blur and other indie darlings and paired with faded T-shirts and ripped jeans.
But these days you are more likely to see parkas worn by off-duty models over skinny jeans and heels, or by wealthy fashionistas on the ski slopes. Even Kim Kardashian is in on the act, wearing her trusty green parka with bodycon dresses and designer heels at every opportunity.
The way we wear parkas has changed a lot in the past 20 years. Here are five new stylish ways to wear a parka...
1. wearing a parka... As a glam statement
SHOP THE LOOK: Green Parkas | Slip Dresses | Ghillie Heels
A loose-fitting parka is an unexpected addition to a pretty dress or slinky gown. It can instantly make the most formal look seem a bit edgy and channels the utility look which is currently hitting the catwalks of Alexander Wang and Jean-Paul Gaultier.
Choose an army-style parka for the best silhouette, and take Kim's lead by shoulder-robing it for an extra style statement.
2. wearing a parka... On the ski slopes
SHOP THE LOOK: Fur Trimmed Parkas | Skinny Jeans | UGG Ankle Boots
Luxury parkas have taken ski fashion by storm. On the slopes of Verbier, Klosters and Aspen, parkas are belted at the waist and worn with salopettes for a day of skiing. At night, they are draped over expensive apres ski knitwear and skinny jeans.
Parkas are meant to be worn in ice-cold conditions and the ski-specific versions will keep you cosy in hail, rain or snow. Choose a fur-trimmed version for extra warmth (and extra style).
3. wearing a parka... With a casual vibe
SHOP THE LOOK: Blue Skinny Jeans | Ankle Boots | Breton Tops
The parka and skinny jeans formula has become a fashion classic over the past few years, and it's hardly surprising. Parkas are extremely practical, being warm, waterproof and full of pockets.
Plus, the classic khaki colours look great with jeans and the slouchy style of the coat balances perfectly with skin-tight skinny jeans or leggings.
Take Karlie Kloss as your inspiration for this look and wear it with a Breton top and ankle boots for an easy any-day look which is both casual and stylish.
4. wearing a parka... As a retro throwback
SHOP THE LOOK: Denim Shorts | Hunter Wedge Boots | Festival Fashion
The original parka look was all about the counter-culture. While '90s models wore delicate slip dresses, indie chicks worked the grunge look with loose-fitting jeans and oversized parkas.
This look is starting to make a comeback, particularly during the festival season. Wear your parka with denim shorts, wellies and an old band T-shirt while listening to Radiohead's set at Glastonbury. Or go full Gwen Stefani grunge with boyfriend jeans, Doc Marten boots, a crop top and rainbow hair.
5. wearing a parka... As a chic wardrobe essential
SHOP THE LOOK: Black Jumpers | Black Jeans | Knee High Boots
This is perhaps the hardest parka look to pull off, as it requires you to make a slouchy loungewear staple feel like the height of elegance. The only way to achieve this is to keep the rest of your outfit simple and add a few luxe details.
A black cashmere sweater worn with black jeans and designer boots is a great base for any outfit. Add a few pieces of nice jewellery and a full face of make-up and you have a high-end spin on the parka trend.
Our Top Tips On How To Wear Parkas
Follow the supermodel elite and wear a loose-fitting parka over a slip dress for a stylish utilitarian look. Complete the outfit with ghillie heels plus attitude.


Choose a luxury fur-trimmed parka to see you through the coldest of winters and pair with skinny jeans and cosy ankle boots.


For a more casual style, opt for a khaki parka and style with boyfriend jeans and a Breton top.


During festival season, a lightweight waterproof parka is the only coat you'll need. Pair with denim shorts, wellies and your favourite band tee for a grungy chic statement look.


If you're looking to wear a parka to work, go for cream styles worn over a black sweater and matching jeans. Keep the rest of the outfit simple with just a few luxe details such as suede boots.