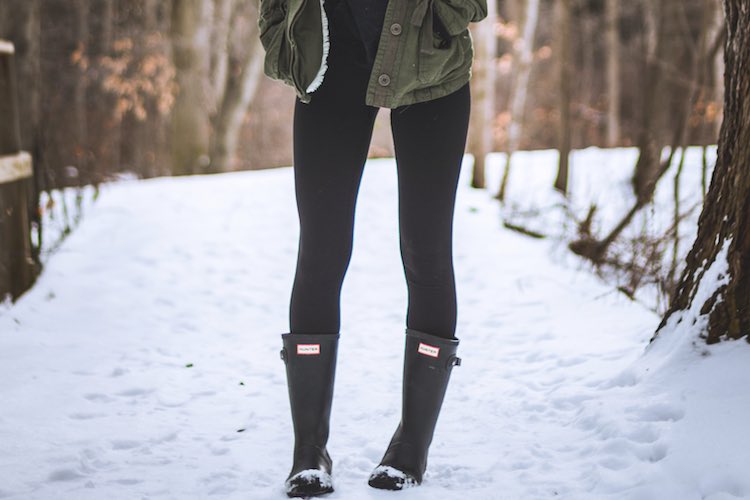 February 16, 2021 |
8 shares
Wellies aren't just for festivals. While they might be a necessity during the muddy British summers, they can also come in useful a little later in the year.
After all, when the roads are slippery and you're navigating slushy puddles every morning, nothing beats a pair of comfy, waterproof wellington boots. And if they look super-stylish - even better!
Quilted wellies, patent wellies, short wellies, high wellies – the choices are practically endless.
Read on for some tips on how to wear wellies all winter long...
1. How to wear wellies with jeans
SHOP THE LOOK: Skinny Jeans | Hunter Wellies | Glamorous Jackets
The wellies-with-jeans combo is particularly easy to pull off. Think of the knee-boots over jeans look that was popular a few years ago with the Sloaney set - this is basically just an updated version of that trend.
The key is to choose a pair of skinny jeans, so that you don't end up with a lumpy, bulky silhouette. Next, avoid the farmer look by adding a pair of thick wellie socks and tucking them over the top of your boots in a nod to the layering trend.
2. How to wear wellies in the snow
SHOP THE LOOK: Barbour Wellies | Parkas | Dents Gloves
Good quality wellies are a must-have for snow days. However, they should be the last thing that you put on, after thick socks, warm trousers, several jumpers, and a waterproof coat.
Choose wellies which have good grip on the soles, so that you can avoid any nasty slips.
3. How to wear ankle-height wellies
SHOP THE LOOK: Hunter Ankle Wellies | Tea Dresses | Biker Jackets
Short wellies have been a hit with the cool girls in recent years, with the likes of Kate Moss and Alexa Chung spotted (bravely) pairing their ankle-height wellies with bare legs and hot pants at the summer's festivals.
Ankle height wellies are a great alternative to Chelsea boots or biker boots, and they look especially good when contrasted with a feminine dress or bare legs when the days are a little warmer.
The likes of Hunter and Tommy Hilfiger have both been promoting a Chelsea boot version of their most popular wellies, and they look great. Stylish, subtle and waterproof – what more can you ask for?
4. How to wear brightly coloured wellies
SHOP THE LOOK: Purple Wellies | Mint Velvet Jeans | Kimonos
Let's face it – for most of us, our winter wardrobe is a combination of greys, blacks and shades of navy. But a brightly coloured pair of wellies can lift the most monotonous of outfits, while tapping into your inner child. Who doesn't want an excuse to jump in puddles again?!
5. How to wear wedge wellies
SHOP THE LOOK: Hunter Wedge Wellies | Leggings | Knitted Jumpers
Wedge wellies are a divisive item of clothing – you either love them or hate them. But worn with the right outfit, they can be eye-catching for all the right reasons.
Wear them underneath trousers or a floor-length shirt as a practical alternative to heeled boots; or turn your wellies into a style statement by wearing them over leggings or skinny jeans.
For heel obsessives, these are the only boots that you'll need all winter long.
Our Top Tips On How To Wear Wellies In Winter
If you're wearing wellies with jeans, invest in a pair of special wellington boot socks and tuck them over the top of the boots.


In snowy conditions, choose a pair of good quality wellington boots with a decent grip and team up with thick jeans and a waterproof parka.


Short wellies are a great alternative to Chelsea boots and can be paired with a tea dress and biker jacket for a trendsetting look.


To inject some colour into a winter outfit, opt for coloured wellies such as in purple and wear with dark or neutral colours.


If you're after a couple of extra inches, go for a wedge style of wellingtons and wear over leggings or skinny jeans for multiple winter outfit options.