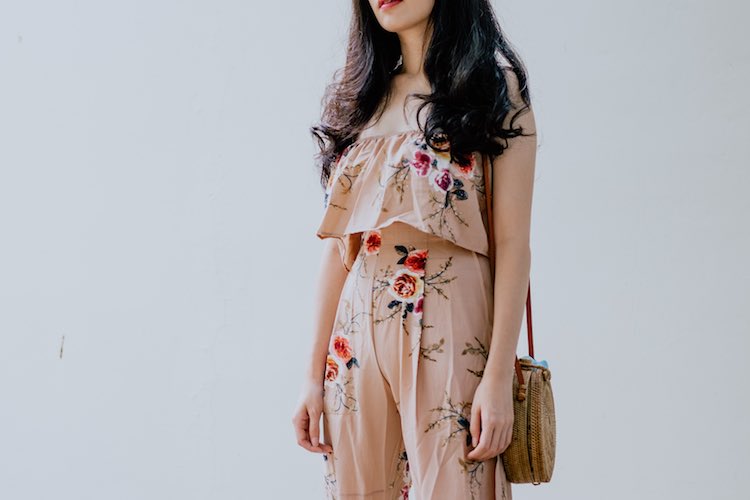 March 30, 2016 |
4 shares
What could be easier to wear than a onesie? Styling-wise all you need to think about are the shoes and accessories and you're ready to roll.
A playsuit is an all in one that's made up of a top and shorts, whereas a jumpsuit is an all in one that features full-length trousers. Sleeve-length varies for both playsuits and jumpsuits, which come in a myriad of styles.
So which one should you pick? We're pitching the playsuit against the jumpsuit for the most stylish take on five key trends – 1) halter-necks, 2) wrap-ups, 3) prints, 4) utility and 5) the cold shoulder trend. Let the battle commence.
The halter-neck
Cobalt blue creates impact with this Guilty Pleasure halter-neck playsuit from Harvey Nichols.
Finders Keepers Guilty Pleasure Cobalt Halter-neck Playsuit, £115, Harvey Nichols
Not wanting to be outdone, this pink halter-neck jumpsuit from River Island combines two trends in one with a fashionable halter-neck and on trend wide-leg trousers.
Pink Halter-neck Wide Leg Jumpsuit, £55, River Island
Wrap it up
A wrap-up jumpsuit with deep v-neck is very sexy worn with high-heeled court shoes. This flattering black jersey gathered waist jumpsuit from Missguided has long sleeves, a deep plunge front and tapered legs.
Wrap Long Sleeve Jumpsuit Black, £22, Misguided
This chiffon wrap-up shorts playsuit from Pretty Little Thing has a slightly shallower v-neck and elegant elbow length sleeves, keeping modesty intact. The tapered waistline will make your waist look tiny.
Bobby Navy Wrap Front Playsuit, £15, Pretty Little Thing
Print parade
Be fresh as a daisy in floral prints by Gat Rimon or go global with ethnic prints, African-inspired patterns or Japanese kimono-inspired Glamorous jumpsuits.
Gat Rimon Rufus Printed Jumpsuit, £132, ASOS
Kimono Sleeve Jumpsuit by Glamorous, £36, Topshop
Or pick a patterned playsuit and get your festival look sorted.
Leam Flute Sleeve Playsuit in Mandala Orange, £42, Motel
The utility trend
Pick a playsuit or jumpsuit in olive green, khaki or navy for a military inspired look. Masculine shapes, straight edges, poppers and front-zip fastening make this a look not to mess with. Team with stiletto heels and a statement clutch for no-nonsense styling.
Drawstring Utility Playsuit, £28, Forever 21
Utility Button Culotte Jumpsuit Khaki, £30, Misguided
Daisy Street Boiler Jumpsuit with Zip Front, £34.99, ASOS
Cold shoulders
This trend is hotter than it sounds. Create some shapes with cut-out shoulders and quirky styling. Block heels, chains and stacked bracelets add interest to create an eclectic look.
Almeida Tailored Cut Out Playsuit in Black, £15, Motel
This bardot palazzo jumpsuit from River Island is a unique piece in rust brown with frill sleeves.
Rust Brown Bardot Palazzo Jumpsuit, £50, River Island
Still can't decide between a playsuit and a jumpsuit?
Playsuits have a youthful, fresh feel and nothing is prettier than a floral print playsuit worn in summer. In the hotter months anything goes day or night, and a sleeveless playsuit featuring short-shorts is perfect for frolicking around in when worn with strappy sandals and a trilby.
The jumpsuit is the grown-up, slightly more sophisticated sister to the playsuit. A jumpsuit can be worn to a work-do or a sophisticated soiree in which a playsuit or would look inappropriate or to put it bluntly, a bit slutty.
If you're self-conscious about showing off your thighs, you may feel more confident in a jumpsuit. If, however you love your legs and can't wait to show them off in a short-shorts style playsuit on a night out, it's a good idea to pick a playsuit with long sleeves or wear a cropped suede jacket to balance things out.
If you're showing off the tops of your thighs, arms and cleavage, you're probably showing too much skin!