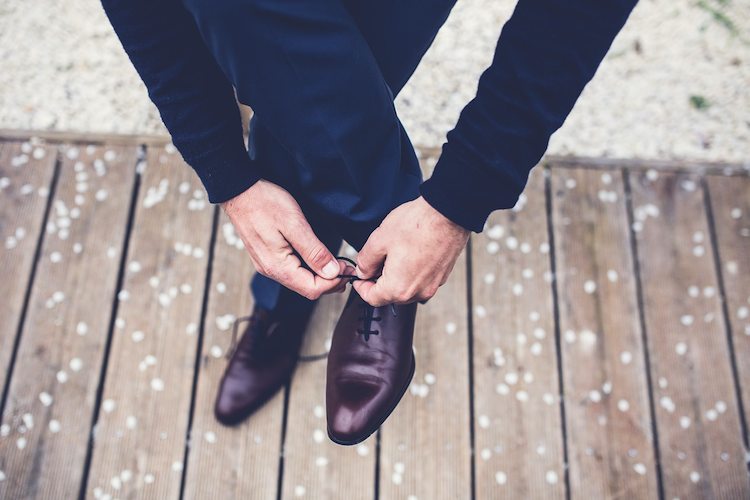 December 31, 2022 |
8 shares
Shoes are not necessarily a high priority for the average man. Until, of course, you realise you have nothing even remotely suitable for that wedding/date/holiday (delete where appropriate).
No one wants to go through the nightmare of last-minute shoe shopping. So we've put together a definitive list of the seven pairs of shoes that every guy should have in his wardrobe.
1. Brogues
They are the most versatile 'smart' shoes you'll ever own, instantly classing up an everyday outfit, or adding the finishing touch to a formal suit.
Brogues are so ubiquitous that you can find them in just about any colour and fabric, but we are big fans of the traditional brown leather brogue. They will look just as good against blue denim as they will with a navy suit.
+ Wear with... a three-piece suit, or belted jeans and a crisp white shirt.
2. Derbys
Like brogues, Derby shoes come in an endless array of styles, which means that there is an option to suit every occasion. Dark leather Derbys are a safe option for any suit, or you can add a touch of originality by choosing an unusual colour or fabric.
+ Wear with... a classic suit.
3. Leather trainers
Just a few years ago, the very concept of leather trainers would have been unthinkable – but they are set to be the must-have shoes of this year. It goes without saying that these trainers are not exactly suited for hard exercise, nor are they appropriate for formal occasions.
Instead, they occupy that 'in between' space, where you are casual and on-trend. Bright white leather trainers are particularly popular, but only if they're in pristine condition.
+ Wear with... loose-fitting jeans or tracksuit bottoms.
4. Boat shoes
Flip-flops aside, there aren't many shoes that can be safely worn with shorts. Boat shoes are sturdy enough to walk in, but breathable enough to wear sock-less – the perfect option for that one day a year when it's hot enough for shorts.
On less sunny days, channel a preppy New England look by pairing boat shoes with khakis or linen trousers.
+ Wear with... shorts, or summer-friendly linen.
5. Chelsea boots
Flattering and sophisticated, it's no wonder that the Chelsea boot has made a comeback in recent years. The slim fit and slight heel creates the illusion of height, and the simple design doesn't pull focus from the rest of your outfit.
The only rule with Chelsea boots is that they have to be work with full-length trousers. Just add a pressed shirt and a Burberry mac and you're good to go!
+ Wear with... straight-cut trousers with a smart jacket or pea coat.
6. Canvas plimsolls
We all have a pair of canvas plimsolls lurking in the back of the wardrobe – they have been around forever and their popularity is still going strong.
You can't go far wrong with plain white pair or nautical navy, but don't go overboard with the patterns and styles. This is a cheap and cheerful look which works best with the most casual of outfits.
+ Wear with... no socks, rolled up jeans and a t-shirt.
7. Chukka boots
Chukka boots, or desert boots, have an 'off-duty action star' look that is masculine and fashionable at the same time. A celebrity favourite, they and they are practical enough to be worn in just about any situation. Pair with a tweed or wool in the winter, and jeans in the summer months.
+ Wear with... skinny jeans and a bomber jacket.