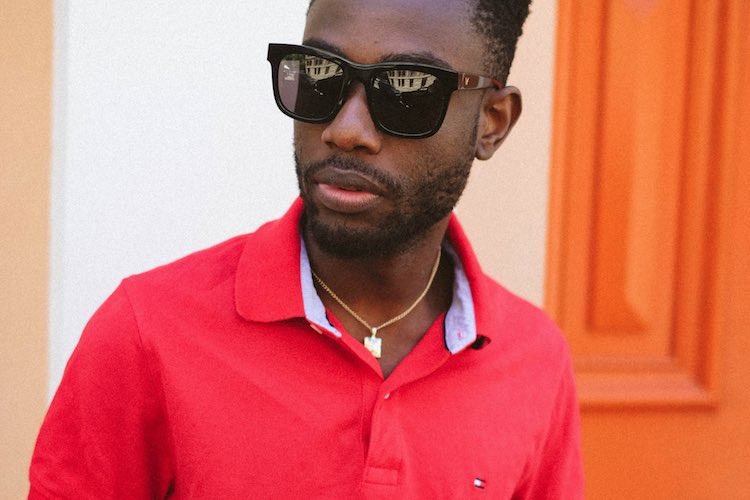 The essential can't live without accessory for summer has to be a pair of statement sunglasses.
Before buying your next pair of sunnies consult this need-to-know guide to ensure you pick the right sunglasses for your face shape. The first step is to suss-out which face shape you actually have.
Take a selfie and compare the outline of your face to the below face shapes – pick the shape you think most resembles the natural outline of your face.
SHOP MEN'S SUNGLASSES
If you've been blessed with an oval face shape you have freedom to roam, as most frame shapes will suit you well. If, on the other hand, you have a square, round, oblong, heart or diamond face shape it will pay to play by the rules
Colour-wise there's no need for rules in our book – be it turquoise Perspex frames or yellow lenses, just pick a colour that complements your skin tone and doesn't drain your face.
Bring a friend and try on a few pairs and when in doubt take another selfie. Read on to discover the main sunglasses shapes for men - we've left oversized butterfly sunglasses and cats-eye sunglasses for the ladies!
Classic aviators
+ Best for...Oblong/Square Face Shapes
Aviator sunglasses are recognisable by their thin wire frames and large teardrop-shaped lenses. Aviators look good on oval face shapes, square face shapes, oblong face shapes and complement strong features.
Ray-Bans are the high flyers when it comes to aviators but other brands including Dolce & Gabbana, Versace and Reclaimed Vintage at ASOS offer an alternative take on the aviator if you want to break free from the herd.
Round aviators
+ Best for...Square/Heart Face Shapes
It's all in the name – round aviators are aviators with circular frames. Avoid if you have a round face unless you're aiming to look comical. Ray-Ban have an iconic range of round rimmed aviator sunglasses.
Wayfarers
+ Best for...Round/Oblong Face Shapes
The Wayfarer is a classic, iconic shape that complements most faces. Unleash your inner 1950s James Dean with a pair of classic black wayfarer frames.
Wayfarers are a good option if you have a round face as the angular frames add definition – pick frames that are slightly wider than the face to make cheeks look slimmer.
Half frame (aka semi-rimless) sunglasses
+ Best for...Diamond/Heart/Oblong Face Shapes
Also referred to as 'browlines' and clubmaster sunglasses, these top-heavy sunglasses only have a frame on the top. Half-frame sunglasses have been around since the late 1940s but until recently they've been in hiding.
Semi-rimless sunnies are a major trend this year– expect to see the old favourites (wayfarers and aviators) take a backseat as the half-frame shines bright.
Half frame sunglasses will balance out a diamond face shapes. Retro tortoiseshell half-frame sunglasses are effortlessly cool – pick a pair with black frames for easy style points or pick clear lenses and go geek chic.
Round & oval shaped frames
+ Best for...Square/Oblong Face Shapes
Round frames are the hardest to pull off – when done right round frames are hugely stylish but pick a cheap-looking pair or a garish colour and it's easy to look silly.
The main rule is to avoid round frames if you have a round face. It also helps to invest in brand and quality – round frames by Emporio Armani, Georgio Armani and Persol are worth investing in.
Narrow oval frames are a good option if you have a square face shape, as they will elongate your face and soften the angles.
Rectangular frames
+ Best for...Round/Heart/Diamond Face Shapes
As you were taught at school, if the width of the lens is longer than its height, it's a rectangle. Angular rectangular frames work well on round faces and add length to a short round face.
Rectangular frames also work well on diamond or heart shaped face shapes by balancing out the pointed chin. If you have an oblong face avoid narrow, rectangular frames as the short frame will emphasize face length.
Square frames
+ Best for...Round/Oblong Face Shapes
Oversized square frames can balance out a narrow face. Square frames in general look good on round, oval and oblong face shapes thanks to the contrasting angles.
Shield frames
+ Best for...Heart/Round/Oblong Face Shapes
These are the sunglasses with one single, large lens. Shield frames are great for sports and they offer unbeatable sun protection. Best avoided off the tennis court as shield frames aren't always the most stylish option.
Wrap frames
+ Best for...Square/Oblong Face Shapes
Wrap frames have lenses which literally wrap around the eyes leaving no part of the eye area left uncovered. Wrap frames are lightweight, streamlined in design and some have spring-loaded arms to help them stay put.
Another type of frame that's best reserved for sports and outdoor pursuits – also good if you want to look more athletic than you actually are.