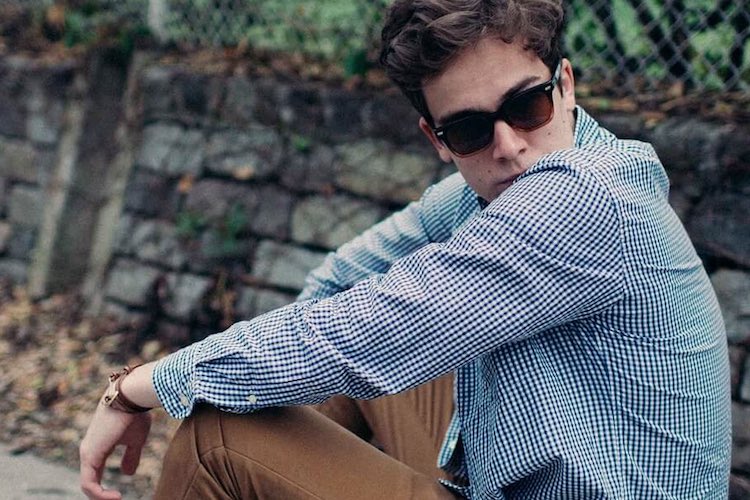 Ray-Ban is so synonymous with sunglasses that many of the styles such as the Wayfarer and Clubmaster are used globally to refer to a type of sunglasses, even if Ray-Ban didn't make them.
So if you are investing in a new pair of Ray-Ban sunglasses, how do you pick the best style for you so they're the hardest working accessory at your disposal?
Read on for our ultimate guide to men's Ray-Bans, including everything from identifying fakes to choosing the best style for your face shape.
Part 1: Most Popular Ray-Bans For Men

Part 2: Picking The Best Ray-Bans For Your Face

Part 3: How To Check If Ray-Bans Are Genuine
The Most Popular Ray-Ban Sunglasses For Men
There are now hundreds of different colour options available across the Ray-Ban range and more styles than ever. If you're about to invest in your first pair, the popular Ray-Ban styles below are the best place to start.
Ray-Ban Aviator Sunglasses
Ray-Ban Aviator sunglasses were first launched in 1939 to assist pilots flying at high altitude and have been the brand's signature style ever since. Made famous by Maverick in Top Gun, they're still a hugely popular style and are easy to pull off for most guys. Ray-Ban Aviators have never been available in more colour options than they are today, helping to bring this 80-year old classic bang into the 21st Century.
How To Wear Ray-Ban Aviator Sunglasses
Due to the aviation background, Aviators help to inject a military style to downtime outfits. Wear yours with denim all year round and add a bomber or biker jacket for added attitude. This is one style of Ray-Ban that has stood the test of time and is a failsafe wardrobe investment for many years to come.
Ray-Ban Original Wayfarer Sunglasses
Second to the Aviator, Ray Ban Wayfarers are the most recognized style the brand is known for and have never been more popular. With a history dating back to 1952, the iconic shape was influenced by the American Cadillac tailfins of the 1950s. After being seen across films including The Blues Brothers, Risky Business and Miami Vice, Wayfarers gained cult like status and have become the go-to style for street style savvy gents.
How To Wear Ray-Ban Wayfarer Sunglasses
Classic Original Wayfarers will look just as good with denim shorts or chinos in summer as they will with smart black trousers in winter. Black is the best colour to pick for maximum versatility with the rest of your wardrobe, with tortoiseshell coming a close second.
Ray-Ban New Wayfarer Sunglasses
Ray-Ban New Wayfarer sunglasses were released by the brand to offer a sleeker profile to the original Wayfarer style. Available in a lens width of either 52mm or 55mm compared to 50mm for the Original Wayfarer, they're a wider style with a shorter lens height. Coupled with more vibrant colour options, New Wayfarers are a less retro alternative to the 1950s classic.
Ray-Ban Round Sunglasses
For more of a retro look, styles across the Ray-Ban Round sunglasses range will instantly inject some 1960s flair into your outfits. You can opt to buy them with or without the double bridge bar in a huge range of lens colours and frame finishes. Our favourite are the RB37 Ray-Bans pictured above, making sure you'll stand out from the crowd for all the right reasons.
How To Wear Ray-Ban Round Sunglasses
Round Ray-Bans work especially well with smarter outfits but it's not an easy look to pull off. Keep the rest of the outfit meticulously sharp and opt for a black grey gradient lens to avoid looking like you're about to head to a festival. If in doubt, always choose gold for the frame colour for a classic look that'll keep your style game strong year after year.
Ray-Ban Clubmaster Sunglasses
Ray-Ban Clubmasters offer a similar silhouette to Wayfarers but the semi-rimless design makes them the perfect option for smarter occasions. This is one style that gets more popular each season as other brands try to re-create the look, but for timeless cool you should to stick with the original (and best) Ray-Ban Clubmaster sunglasses.
How To Wear Ray-Ban Clubmaster Sunglasses
Keep your smart casual game on point with a pair of Ray-Ban Clubmaster classic sunglasses. They look great on just about anyone and won't dress down the rest of your outfit like some other styles. One of the easiest ways to style them is with a skinny jeans and blazer combo like the ones featured above. On downtime days, wear under a hat when you're nursing a hangover but don't want to compromise on style.
Ray-Ban Justin Sunglasses
Ray-Ban Justin sunglasses are the boxiest of the most popular styles for men, which means they'll dwarf your face if it's smaller than average. Originally inspired by the Wayfarer, the rubberized frame finish gives them a bold contemporary edge. These are set to be a future design classic, so get yours soon before everyone else has a pair!
How To Wear Ray-Ban Justin Sunglasses
The modern profile of Ray-Ban Justin sunglasses lends them to street style outfits, keeping you ahead of the game by working effortlessly well with the latest trends. Wear yours with skinny fit jeans and trousers plus your favourite pair of brilliant white trainers.
Ray-Ban Erika Sunglasses
With a touch of Clubmaster styling along the top profile but with a fully rimmed frame, Ray-Ban Erika for men sunglasses are the perfect option if you want to inject a feel of vintage into your outfits but don't want to go for full on round frames. They're available in a choice of materials, with Erika velvet sunglasses being one of the most popular and fashion-forward styles. These sunglasses are set to take your style to new heights and will soon be your favourite accessory at your disposal.
How To Wear Ray-Ban Erika Sunglasses
Ray-Ban Erika sunglasses are unique enough to be the statement piece of your outfit so it's best to keep the rest of the elements toned down. Black jeans, a plain tee or shirt and a pair of high-tops are all you need for sartorial success this season. With this look less is definitely more.
Picking The Best Ray-Bans For Your Face Shape
Faces can generally be categorized into 4 distinct shapes – oval, round, square and heart. Compare the outline of your face to the pictures below to discover which Ray-Ban frames will complement your features (and more importantly which styles to stay clear of!).
The Best Ray Ban Sunglasses For Oval Face Shapes
If you're lucky enough to have an oval face, you can take your pick across the range as generally all Ray-Ban styles should look good. If you want to soften the curve of your face, opt for rectangular styles such as Wayfarers or Justin sunglasses. Alternatively, to enhance the curves go for round Ray-Ban styles.
The Best Ray Ban Sunglasses For Round Face Shapes
If you have a round face shape, angular frames will add definition and should be your go to style. The best models of Ray-Ban for round faces are the Wayfarer, Clubmaster and Justin – just make sure the frames are wider than your face as it will help to make your cheeks look slimmer.
The Best Ray Ban Sunglasses For Square Face Shapes
Rounded Ray-Ban styles such as the Erika and Aviator are best for a square face shape, as they'll help to balance your angular jawline. If you want to enhance the lines of your face, opt for rectangular frames but do it with caution as they can make the look far too angular.
The Best Ray Ban Sunglasses For Heart Face Shapes
Rectangular frames will help to balance out the pointed chin of a heart shape face, with both the Ray-Ban Clubmaster and Justin offering the perfect style. If you want to soften the lines further, opt for Round Ray-Ban sunglasses or Aviators.
How Do I Know If My Ray-Bans Are Real?
The best way to ensure you've got authentic Ray-Ban sunglasses is to buy either directly on the official website or at an authorized retailer. However, with more fake websites setting up daily and questionable third party resellers on marketplaces, it's not always easy to guarantee the authenticity when you're buying.
If you're not buying from an official store and think you've spotted a deal too good to miss, follow the 5 checks below to see if the Ray-Bans are real:
1) Overall feel and finish: all authentic Ray-Bans are made in Italy using high quality components (which is why they're backed up by a 2-year guarantee). Do they feel like a quality product when you hold them? Do all the markings appear crisp and not smudged? Do the lenses fit perfectly with no gaps? Do the hinges open smoothly? If they don't feel like an expensive pair of sunglasses, the chances are they're not real.
2) Packaging: if you're buying supposedly new Ray-Bans rather than second hand sunglasses, they should arrive in a branded box with a large logo on the front. This should be crisp and with the correct typeface. Also check the side of the box for a label with a barcode, the model name, lens description and frame details. These should match the details printed on the inside of the arms of the sunglasses.
3) Inside Arm Markings: authentic Ray-Bans contain markings on the inside of both arms of the sunglasses. The inside of the right arm should contain the model name (e.g. 'Wayfarer'), 'Made In Italy' plus the CE symbol. On the inside of the left arm, check that it contains the model number and any sizing details (these should match the details printed on the label of the packaging).
4) Lens Markings: all new genuine Ray-Ban sunglasses have 'RB' etched on to the left lens and the logo written in white on the right lens. The markings should be perfect – if either looks messy it should start sending you warning signals that the Ray-Bans might be fake.
5) Case and dust cloth: you should expect to receive your sunglasses in a black case branded with a Ray-Ban logo in gold on the front. The inside of the case should be red felt. Within the box there should also be a grey dust cloth with a red Ray-Ban logo in the lower right corner. Any deviations from this should set alarm bells, as these items are standard with every pair of new authentic Ray-Bans purchased.
Apart from losing money buying fake Ray-Ban sunglasses, there are potentially serious consequences. All genuine Ray-Bans comply with EU standards, which means the lenses have to provide UV protection from the sun. There is no guarantee of this protection with fakes and so you could end up doing serious damage to your eyes if the UV light isn't being filtered out.