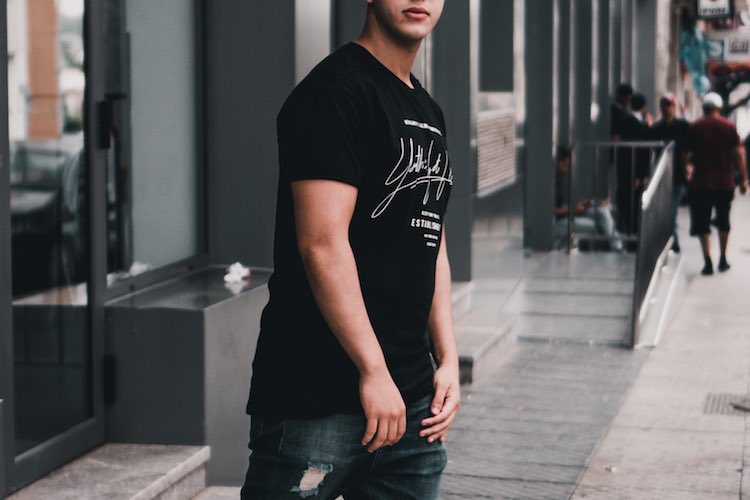 April 14, 2016 |
16 shares
So ubiquitous is the t-shirt that this key piece of clothing is often taken for granted. Many men hold the mistaken belief that any t-shirt looks good on any man – sadly this not true.
There is more than meets the eye when it comes to choosing a men's t-shirt. Not wanting to put a downer on things from the word go, we'll make this point brief – if you're noticeably overweight a t-shirt will cling in the wrong places and emphasize your belly, and if you're very thin it will drape lifelessly.
If you're a lanky lad or a rotund fellow you'll have more sartorial success in something structured with detailing, like a shirt or a polo shirt.
Word of warning now heeded, lets move on. When choosing any t-shirt, 100% cotton is always best. If you're choosing a t-shirt solely for working out in, t-shirts made from well-designed synthetic fabrics will deal with perspiration better.
Colour and print-wise the options are unlimited – plain, colour block or graphic print it's each man to his own, but when it comes to fit and shape this is your need to know t-shirt guide.
Step 1: picking the t-shirt fit
Regular fit t-shirt
The classic fit for a t-shirt and the best option for most men. Not too tight, not too baggy and your standard t-shirt length.
The bottom hem of a regular fit t-shirt should sit no higher than your hips, ideally extending a few inches below the waistband of your trousers. Don't tuck in a t-shirt like you would a shirt, as a tucked-in t-shirt can give even the fittest man a potbelly.
Muscle t-shirt
The muscle fit or skinny fit t-shirt is a good option for adding definition and showing off pecs. This is the one to wear if you've been working out.
Avoid wearing a skinny fit t-shirt if you're a skinny guy. Muscle t-shirts need muscles to look good.
Oversized t-shirt
Oversized, long-line t-shirts aren't the norm but wear the trend right and you can create a style statement. Go indie and pair your oversized baggy t-shirt with skinny jeans or p-i-m-p it out with a baggy graphic print sports t-shirt and adidas Originals track pants or tapered jogging bottoms.
Avoid oversized t-shirts if you're overweight – you might think this is a clever way to disguise extra weight but in actual fact this will have the reverse effect and make you look like a tent.
Long-line regular fit t-shirt
All the length of an oversized t-shirt but with a regular fit so less baggy. This is a good starting point for the oversized trend if you're not ready to go the full hog.
Step 2: Picking the t-shirt neckline
Crew neck t-shirt
This is your classic round neckline. A flattering neckline for most men – the crew neck is a good option for men with long necks and narrow faces, as it balances things out and adds proportion.
Scoop neck t-shirt
A scoop neck dips down lower than a crew neck and is a fashionable option, creating a more stylized look. You may have just thrown on that crew neck but no man ever threw on a scoop neck.
Style your scoop neck t-shirt with a suede jacket and chinos for a smart casual evening look.
V-neck t-shirt
Avoid if you have a very hairy chest unless your girlfriend likes it hairy. The V-neck adds interest and style to the standard tee. A flattering option for shorter men, as the V creates a less boxy shape and adds height.
V-necks also complement men with rounder faces. Avoid a V-neck if you've got a big belly as the V draws the eye down.
Step 3: Picking the T-Shirt Sleeve length
Short sleeve
Women have a plethora of sleeve styles on offer but as men we like to keep things simple. The original tee has short sleeves and has been doing men proud since 1913. The short sleeved t-shirt remains the firm favourite.
Cap sleeve
Cap sleeves are shorter and tighter than your standard short sleeve. They extend only a short distance from the shoulder and taper to nothing under the arm. This is the sleeve to wear if you want to draw attention to your biceps for a rough and ready look.
Long sleeve
For colder weather or just for something a bit different. Ribbed textures, vintage prints and baseball styles are all on trend. Long sleeved muscle t-shirts are appealing worn with tapered jogging bottoms and a bomber jacket for athleisure wear at its most stylish.