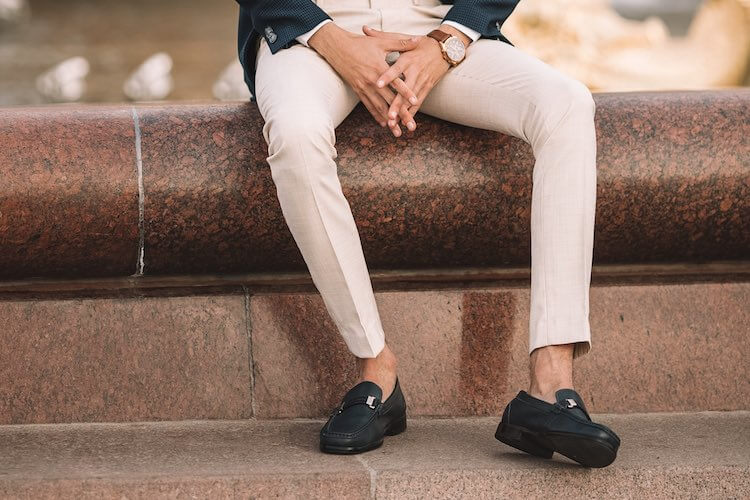 June 13, 2021 |
15 shares
First of all let's be clear – wearing shoes without socks of any kind is never a good idea. You need a layer of fabric between your feet and insoles to soak up the sweat (especially on those hot days) and to keep your shoes fresh.
This can be easily accomplished with a pair of invisible socks, which cut off lower on the ankle than traditional trainer socks and are an absolute essential for the modern gent's wardrobe.
The end result is a sockless look that works for a range of different footwear styles, which we'll explore throughout the remainder of this guide:
How To Wear Loafers Without Socks
Due to their slip-on style, loafers are the easiest type of smart shoes to wear without socks of the traditional kind. Team your sockless loafers with chinos for easy 9 to 5 style points in the summer, or with dark denim shorts on off-duty days. Suede tassel or penny styles generally work best with shorts, but for smarter occasions you may want to opt for snaffle loafers (like the ones featured in the outfit above) to elevate your sockless loafers look to new heights.
More Outfit Ideas for Wearing Loafers Without Socks
How To Wear Dress Shoes Without Socks
Dress shoes (polished brogues, Derbys, Oxfords and the like) are harder to wear without visible socks, partly due to the stiffness of the leather. This means it's unlikely you'll want to be wearing them day after day, however to mix up your outfits it's an enviable look to pull off infrequently. It pays to invest so you can get the most comfortable dress shoes you can afford and if you're only going to get one colour, make it tan or brown.
More Outfit Ideas for Wearing Dress Shoes With No Socks
How To Wear Leather Shoes Without Socks
Modern styles of brogues and other leather shoes are perfect for dressing up your downtime outfits, especially when worn without socks. Look to styles with contrasting soles or coloured leather uppers to inject some personality into your outfits and pair with distressed denim and slim-fit tops.
More Outfit Ideas for Wearing Leather Shoes Without Socks
How To Wear Trainers Without Socks
It's difficult to go wrong when wearing trainers without socks, but there are a couple of pitfalls to avoid. First up, if you've got new trainers you want to be showing them off (and making the most of the sockless look) – so make sure your jeans aren't too long. Likewise, focus the eye towards the trainers by opting for a slim of skinny fit cut rather than a wider leg.
More Outfit Ideas for Wearing Trainers with No Socks
How To Wear Summer Shoes Without Socks
Classic deck shoes and canvas pumps are some of the best shoes to wear without socks, especially in the summer. They generally have a lower cut on the uppers, which lends itself to the no socks look. Pair yours with chino shorts for smart casual occasions, or with light grey jeans for sartorial success from Monday to Friday.
More Outfit Ideas for Wearing Summer Shoes Sockless
Our Top Tips For Wearing Shoes With No Socks
Keep your shoes fresh while giving the impression of not wearing socks by investing in a few pairs of 'invisible socks'.
If you plan on wearing shoes without socks most days, try the shoes on with invisible socks rather than traditional thicker styles, as you may want to opt for half a size down to your usual shoe size.
It's best to wear sockless shoes with skinny cut trousers for a sharper silhouette, both for casual and more formal occasions.
Smart shoes with suede uppers will be more comfortable to wear without socks than leather uppers, which makes them more versatile if you plan on pulling off the sockless look more than a couple of times a month.