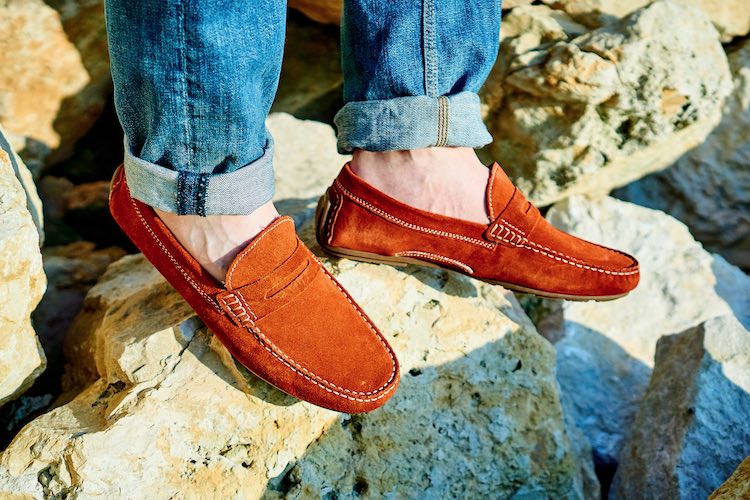 April 2, 2022 |
11 shares
With a history dating back over 170, loafers have become the ultimate slip-on shoe style for men. Originally designed as a more casual alternative to Oxfords, they've been re-imagined throughout the years and are now available in more styles than ever.
From getting to know the different styles of loafers to stylist tips on how to wear loafers for all occasions, read on for our complete guide to the timeless men's slip-on…
The Different Types of Loafers
You may have spotted a few variations when buying loafers previously, but did you know that there are in fact six main types of loafers? All have certain features, which define their style and make them more appropriate to wear for different occasions. Discover the different types of loafers below so you buy the perfect pair for your own style.
Men's Penny Loafers
Penny loafers first hit the mainstream when G.H. Bass launched the 'Weejun' in 1936. Instantly recognizable by the horizontal strap across the front, the small opening along it is supposedly the perfect size to hold a penny (hence the name), so wearers could make an emergency call home. Penny loafers come in an array of fabrics and are perfect for both smart and casual occasions, with suede styles looking great teamed up with a pair of chino shorts.
Men's Tassel Loafers
The tasseled loafer was first available to the mass market in 1957 after a collaboration between the Alden Shoe Company and Brooks Brothers. With the design originally stemming from a special commission to make a bespoke pair of loafers for actor Paul Lukas after he saw tasseled shoelaces on a pair of Oxfords, it's become a design classic ever since. The extra embellishment makes them the perfect loafers to wear with jeans and a t-shirt for street style points, or with a skinny fit suit for easy 9 to 5 styling.
Men's Apron Loafers
Named after the visible stitching around the apron, apron loafers are often combined with other styles such as the tassel or penny with the defining feature being the stitching itself. This creates a more formal style of shoe and generally you'll only find them available from more traditional makers. Perfect to wear sockless in summer with a smart suit as an alternative to brogues.
Men's Belgian Loafers
Created by Henri Bendel after he purchased two 300-year-old shoe manufacturing companies in Belgium in the 1950s, the Belgian loafer is recognizable by a small bow on the leather upper. These loafers both look and are less rugged than other styles and aren't suited to everyday use. For very special indoor occasions (like a wedding), a pair of Belgian loafers will help you to stand out from the crowd.
Men's Snaffle Loafers
Snaffle loafers (stemming from the original Gucci horsebit loafers) are named after the metal bar that resembles the snaffle held in a horse's mouth as part of the bridle. After the Italian fashion house first launched the design in 1953, countless other firms have mimicked the feature and it's now one of the most popular styles of loafers for men. Wear your snaffle loafers with chinos or suit trousers during winter and tailored shorts during the warmer months.
Men's Kiltie Loafers
The loafer first got kilted over 60 years ago and Kiltie's have been popular ever since with the quirky fringed leather panel on the upper. These are the most decorative of all loafer styles and you'll either love them or loathe them. If you've already got a pair of penny or tassel loafers, upgrade your collection with a Kiltie loafers to mix up your style with this often overlooked men's shoe.
How To Wear Loafers With Jeans
The only rules when wearing loafers with jeans is to lose the socks and show some ankle. The easiest way to achieve this is to roll up the hems of your jeans if they're on the long side, or opt for ankle grazer jeans. Tan suede tassel loafers look particularly good with white jeans and blue denim, while brown leather penny loafers are perfect for wearing with black skinny jeans.
How To Wear Loafers With Shorts
Wearing loafers with shorts will instantly dress up the rest of the outfit as the loafer outfit above demonstrates. For smart occasions, opt for black or brown leather penny loafers with chino shorts and a tailored blazer. Then pull out your printed or striped shorts on off-duty days and team up with a pair of simple tassel loafers.
How To Wear Loafers With Chinos
A pair of apron or Kiltie loafers worn with chinos will instantly take your smart casual style to new heights. Keep the rest of the outfit simple with a plain t-shirt or shirt and match your belt to the colour of your shoes. Dark brown loafers generally look best with beige chinos, while tan loafers will complement both navy and green chinos.
How To Wear Loafers With Suits
Loafers always look best worn without socks so if you are planning on wearing them with a suit, wait for the warmer months. The grey suit outfit above is a perfect example of how to wear loafers for work, or mix it up with a navy suit worn with cream loafers. Just watch out for puddles! If you do have to wear socks with loafers in winter, always make sure you go for black socks so they're less visible and avoid short suit trousers.