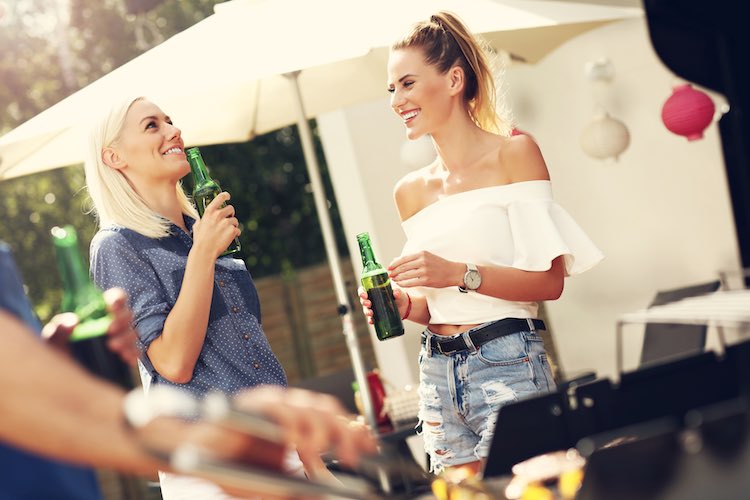 August 1, 2023 |
8 shares
There's no such thing as a typical BBQ. They can be spur-of-the moment; raucous, or borderline formal, depending on who you're BBQ-ing with.
As a general rule, you want your BBQ clothes to be cool, casual and comfortable, but the exact outfit that you wear will vary from occasion to occasion. For easy inspiration we've put together a range of looks that you can wear to any outdoor cook-off this summer.
What to wear to a summer BBQ… at the beach
SHOP THE LOOK: Denim Shorts | Seafolly Bikinis | Adidas Hats
There's nothing more summery than a BBQ on the beach. The sound of the ocean, the feel of the sand and the warmth of the grill are just the perfect holiday combination.
This is probably the most casual type of BBQ there is, and the only rule is don't dress up! If the BBQ starts early in the day, wear a swimsuit or a bikini under a maxi dress or denim shorts. At night, the temperature will drop quite dramatically, so take an oversized knit sweater or a couple of blankets so you can stay up until the last ember has gone out.
What to wear to a summer BBQ… with friends
SHOP THE LOOK: Ladies Shorts | Bardot Tops | Ted Baker Sandals
Whether you know it or not, a BBQ is a chance for everyone to out-fashion each other in the most casual way. This is your chance to debut your new wedge sneakers, or try crochet for the first time.
Wear at least one new or different item of clothing that your friends haven't seen before. Keep accessories to a minimum, and if in doubt, wear jeans.
What to wear to a summer BBQ… with the in-laws
SHOP THE LOOK: Summer Dresses | Leather Sandals | Fiorelli Purses
It's natural to want to impress your in-laws, no matter how well you know them. For a family BBQ, keep it relatively conservative with a pretty dress that's neither too low cut nor too short.
Choose a summery print or a pastel colour, and take a kimono, cardigan or denim jacket with you in case the temperature drops.
What to wear to a summer BBQ... that you're hosting
SHOP THE LOOK: Dungarees | Vans Plimsolls | Women's Ray Bans
When you're hosting your own BBQ, it's all about finding the balance between practicality and casual style. It goes without saying that you should have a great apron that isn't full of holes or covered in stains.
Underneath this, it's best to keep things simple. Avoid white, or any pale colours which will show up every spillage and spatter, and keep your sleeves short and fitted so they don't catch light when you're tending the coals.
A dark-coloured band t-shirt and jeans or dungarees can easily be dressed up or down depending on your footwear. Throw on a pair of plimsolls while you're running around prepping the grill; then upgrade to a pair of ghillie heels or wedges when your guests arrive.
What to wear to a summer BBQ... with work mates
SHOP THE LOOK: Pleated Midi Skirts | Flatform Sandals | Denim Jackets
An office BBQ strikes that odd balance between working and socialising. You want to look good, but you don't want to go too casual either.
Opt for a pleated midi skirt and Birkenstocks, or tailored trousers, chunky sandals and a tailored t-shirt, to show that you are entering into the spirit of the event without veering into inappropriate territory.
Our Top Tips On What To Wear To a Summer BBQ
A BBQ at the beach is a great opportunity to mix 'n' match your denim shorts with swimwear. Complete the look with a pair of sliders.


If you're going to a formal BBQ, look to floral prints or pastel dresses and layer with a cardi in case the temperature drops.


When hosting your own summer BBQ, avoid any visible charcoal or food prep stains by wearing dark denim. Dungarees are a great option and can be instantly dressed up with a pair of ghillie heels.


For any BBQ with work colleagues, keep things on the smarter end of the spectrum by wearing tapered trousers or a pleated midi skirt with a tailored tee and flatform sandals.