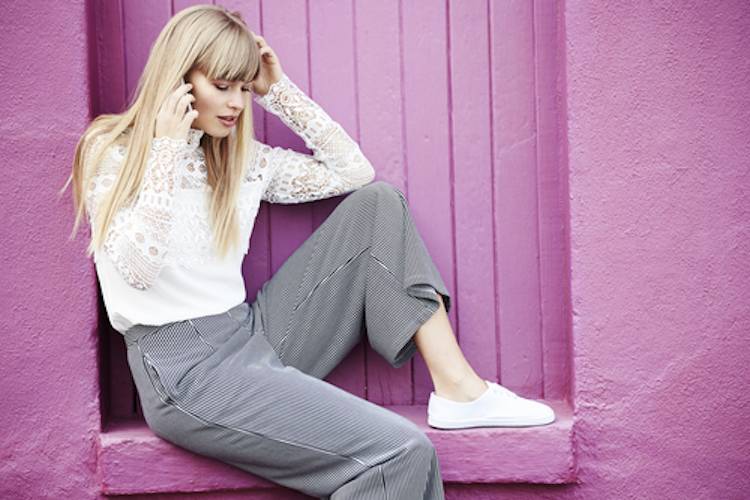 January 28, 2016 |
4 shares
Without a doubt the trendiest trouser shape for Spring/Summer 2016 is the wide-leg. Stella McCartney, Calvin Klein Collection, Alexander Wang and Valentino all feature wide-leg trousers in their new season ready to wear collections.
Designers have embraced the wide-leg, now it's about time you embraced the trend too. Hardcore skinny-jean devotees may struggle to warm to the voluptuous wide-leg at first sight. But don't be shocked or daunted, here are 5 reasons why wide-legs are superior to skinnies and straight-cut trousers.
1. Say hello to freedom
What a relief! With the wide-leg trouser, room to move is back on the agenda. No more it-hurts-to-bend-down-to-open-the-dishwasher moments, cut-marks around your hips where your skinny jeans are digging in, or the unsightly exposure of bum crack as your skinnies struggle to adapt.
Now you can bend, jump, hop, run for the bus and even get a pedicure without restriction. Last year doctors warned of the health-risks posed by wearing skinny jeans, after a 35 year-old Australian woman collapsed and suffered serious nerve-damage in her legs after squatting repeatedly in skinny jeans. If skinny jeans pose a health risk then wide-leg trousers are good for your health!
2. People will actually notice that you've bought a new pair of jeans
Skinny jeans in a similar dark denim shade all look pretty much the same. From the eyes of an outsider, your numerous pairs of skinny jeans all merge into one. Wear a wide-leg jean well and you might get a compliment or two.
Victoria Beckham Denim Wide Leg Jeans, £125, mytheresa.com
3. Wide-legs inspire, skinnies conform
Skinny-cut trousers are undoubtably fashionable and many an outfit they do make, but they don't exactly inspire. Flaunting a wide-leg shows that you're a cut above the rest, you make fashion you don't conform to it.
These beige mid-rise wide-leg trousers from Raoul are divine and easy to style with a white blouse.
Raoul Crepe Wide-Leg Pants, £152.50, The Outnet
Opt for cropped length wide-leg trousers or culottes, like these black culottes with belt by River Island, and wear them with a stiletto heel and plunging neckline for a confident evening look.
River Island Culotte Trousers With Belt, £38, ASOS
4. More is less
Wide-leg trousers are a complementary cut for all shapes and sizes. Add in a high waist and this trend just got even more flattering. High waisted wide-leg trousers look amazing with a cropped polo-neck or cropped cami. Wear a beige trench coat over the top for seriously sophisticated style this spring.
Rust High Waisted Wide Leg Trouser, £20, Nobody's Child
Wide Trousers, £29.99, H&M
5. Bring on the glamour in white wide-leg trousers
After the dark, bleak days of winter and layering up in even darker clothes, what else feels better than slipping on a pair of bright white jeans?
White denim, cotton and linens are a breath of fresh air for spring, but if you're not built like Kate Moss, white skinnies can be a little unforgiving. That's where the flattering wide-leg cut comes in, wide-legs and white are a match made in heaven.
Wide Leg Palazzo Trousers, £55, Topshop