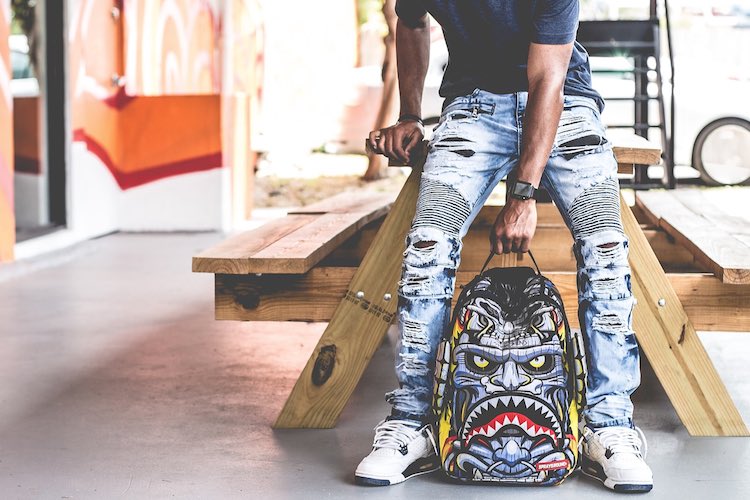 November 27, 2021 |
8 shares
Distressed denim is the denim of our generation – we just can't get enough of it, no matter how much leg hair those rips reveal.
Maybe it's about making a rough and ready statement or you just love the way those strategically placed slashes set your knees free.
Here are six ways to love distressed denim even more...
Distressed denim jackets
The statement distressed denim jacket is a wardrobe investment – wear it with blue and white stripes for a nautical take or a graphic print tee.
Oversized denim jackets are on trend or go for a regular fit shorter jacket and layer over a longline tee. A shearling collar is a snug touch giving longer wearability into the colder months.
Distressed denim shirts
Be the boy in blue with a cotton denim shirt. All Saints, True Religion, Original Penguin, Topman and Hoxton Denim are good places to look.
Contrasting chest pockets, studs, exposed stitching and rips add detail – for a modern update a cutaway collar works well. Go for all-over light-wash or a dip-dye effect to add interest.
Wear your distressed denim shirt with black slim fit jeans and a black suede jacket.
Distressed denim shorts
Do distressed denim shorts and a tee for off-duty cool in the summer. Look for distressed denim shorts which fall just above the knee – roll-up cuffs and raw edges add detail.
Distressed denim doesn't have to be blue – perk-up with colourful denim shorts or white denim shorts with rips and distressed details.
Distressed jeans & bomber
Update this classic look by choosing slim-fit tapered jeans with rips at the knee and wear with a tee and and bomber jacket.
If rips aren't distressed enough for you, then the Sixth June, Liquor & Poker and Diesel collections feature very-distressed designs with circular cut-outs and overlays.
Distressed jeans & blazer
Smart casual never looked so good with this easy-to-put-together combination. Contrast distressed denim jeans with a sharp, tailored blazer and a well-ironed, crisp shirt.
For something more casual, a navy blazer and white tee stands out next to light-wash distressed denim.
Distressed denim & embroidery
Embroidery has come out as a major trend at this years festivals. Dolce & Gabbana embroidered subtle sequins in a floral motif onto ripped denim jeans and Gucci have sewn embroidery onto just about everything this season.
Their embroidered denim pants for men are inspired by nature, with bright butterfly and serpent motifs.
Our Top Tips On How To Wear Distressed Denim
A distressed denim jacket is a great wardrobe investment and will be one of hardest working items in your casualwear wardrobe. Opt for light blue to extend your outfit options and pair with black or blue jeans to work the double denim trend.


Swap your chambray shirt for a distressed denim style to add interest to your downtime outfits. Complete the look with a suede jacket, slim fit jeans (or chinos) and your favourite chukkas.


In summer, look to distressed denim shorts that fall just above the knee and pair with a grey tee and leather trainers to stay off-duty cool all season long.


For a night at the pub, pair distressed jeans with plimsolls and a bomber jacket, while a blazer and brogues will instantly dress them up for date night.