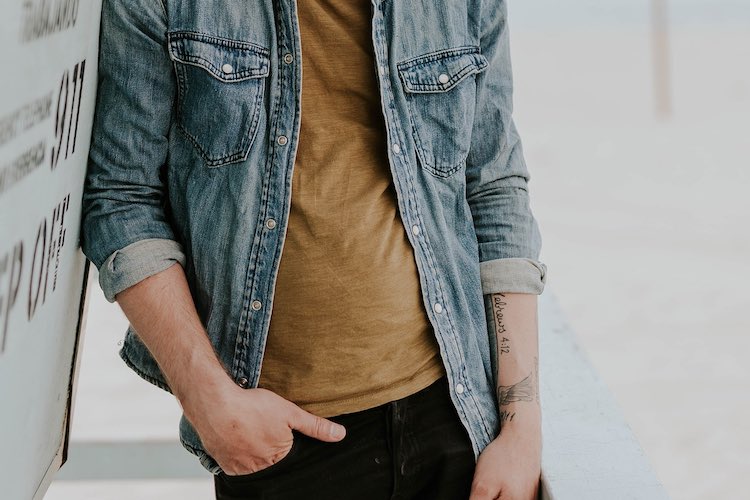 June 15, 2020 |
11 shares
Denim shirts have never been available in more colours, fits and washes. A wardrobe staple for over 50 years, each season they get a style refresh to bring this classic right up to date.
So what's the best way to style a denim shirt for both work and play? Read on for our complete guide to men's denim shirts, showcasing the best outfit ideas so you know how to wear one whatever the occasion…
How To Wear A Denim Shirt With Jeans
If you're asking yourself if it's ok to wear denim on denim, the answer is a definitive yes. The double denim trend is going anywhere anytime soon and a blue denim shirt with black jeans is a great look both in and out of the office.
Always opt for a light shade of blue denim so there's contrast with the jeans and layer over a grey or white t-shirt for a more casual vibe on downtime days. Chelsea boots will instantly help to dress up the outfit, while canvas plimsolls and trainers should be your go-to shoes for off-duty days.
If you're wearing a denim shirt with blue jeans you have a few options. Either choose a black denim shirt and wear it with light blue wash jeans, or go for a dark denim shirt in a navy hue and pair it with mid wash jeans like the outfit above. The third option is to opt for a light blue shirt and wear it with dark wash jeans.
Contrast is the key here; you don't want the denim shirt and jeans together to perfectly match. Complete the outfit with white leather trainers to keep the look clean.
How To Wear A Denim Shirt With Chinos
Denim shirts look great with chinos if you're after smarter wardrobe options than jeans. Due to the lighter fabric of the chinos, it's also one of the best ways to wear a denim shirt in summer.
For work, opt for brown or beige chinos paired with a light denim shirt and brown leather Oxfords. Switch up the footwear for loafers or deck shoes to dress down the outfit and you've got endless options for casual occasions this summer and many more beyond.
How To Wear A Denim Shirt With Joggers
Wearing a denim shirt with joggers is a hard look to pull it off, but get it right and it's a seriously cool way to work the denim shirt trend. Khaki green and brown tapered joggers look great with pale blue denim shirts and the addition of an overcoat takes the outfit to new heights.
Alternatively, go for a casual street style vibe by wearing your denim shirt with black joggers and Old Skool Vans trainers. Complete the look by layering a grey zip up hoodie over the shirt and add a black jacket when the temperature drops.
How To Wear A Denim Shirt With Shorts
Both long and short sleeve denim shirts look good with shorts, with long sleeve styles offering more layering options with tees and vest tops. Opt for chino shorts over jersey or cargo shorts for sartorial success and complete the look with canvas trainers.
If you want to smarten up the outfit for holiday date nights, swap your trainers for boat shoes or tassel loafers.
Our Top Tips On Wearing Men's Denim Shirts
You can create multiple denim shirt combinations from style staples in your wardrobe if you get the contrast right. Light denim shirts look best worn with darker jeans, chinos and shorts, while dark denim shirts look best with lighter bottoms.


Avoid distressed denim shirts for smarter occasions and opt for a pale blue chambray shirt paired with beige chinos or black jeans. Complete the look with Chelsea boots, Oxford shoes or brogues.


Light and mid-wash denim shirts are perfect for off-duty days and can be worn with just about anything. Layer with t-shirts, zipped hoodies and overcoats for downtime style points.


As an alternative to a black denim shirt, opt for dark grey or charcoal for maximum wardrobe options both in and out of the office.