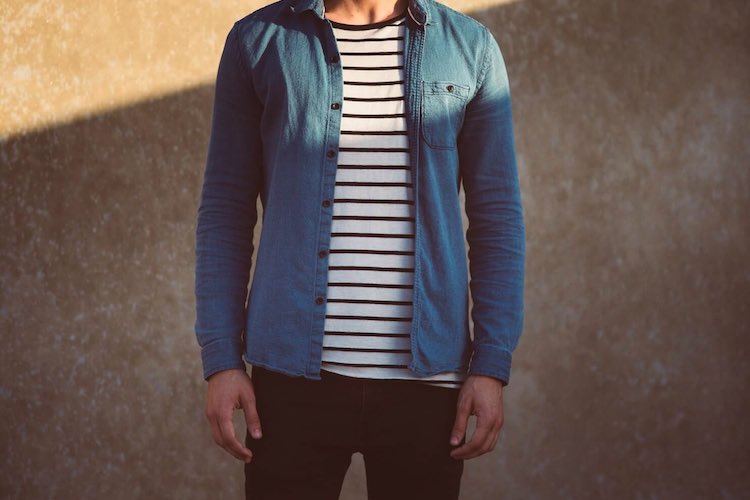 March 6, 2021 |
10 shares
There aren't many outfits as divisive as double denim.
Double denim is the marmite of men's fashion – you either love it or you hate it. But no matter what camp you fall into, there's no denying the popularity of this classic combo.
Double denim has taken the fashion world by storm over the past year, thanks to endorsements by the likes of David Beckham and Kanye West. And depending on how you wear it, you can channel a variety of trends, from vintage hipster, to rugged cowboy, to couture king.
Read on to discover our top tips on how to wear double denim whatever the occasion…
How to wear black double denim
SHOP THE LOOK: Black Jeans | Black Denim Jackets | CK T-Shirts
Black double denim can be a bit overwhelming, so it's best to break it up with lighter shades of grey or blue. Layer a black denim shirt over a plaid shirt and light grey tee, or wear a black denim jacket over your favourite hoodie.
Tone down the wall of black by choosing a pair of ripped or frayed jeans and adding box-fresh trainers to complete the look.
How to wear dark double denim
SHOP THE LOOK: Blue Jeans | Blue Denim Jackets | Brown Boots
This is arguably the easiest colour to wear – dark denim is flattering and widely available, so you probably already have a pair of indigo jeans and an almost-matching jacket in your wardrobe. That the colours are only 'almost matching' is key to the success of this look.
Choose identical hues of blue and you risk looking like a mannequin. Instead, add interest to your outfit by wearing dark blue jeans with a slightly lighter coloured denim shirt or jacket, and finish the look with brown boots or shoes.
How to wear light double denim
SHOP THE LOOK: Light Blue Jeans | Chambray Shirts | Jumpers
Light denim is somewhat harder to pull off. Get it wrong, and you risk looking like an extra on an 80s soap opera. But wear it right, and you'll turn heads for all the right reasons.
Unless you are specifically going for the 80s look, avoid paring acid-washed jeans with a bleached-out jacket. Instead, use your light denim as a base for a layered look, and wear light blue jeans with a chambray shirt and dark-coloured jumper.
How to wear classic blue double denim
SHOP THE LOOK: Straight-Leg Jeans | Denim Jackets | Grenson Boots
The shade of blue that you choose is vital to the success of this outfit. Avoid anything too bright, as this can be a sign of synthetic dyes that will wash out after a few wears.
With blue denim, you get what you pay for, so opt for classic American-style blue jeans, and good, thick denim shirts.
If you want to go for the full cowboy look, button up your denim shirt or jacket and wear it with straight-leg blue jeans in a similar hue. Cowboy boots are optional!
How to wear white double denim
SHOP THE LOOK: White Jeans | White Denim Jackets | Men's Converse
The double denim trend may be like marmite but wearing white denim is even more so. It's a hard look to pull off and one for the drier months, but get it right and it can help to take your style to new heights.
Keep the outfit minimal, opting for white jeans, a white jacket and white trainers, finished off with a Breton tee to add some colour.
Unsurprisingly your entire outfit can be ruined in seconds by messy eating, so it's probably not the best way to work the double denim trend if you're looking to impress a date.
How to wear mixed double denim
SHOP THE LOOK: Black Skinny Jeans | Blue Denim Shirts | Vans Trainers
By far the most popular way to wear double denim – this is a great way to stay on-trend using the clothes that you already own. Light and dark blue work particularly well together, while light blue denim and black creates a grown-up colour palate that can be easily dressed up or down.
Even better - by mixing up different shades and textures of denim, you can fool yourself into thinking that you aren't actually doing 'double denim' after all...
Our Top Tips on How To Wear Double Denim
Break up black double denim with shades of grey and always make sure your trainers are box-fresh.


Wear brown shoes with dark blue double denim outfits and make sure the shades of denim aren't identical.


Light blue double denim is a great look in the summer and is perfect for creating a layered look.


For a classic double denim outfit, opt for American-style blue straight leg jeans and avoid synthetic dyes.


Keep white double denim outfits minimal with only a hint of colour in a t-shirt or top worn under the white denim jacket.


For a modern take on the trend, wear blue and black denim together for a look that can easily be dressed up or down.