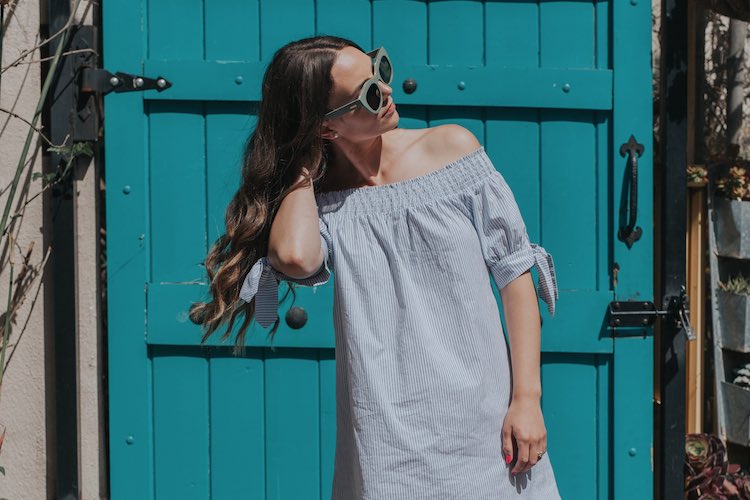 September 5, 2023 |
10 shares
The off-the shoulder Bardot trend has come out of nowhere to become one of the key looks of the year. And it's really not all that surprising. This is that rare trend that genuinely suits anyone, no matter what your shape or style. In fact, the only thing you have to worry about is choosing the right underwear!
This summer, the stores are full of Bardot style shirts, tops, dresses and even bikinis. Here is your essential guide to working the trend like a 1960s movie star.
Bardot dresses
SHOP THE LOOK: Bardot Dresses | Block Heel Sandals | Denim Jackets
The Bardot dress basically refers to any dress that falls off the shoulder and has a low scoop neck. On a bodycon dress, this style oozes sex appeal and simple elegance. If you choose a dress that's nipped in at the waist with a full skirt, you have a flirty, summery look that works just as well for weddings as it does for a first date.
Don't be afraid to go full 'Brigitte Bardot' with this look – the iconic movie star worked this look with big hair, dark eye makeup and simple heels.
Wear with... classic heels and minimal accessories
Bardot shirts
SHOP THE LOOK: Bardot Shirts | Pleated Midi Skirts | Court Shoes
Sometimes known as 'Cold Shoulder' shirts, the Bardot shirt may or may not come with a couple of straps, but either way you're getting your shoulders out. These shirts are perfect for the office on a hot summer's day, tucked into a pleated skirt or mini; or as part of your holiday wardrobe (you'll appreciate it when you need to even out a t-shirt suntan).
For extra fashion kudos, double up on your trends and choose a gypsy-style off the shoulder shirt, worn loose over jeans.
Wear with... a pleated midi skirt
Bardot tops
SHOP THE LOOK: Bardot Tops | Wide Leg Trousers | Flatform Trainers
Unlike Bardot shirts, Bardot tops are best worn tight and tucked in, or cropped and billowy. This is all about the silhouette that you want to create, so don't be afraid to mix it up by pairing your Bardot top with wide-legged trousers or dungarees.
Bardot tops have the ability to look retro and modern at the same time. Channel Gigi Hadid by going full 90s with a Bardot bodysuit, worn with high-waisted jeans and a choker. Or take your inspiration from 1970s Grease crossed with 2017 Kendall Jenner and pair a cropped black Bardot top with black jeans and heels.
Wear with... palazzo pants
Bardot bikinis
SHOP THE LOOK: Bardot Bikinis | Denim Shorts | Havaianas Flip Flops
While the Bardot trend has something for everyone, Bardot bikinis should probably be avoided if you have anything over a C cup. This is not the most 'supportive' style on the market, as it is essentially strapless – the arm cuffs are strictly decorative.
There is a plethora of Bardot bikinis on the High Street this year, decorated with ruffles, stripes, frills and florals. But the most popular look is set to be the plain black Bardot set. Get the arm placement just right and it looks like you have a censorship bar across your chest, a la Kim Kardashian.
Wear with... plenty of sunscreen!