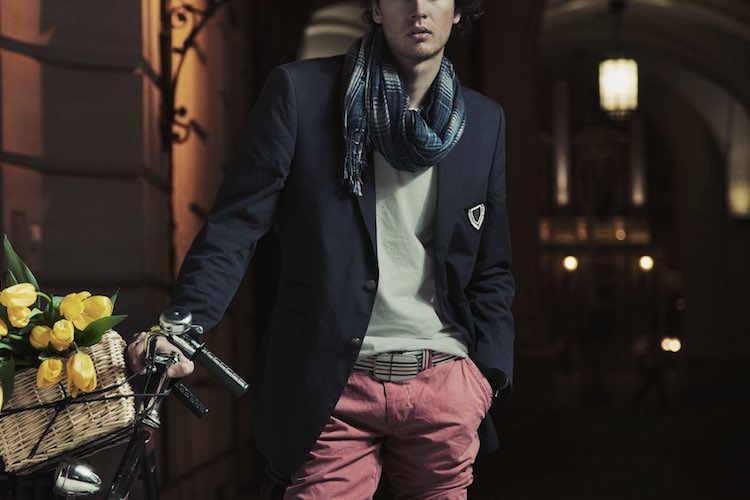 November 7, 2017 |
27 shares
Back in March we covered our favourite menswear style blogs, showcasing the work of the best men's fashion bloggers up and down the country. Now it's time to take a deep dive into the official blogs of some of your favourite menswear stores online and discover which you should turn to for insider fashion gossip and style inspiration.
Read on to see which menswear retailer blogs made the cut and what they have to offer…
The Journal by Mr Porter
If your budget doesn't quite stretch to shopping at luxury men's fashion retailer Mr Porter, don't let that put you off visiting the website. Its online magazine, The Journal, offers fantastic editorial content coupled with stunning photography for style conscious gents. You'll find all the tips needed to stay on trend each season, alongside exclusive interviews with the likes of Snapchat founder Kevin Systrom. If you're keen to take your style game to the next level, this is the blog for you.
The Manual by The Idle Man
The Manual by The Idle Man has established itself as a leading authority on men's style advice, offering expertly crafted articles on all things menswear. Expect to find a huge range of style guides on every topic imaginable, from shirt and tie colour combos to shopping for the best jeans for your body shape. It's a wealth of information and comes as no surprise that the Manual was named as Best Fashion Blog at the 2017 UK Blog Awards. Whether you're already well versed with the latest trends or are a complete style novice, it's an absolute must-read blog to visit daily.
Harrods Style Notes
For those with a healthy disposable income, the Harrods Style Notes blog is one of the best out there for showcasing key wardrobe components for the modern gent from a range of luxury brands. Prepare to be inspired with some of the finest products your money can buy, expertly curated into lust-worthy edits. You can also pick up advice on how to wear seasonal trends and what to look for when buying different menswear items. If you're lucky enough to have the means to shop across luxury designers, this blog should unquestionably be on your reading list.
Enclothed Blog
Like we did with The Idle Man, most of us first heard of Enclothed during a pitch on Dragon's Den. The men's clothing personal stylist and subscription service has continued to grow and now publishes an excellent blog. Whether you're wondering what to wear to the next footie match or need some help on colour co-ordination, Enclothed has it covered with some simple tips. The posts aren't as detailed as some other menswear blogs featured in our list, but if you prefer to keep things brief it's likely to appeal to you even more.
ASOS Style Feed
The Men's Style Feed by fashion giant ASOS offers no-nonsense advice on what trends you should be wearing each season and the key items needed to create the look. Every article is easy to digest, with bitesize content that's perfect for reading on the go. You'll also find a regular roundup of the latest menswear products to drop on ASOS so you never miss a new arrival.
Topman Blog
High street menswear favourite Topman offers up an eclectic mix of men's style, health, music and popular culture on its online blog. Expect to get tips on re-creating the look of celebs such as Ryan Gosling alongside street style inspiration. It's definitely less of fashion-focused blog than others featured but it's a great all-rounder when it comes to men's lifestyle and should help with building your overall style.
Thread Tips
Personal styling service Thread aims to make dressing well even easier with its online stylist tips for men. You can get all of your style questions answered, from how to look after a blazer to how much you should be paying for an outfit. If you register for free with Thread you'll also get tailored recommendations (based on your style preferences) for relevant products within some of the articles. The Thread Tips blog is a great resource to try if you're starting to get more interested in developing your style and are in need of some guidance.
The Style Report by Matches Fashion
The Style Report by luxury retailer Matches Fashion is a must-read for all designer label aficionados. Featuring stunning photoshoots alongside style news, interviews and edits, it's a visual treat rarely found on retailer blogs. The edits are also shoppable so it's quick to purchase any featured items, which will appeal to all guys lacking of time. It might not be for everyone, but if you appreciate good photography as much as good style, it won't disappoint.
Mainline Menswear Blog
The Mainline Menswear blog is a first rate example of a strong all-round style blog, showcasing trends, fashion interviews and new product drops. With posts published almost daily, there's always fresh news and tips to discover so you can build out your trend-led wardrobe. You won't get the same level of detail as on blogs like The Idle Man, but for quick style inspiration it's an enjoyable daily read.
Threads by Savile Row Co
Some men's tailoring retailers have really embraced the blog and the Savile Row Company is one of the best examples. As you'd expect, the articles focus heavily towards the smarter end of the spectrum, providing tips on how to wear your favourite suits and shirts alongside what to wear guides for events such as Wimbledon. For all men who are regularly suited and booted, the Savile Row Co Threads blog doesn't disappoint and should help to set you apart from the crowd with useful tips to take your outfits to new heights.
Mennace Blog
The Mennace blog is the youngest on the list with the menswear brand only launching its online store in September, however it's already built up an impressive roster of street style articles. The content on the blog is better than many from the more established brands and will appeal to the trend-savvy. Expect plain and simple advice on how to master the biggest trends each season together with insider news on what's happening behind the scenes at Mennace.
Reiss Blog
Reiss doesn't split its blog between different sections for men and women so you will have to do some sifting to find the menswear articles, but it's definitely worth the effort. With a large focus on how to wear guides, Reiss excels at giving snappy style tips so you know what to wear (and just as importantly what NOT to wear) for sartorial success. This isn't a daily read as new articles for men are usually published weekly, but there's plenty already live on the Reiss blog to get you started.
END. Clothing Blog
Menswear retailer END. Clothing makes sure you never miss a drop by highlighting the latest trainer releases and launch dates on its online blog. With often multiple posts daily, it's one of the best places to keep ahead of the game so you can get your hands on new kicks as soon as they're available. Alongside daily drops you'll also be entertained with exclusive interviews with streetwear designers. A must-read menswear blog for all sneakerheads!
Oliver Spencer Journal
Lots of designer brands don't even have a blog, which makes it even more pleasing that the blog of British designer Oliver Spencer is so creative. You'll discover the finer details behind new collection launches alongside Oli's own picks, plus exclusive interviews with some of the brands customers. Keep a close look out for the Design Notes articles that include Oli's sketches for pieces featured, helping you to get a real sense of the complete design journey.
Samuel Windsor BLOG
The Samuel Windsor blog may look somewhat dated but don't let first impressions put you off. The team offers up expert tips on dressing well for different occasions together with useful style hacks like how to make your leather soles less slippery. If you're looking for news on the latest trends don't expect to find it here, but for guidance on smart casual dressing the Samuel Windsor blog will show you how to do it like a pro.
Lyle & Scott Blog
Surprisingly you could end up landing on the Lyle & Scott blog without actually realising where you are, as it has no branding at all. The only giveaway is in fact the golden eagle logo on menswear featured within posts. You'll be glad you have landed on it though as the blog articles offer up a wealth of style tips on topics like how to look after clothing and the best way to roll your sleeves up. If you're constantly asking yourself questions like 'Would this shirt look better un-tucked', the Lyle & Scott blog should provide the much needed answers.
Aphrodite1994 Blog
The Aphrodite1994 menswear blog is another that excels at posting regular updates on launch dates for new trainer releases. The articles offer multiple product shots fused with all the essential details true sneakerheads will want to know. Away from trainer drop dates, the Aphrodite1994 blog often covers the history behind some of biggest labels so you can get to know more about your favourite brands.
John Lewis Menswear Inspiration
John Lewis is unlikely to be your first thought when looking for menswear advice online, however the British department store started publishing style advice pieces earlier this year. From what to wear on a dinner date to how to wear neutrals, the weekly articles will make sure you make the right impression whatever the occasion. They are pretty light on details (which may appeal to some more than others), but are perfect for anyone in need of a nudge in the right direction without a penchant for heavy reading.
The Manual by Jacamo
Self-proclaimed wingman to the masses, menswear specialist Jacamo carries this philosophy through to its blog (The Manual) with useful style tips that all men will appreciate. Whether it's how to wear double denim or what white trainers to buy based on your lifestyle, the guides are easy to digest and focus more on the outfit than a trend. For men who want to dress better without trying too hard, the Jacamo blog is a great starting point.
Suit Direct Style Bureau
The Style Bureau blog by Suit Direct aims to keep you ahead of the game in men's suiting. Covering a range of topics from accessorizing to looking after your suit, it's a great resource for making sure you get the best out of your suit both in the office and at formal events. For any fans of the Savile Row Co blog, the Style Bureau is another to add to your reading list.