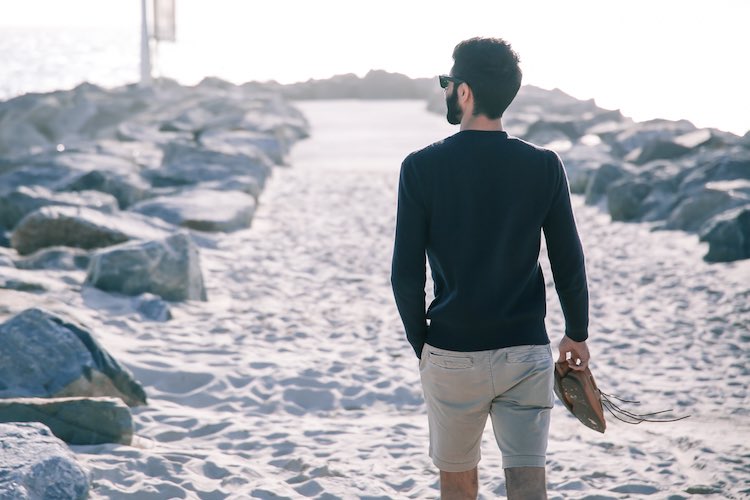 In a perfect world, we'd all spend the summer wearing whatever we like.
But flip flops and trackie shorts aren't exactly appropriate for every occasion. Whether you're trying to impress the in-laws at a BBQ, braving the heat at a work do, or making yourself Instagram-ready for your holiday; sometimes tailored shorts really are the only option.
Slim-cut, breathable and vaguely formal, they are the most respectable style of shorts. And with celebrity fans including Tinie Tempah and David Gandy, they're rapidly becoming one of the most popular items of the summer.
So we thought it was time to take a look at the best shoes to wear with tailored shorts, no matter what the occasion.
When you're wearing tailored shorts… to work
+ Best shoe style to wear: PENNY LOAFERS
SHOP THE LOOK: Blue Smart Shorts | Penny Loafers | Ted Baker Shirts
If you are going to wear shorts to work, you have to choose your footwear VERY carefully. A lot of offices have a strict 'no flip flops' rule, and you can safely assume that this would apply to most sandals and sliders as well. No matter how tailored your shorts are, you should always keep the sandals for the weekend.
At work, keep your toes covered up with the smartest pair of shoes that you can wear barefoot. That means penny loafers or brogues in a dark colour. Just make sure they've been broken in first – you don't want to end up with blisters.
When you're wearing tailored shorts… on holiday
+ Best shoe style to wear: MULE SANDALS
SHOP THE LOOK: Mule Sandals | Fedoras | Paul Smith Polos
Not too scruffy and not too formal, tailored shorts are a great alternative to chinos or jeans when you're travelling in warmer climes.
Choose a natural fabric such as linen or cotton mix, so you can stay cool in the heat, and pair with a loose-fitting shirt or polo shirt and wide-strapped mule sandals or sliders. Just add a fedora hat and sunglasses for a stylish and comfortable summer ensemble that will look great in your holiday photos.
When you're wearing tailored shorts… a BBQ
+ Best shoe style to wear: BOAT SHOES
SHOP THE LOOK: Black Shorts | Boat Shoes | Check Shirts
Tailored shorts don't have to be reserved for more formal occasions – they are super-flattering and on trend, so why wouldn't you want to show them off at a BBQ with friends?
The challenge here is choosing a pair of shoes that dress down the shorts, so it doesn't look like you've arrived straight from the office. Boat shoes or plimsolls will do the job, with a faded t-shirt and plaid shirt.
When you're wearing tailored shorts… a garden party
+ Best shoe style to wear: SUEDE LOAFERS
SHOP THE LOOK: Suede Loafers | Chino Shorts | White Shirts
Garden parties can be difficult to gauge, style wise. On the one hand, you're going to be outdoors in the sun, so it's important to dress for the heat. But on the other hand, you've been invited to someone's house, so you need to look halfway smart.
Enter, the suede loafer. Less stuffy than brogues, but not as casual as sandals, they are comfortable and stylish, and look great with tailored shorts of any length.
Our Top Tips On Picking The Best Shoes For Tailored Shorts
If you're wearing tailored shorts to work, pick a pair of smart penny loafers or brogues that are comfortable to wear without socks.


Tailored shorts are a great alternative to chinos on holiday and can be paired with classic Birkenstock mules and a polo shirt for a look that'll transcend from day to night.


At a BBQ with friends opt for a more casual shoe style such as plimsolls or boat shoes to wear with your smart shorts.


Suede loafers should be your go to style to wear with tailored shorts if you're heading to a summer regatta or posh garden party. Just hope it doesn't rain!