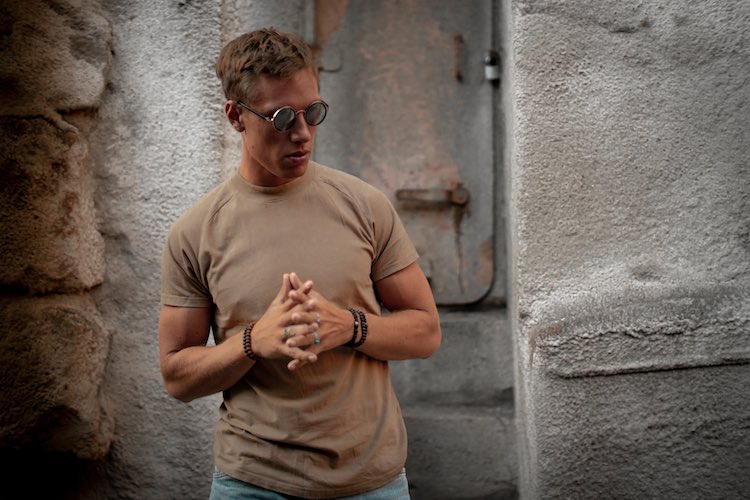 July 24, 2021 |
14 shares
It's hot, not just hot, but hot hot. You've just sweated your way through your third shirt of the day and everything is sticking to you like a clingy ex-girlfriend. You feel like a gross sweaty mess and everywhere you turn it's all too apparent the UK doesn't do air con.
So you how do you maintain some respectability and hold on to a shred of dignity? Read on for our heat wave survival tips to keep your sartorial standards intact as the temperature soars…
1) Choose your fabrics wisely during a heat wave
Natural fabrics are much more forgiving during hot spells, letting your skin breathe and helping your body to self regulate its temperature.
Cotton and linen are your go-to summer fabrics and have the power to make layering sweat-free. A linen summer blazer can be thrown on with just about anything to smarten up your outfit, while premium cotton polo shirts are a smarter alternative to t-shirts for casual days.
2) Show your boss that shorts can be smart in the office
Most companies have a no shorts policy for work, making life in an office with no decent air con almost unbearable during a heat wave. However, lots of rules get relaxed when temperatures really peak and if you can get away with wearing shorts, do it at all costs.
The perfect style is slim fit chino shorts, which can be paired up with boat shoes or loafers, a crisp white cotton shirt and linen blazer to create the perfect office-friendly ensemble.
3) Lose the socks & let your feet breathe
During a heat wave there's no reason any gent should be wearing socks, as long as you pick the right style of shoes.
Loafers without socks look great worn with summer suit trousers and smart shorts, while boat shoes work with just about anything for a smart casual look. If you're worried about sweaty soles just pop on a pair of invisible socks and you're good to go.
4) Swap denim for chinos in a heat wave
If it's more appropriate for any reason for you to wear trousers during a heat wave, opt for chinos over jeans and you'll instantly notice some relief from the heat.
Traditionally only available in shades of beige, there's now never been more colours to choose from including pastel pink, navy blue and black. This makes them great for the office, while just as stylish at a posh BBQ.
Where possible, opt for a relaxed cut rather than a slim or skinny fit so you can get more air circulating between the fabric and your skin.
5) Get rid of the sleeves
At all available opportunities get rid of as much sleeve as possible from your tops during a heat wave. You want as much air as possible to be able to circulate near your armpits to avoid unsightly (and smelly) sweaty patches.
It's one of the easiest tips to use and means switching your standard work shirt for a short sleeve cotton shirt and your downtime tee for a vest top. If you're not a fan of vests, a cap sleeve t-shirt will be the next best alternative to keep your style game strong during a heat wave.
A final word of advice…if you are prone to sweating heavily, always opt for lighter colours during a heat wave to make sweat patches less visible. Grey is one of the worst colours to wear as sweat will show up in seconds, so go for white as a fail-safe option.