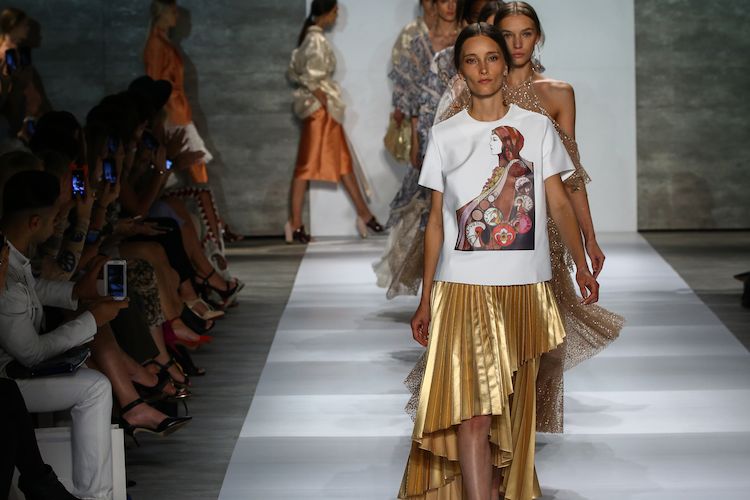 September 28, 2016 |
4 shares
Everyone wants to know how to get a designer look for half the price, so that's what we've focused this latest article on. If you're mourning the end of London Fashion Week fret not, and instead indulge in some sweet reminiscing with these six key looks straight from the catwalks of LFW.
We've picked out some lovely lookalikes for each trend from the trusty British high street to get your wardrobe looking designer in no time.
1) Brocade dress trend – seen at Burberry
Betty Brocade Tunic Dress, £120, French Connection
Christopher Bailey we salute you! The regal gold brocade dress seen at LFW is the epitome of autumnal elegance, mixing gold floral brocade with a modern mini-length.
The statement sleeves added drama whilst the understated round neck kept it chic. The rough and ready lace-up boots modelled with it are another key look for AW16/17.
We've found the perfect lookalike, with the berry tones of this brocade dress from French Connection offering a subtler alternative.
2) Pleated metallic trend – seen at Christopher Kane
Closet Bronze Pleat Midi Skirt, £50, House Of Fraser
Cheap metallics can be ghastly but high-end metallics are a key designer look. Go for premium lightweight fabrics and midi-length pleated styles to keep it classy.
We were mesmerised by the pleated dress in silver lamé by Christopher Kane with a sexy split at the front and long pleated sleeves. Re-create the look with this purse friendly bronze pleated midi skirt from Closet.
3) The ladylike jacket – seen at Christopher Kane & Dior
Beaded Jacket, £79.99, Zara
Cropped fitted jackets in colourful tweeds with big brassy buttons scream designer. Christopher Kane paired an orange and black flecked ladylike jacket with a silky print pencil skirt, costume jewellery earrings and a single stand-out gold bracelet.
Go for refined navy or granny-chic pastels and style with tailoring, pleat-front trousers and loafers to pull of the look yourself. This beaded jacket from Zara is a good place to start if your budget doesn't stretch to Christopher Kane.
Complete the look with an on-trend string of pearls and hark back to an era of old-school glamour.
4) The pussybow blouse – seen at Emilia Wickstead
Silk Pussybow Blouse, £125, Comptoir Des Cottoniers
The return of the pussybow blouse did not go unnoticed at LFW 2016. Look for sheer fabrics and chintzy prints as done to an exemplary standard at Emilia Wickstead.
This high street alternative from Comptoir Des Cottoniers features flared cuffs with a teardrop back and will look great with a pair of tapered trousers for a stylish workwear outfit.
5) The Masculine striped blazer – seen at Mulberry
French Connection Freddie Stripe Blazer, £150, ASOS
The boxy, oversized navy blazer with red stripes shown at Mulberry screamed public school. This French Connection blazer might be a cheaper alternative but looks just as fab.
Wear with tailored trousers for a sophisticated affair or with jeans for a relaxed take. Add a ladylike touch with a vintage brooch. School uniform never looked so good.
6) The trench coat – seen at Aquascutum
Double Breasted Trench Coat, £89.99, Mango
What could be more designer than a premium trench coat? The beige beauty from Aquascutum seen at LFW is a statement piece that will never not improve an outfit when worn over it.
With it's hefty price tag it's not for everyone – treat yourself to this £89.99 lookalike trench from Mango. Wear yours with stilettos in vibrant tones for a colour pop.