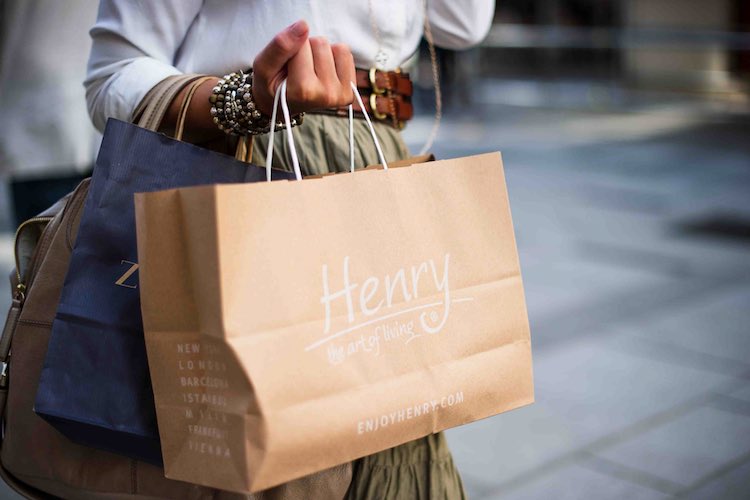 December 13, 2022 |
22 shares
We all like to think we're pretty savvy when it comes to getting the best fashion deals.
But if your savviness extends purely to shopping in seasonal sales, there are lots more genius ways you can save money on fashion.
Read on to discover how you can cut the cost of your fashion purchases all year round with just a tiny bit of planning…
1) Become A Student (for £16)
If you're not enrolled at college or university and constantly sigh when see a student discount being offered at your favourite store, there is a way to join the gang. Enroll for an online learning course at places like E-Careers and you'll be eligible to apply for an NUS Extra Card.
The courses are pretty expensive going direct, but you can often pick up discounts on daily deal sites like Groupon and pay as little as £4. Just make sure that the provider you choose allows you to apply for NUS membership. The NUS Extra Card is then a further £12 for 1 year.
As most fashion retailers offer a student discount of 10% (often increasing to 20% after the student loan payment periods), you only have to spend £160 on fashion per year to benefit from the student status. Ka-ching!
2) Save With Discounted Gift Cards
Looking to get a discount on full price items? With gift card marketplaces like Zeek you can purchase gift cards for your favourite fashion stores at a knock down price.
The people selling them know you won't pay the standard price so discount them by up to 16% in some cases. It's easy to do and you can often use them with other savings (e.g. promo codes/cashback).
3) Buy Out Of Season
OK you're a trendsetter we get it…Buying out of season has never crossed your mind because who wants last season's stock?
We don't disagree, BUT that doesn't mean you shouldn't stock up on wardrobe basics out of season. That black bikini in the winter sales at 70% off isn't going out of fashion anytime soon. Neither is that luxe cashmere sweater that can be picked up in the spring sale.
4) Set Up Sale Alerts
Sale alerts are a great way to beat the crowds and be the first to know when a specific product you want goes on sale.
After logging into Hot Drops you can click the sale tag icon under any full price product and we'll send you an email when the price drops.
5) Buy At The End of The Month
Sales no longer happen just twice a year. Most retailers run online offers around payday (usually the last weekend of the month) so if you've got your eye on something, it's worth holding back to see if you can get it discounted in a payday promotion.
6) Shop As A New Customer
The majority of online retailers offer a welcome discount for new customers. If you're doing a big shop at one of your faves, create a new free email address and sign up to their newsletter so you can bag yourself another welcome discount.
Most fashion retailers offer 10% off for new customers signing up, but if you're lucky you might get 20% off (like the example above from Missguided).
7) Use Delivery Saver Schemes
As retailers battle for your money and loyalty, some have now started to open up delivery saver schemes (a bit like Amazon Prime).
For as little as £9.99 per year you'll get free next day delivery for a year (plus most don't have a minimum spend threshold you've got to hit). If you shop regularly at the same stores, these schemes can save you more money on fashion.
Not only do you save by not paying extra for express delivery, you also don't up spending more than you would choose to in order to meet the minimum spend amount to qualify for free delivery. The prices are likely to increase so sign up to the best schemes for you before there's a hike!
8) Shop During These Periods
All fashion retailers (like other businesses) have targets to hit each month, quarter and year. They often report quarterly figures to shareholders so will usually cut prices at the end of each financial quarter to boost the sales figures for that period.
With this knowledge, it's always worth trying to shop at the end of March, June, September and December to pick up the best deals (especially if a retailer hasn't been doing so well due to be changes in the weather).
9) Use This One Calculation When You Buy Fashion
Use the Cost Per Wear (CPW) formula to invest your money in the right items and hopefully avoid wasting it on things you won't wear. It's really simple to work out (on your phone) – just divide the cost of the item by the number of times you'll wear it over its lifetime.
Sometimes it pays to invest more in designer jeans that you'd wear everyday, rather than a cheaper pair that fits poorly and you only wear once a month. By thinking about CPW before you buy the item, you'll know exactly whether it really is a good deal for YOU.
10) Rent Occasionwear
No-one wants to wear the same dress to two events. Instead of splashing out hundreds of pounds on a knockout designer ensemble, look to online dress rental services so you can wear the dress at a fraction of the cost.
As well as designer dresses you'll also find a huge range of handbags to complete the look.
11) Use Price Trackers If You're Not In A Rush
Services like PriceDrops.co.uk and CamelCamelCamel are free to use and allow you to track the price of products on Amazon plus a range of other stores. They're great tools if you're not in a hurry to buy the item as you can see if the price has recently increased (indicating it may be worth waiting for it to drop again).
There's also the option to create a target price you'd like to pay and then be notified if the product drops to this price. It's simple to use and all you need is the product page URL (which is the link where the page is on the retailer's website).
12) Discover Amazon Warehouse Deals
Amazon has a lot of returns, which it then can't sell at the full original price. What do they do with them all? They're all within the Amazon Warehouse Deals section of the website.
It's different to the main 'Todays Deals' part so you may never have stumbled across it before (it's not the easiest to find), but it's a treasure trove of discounted products.
The returns are classed as 'Used', although many are just returns that people have sent back after opening. For each item you'll see the condition graded and the price will be discounted based on the grade (e.g. Used – Very Good, Used – Like New).
There are huge savings to be had on things like underwear and fashion accessories, with all deliveries fulfilled by Amazon so you can still benefit from Super Saver Delivery.
13) Be Cashback Savvy
If you haven't heard of cashback sites before, you've been missing out. Sites like Quidco and Topcashback are free to sign up to and give you cashback on the purchases you make online.
All you have to do is sign up, click through the link on the retailer's page on the cashback site and then shop as normal. It's important to check all terms and conditions before you click through the link as some fashion retailers pay a smaller cashback rate to existing customers.
Generally you'll benefit from around 5% cashback on your purchases from fashion sites, which is then paid into your nominated bank account or via Paypal after 2-3 months (so you don't return the item and still get cashback). You'll also find cashback isn't paid on VAT or the delivery charge.
14) Get Discount Code Notifications
If you don't have the patience to wait a couple of months for cashback to come through, discount codes will give you an instant saving and are available for a wide range of online retailers.
Some discount code sites like VoucherCodes.co.uk also offer the option to 'Follow' retailers so you then get an email notification when a new code is added for that retailer. These sites are free to use but just make sure you read Ts & Cs for any offer, as often the codes are only valid for new customers so you might have to create a new account.
15) Check Out Pre-Owned Marketplaces For Designer Bags
Pre-owned luxury fashion marketplaces like Vestiaire Collective are great for picking up a new designer bag for less. Yes, they've been used, but if you can get over that there are some real bargains to be had.
All handbags are authenticated and you can ask the seller questions about the condition before purchasing. Further benefits including the option to make an offer rather than paying the asking price (always worth a go) and to track price reductions for specific handbags.
16) Pay 0% VAT On Footwear
Clothing and footwear for young child benefits from a zero rating of VAT (0%), meaning the 20% VAT rate currently added to the price of fashion for adults doesn't apply.
According the HMRC, this includes girls' courts shoes up to a size UK3 and other styles of girls' shoes (with a heel height that doesn't exceed the sole depth by more than 4cm) up to a size UK 5.5.
In practice this means if you have feet under a size UK 5.5, it may be worth checking out the girls' section for trainers. You can instantly save yourself some cash by not having to pay VAT at 20%.
17) Shop at Official ebay Stores
Lots of UK fashion retailers now have an official store on eBay within the Fashion Brand Outlet. If you've found something you like on the retailer's own website, it's worth checking if they are selling it for a different price on their ebay store.
In some cases we've found prices to be higher on ebay than on the retailer's website, but often you can get the same item for less if you buy it through ebay.
The above example shows the identical jacket for sale on the Superdry website for £77.04, but you can get it for even less in the ebay store where it's listed at £68.99.
18) Find The Outlet Section
Lots of retailers like ASOS and Coggles have a dedicated Outlet section, offering year-round discounts of up to 70% on fashion. During sale periods it also includes sale items, but generally it's a mix of lines that haven't sold and need to be cleared.
OFFICE Shoes even has a separate website (Offcuts) for end of line and ex-display footwear, featuring big brands such as Nike and UGG. You will have to do some hunting to find a pair of shoes in your size but it's worth the effort when you can pick up UGGs for £58!
19) Hunt Instagram For Codes
Newly launched brands like Daniel Wellington and Komono regularly turn to Instagram to get their first customers. One trick they use is to give influencers promo codes to distribute to their followers.
By following ambassadors for your favourite brands and searching Instagram by a brand hashtag, you can often pick up a promo code that isn't listed on the main voucher code websites. Most discounts are for 15-25% off and it's a really quick way to bag a saving for the latest must-have items.