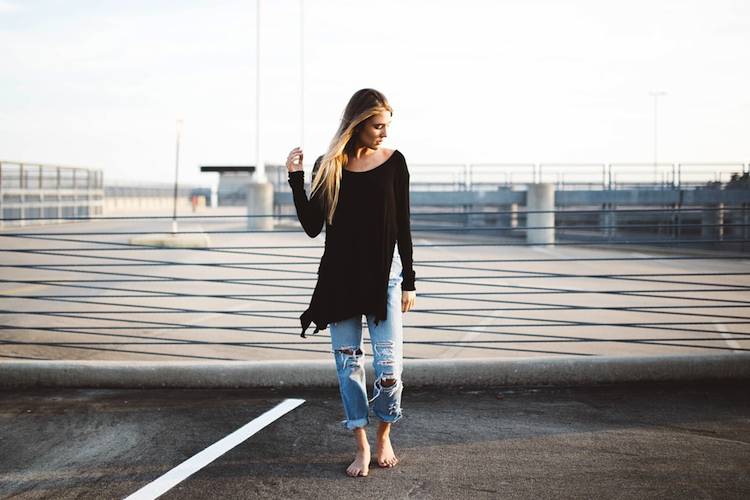 Who needs a boyfriend anyway? Boyfriend jeans – slouchy, straight cut jeans with a relaxed fit and tapered at the bottom – are everywhere at the mo so there's no need to borrow a pair.
Boyfriend jeans are not only comfy and on-trend, they're also surprisingly more flattering than you might have imagined, thanks to the tapered hemline. For superior styling find a pair with cuffs at the bottom or roll them up.
Sharp tailoring, boxy accessories and pointy-toed shoes create contrast and offset the slouchiness of boyfriend jeans. It's important to get this bit right otherwise you'll look sloppy.
A chunky leather belt worn low on the hips is a perfect partner for your boyfriend jeans and will help avoid too much sagging. If you are a boyfriend jean novice take inspiration from the ideas below.
The Boyfriend Jeans
Whether you opt for distressed denim or pick a pair of 'clean' jeans depends on personal preference. Distressed denim creates an edgier feel and is great for going off-duty or creating a fierce evening look when paired with a crop top, tailored blazer and high-heeled pointed courts.
Sisley Boyfriend Jeans with Distress Detail, £65, ASOS
Hollister Boyfriend Jeans, £44, Hollister
MOTO Washed Black Lucas Boyfriend Jeans, £42, Topshop
Alternatively, a distress-free indigo wash is easy to wear and more versatile. These Pure Collection boyfriend jeans from John Lewis are less rock-chick and all about simplicity.
Pure Collection Boyfriend Jeans, Washed Indigo, £79, John Lewis
How To Style Boyfriend Jeans
The simplest way to spruce-up a pair of slouchy boyfriend jeans is to team them with a blouse, black blazer and black high heels. A long blazer will conceal a slouchy boyfriend-jean bum. Always go for a tailored blazer with sharp lines or statement, boxy shoulders.
Long Blazer, £49.99, Zara
Kalala High Heels, £70, Aldo
Or go monochrome with a white tailored blazer and contrasting black accessories.
Turn-Up Sleeve Blazer, £59.99, Zara
Grown-up accessories create impact – play dress-up with this mock croc clutch from Star by Julien Macdonald.
Star by Julien Macdonald Designer Black Mock Croc Box Clutch Bag, £32, Debenhams
Add some playfulness to your monochrome outfit with these Soulmate pointed heels from ASOS.
Soulmate Pointed Heels, £25, ASOS
Or be bold and add a pop of colour and extra attitude to your boyfriend jeans with a brightly coloured tailored blazer and complementary pointed shoes.
Boyfriend Suit Blazer, £40, Misguided
Tikki Heels, £170, Kurt Geiger London