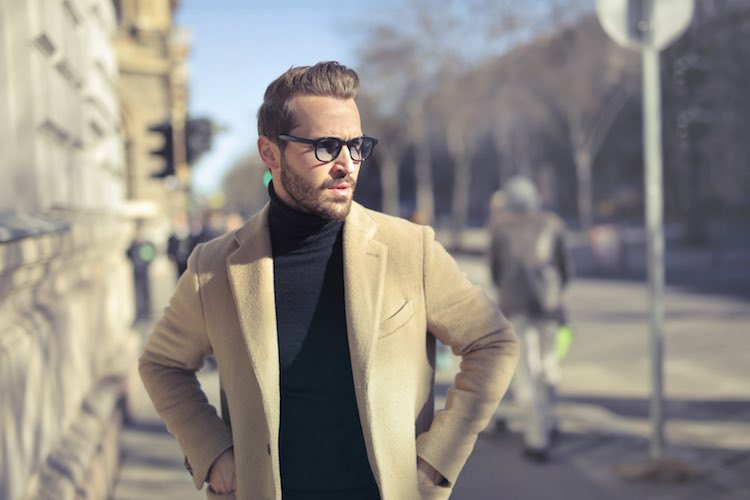 February 12, 2023 |
12 shares
There's nothing quite like a great overcoat. A swishy, well-cut overcoat has a certain air of refinement, whether you're wearing it over a Savile Row suit or a pair of jeans and a sweatshirt.
It's a throwback to a more gentlemanly past, and a chic alternative to a mac or raincoat. A good overcoat will stand the test of time, and can be worn everywhere from formal events and weddings, to casual weekends with the guys.
If you've never worn an overcoat before, they might seem a little intimidating. But a great overcoat is surprisingly versatile and looks great on just about anyone.
Read on for a few top tips on how to wear overcoats...
How to wear an overcoat... with jeans
SHOP THE LOOK: Overcoats | Skinny Jeans | Fred Perry T-Shirt
Jeans might not pair naturally with a classic overcoat, but they work surprisingly well together!
Choose a ¾ length overcoat, rather than a full-length style, and opt for a neutral colour such as camel or tan, which will compliment blue jeans and darker hues. Leave the front of the coat open to keep this look casual.
How to wear an overcoat... with a suit
SHOP THE LOOK: Ted Baker Overcoat | Suit Trousers | Paul Smith Scarf
An overcoat and a suit are a classic combination. Choose a traditionally cut overcoat in a neutral colour (charcoal is always a safe option), and make sure that there is plenty of room around the shoulders so that it can fit comfortably over a suit jacket.
Accessorise with a long scarf (ideally in a colour similar to your tie) and a debonair swagger.
How to wear an overcoat... to a formal event
SHOP THE LOOK: Formal Trousers | Grey Overcoats | Men's Loafers
An overcoat is the only coat you need for a formal event. A pristine, well-cut coat needs no added embellishments, but for really special events, you can always drape a silk scarf around your shoulders, roughly matched with your pocket square.
How to wear… a brightly-coloured overcoat
SHOP THE LOOK: Red Overcoats | Levi Jeans | Converse Trainers
Most overcoats will stick with a relatively safe colour – black, brown, beige, or grey. But lately, designers have been experimenting with brighter, bolder colours such as forest green, mustard yellow, and red.
A brightly-coloured coat makes a big style statement, but the trick is to keep the rest of your outfit muted, to avoid pulling focus (or looking like a Pop Art painting).
If the rest of your wardrobe is a tad monotonous, you should invest in a brightly coloured overcoat ASAP. The shot of colour will add a bit of much-needed panache to your daily commute, with minimal effort.
How to wear an overcoat... with athleisure
SHOP THE LOOK: Hugo Boss Joggers | Camel Overcoats | Hugo Boss Hoodie
Thanks to the likes of Kanye West and Harry Styles, the overcoat and hoodie combo is one of the hottest looks around.
Wearing comfy athleisure (joggers, hoodies, baggy t-shirts and sweaters) with a fancy overcoat is the sort of juxtaposition that the fashion world can really get behind.
Pull the hood of your sweatshirt over the top of the overcoat for that off-duty rock star look, and add your favourite joggers and statement trainers.
How to wear… a fur-trimmed overcoat
SHOP THE LOOK: Brown Overcoats | Black Trousers | Smart Shoes
Fur-trimmed overcoats are just starting to make a splash in the fashion world, thanks to the work of the overcoat connoisseurs over at Burberry.
Part 1950s Mad Men, part Russian general, these coats are beautifully vintage and deserve a fashion comeback.
Wear yours with a slim-cut suit and zero accessories, and stick with beige and tan colours if possible.
Our Top Tips On How To Wear Overcoats
Choose a tan overcoat to wear with blue jeans and keep it unbuttoned for a casual look.


If you're going to be wearing an overcoat over a suit, go for a slightly looser cut so you there's enough room for it to go over a suit jacket.


Red, mustard yellow and green overcoats are having a moment and are a great way to inject some colour into your wardrobe. Keep the rest of the outfit muted to avoid any clashing.


For the ultimate trend statement, layer a camel overcoat over grey joggers and a matching hoodie. Complete the look with iconic trainers.


Fur collar overcoats are harder to find but look amazing when paired with black suit trousers and matching shoes. The key to this look is less is definitely more.