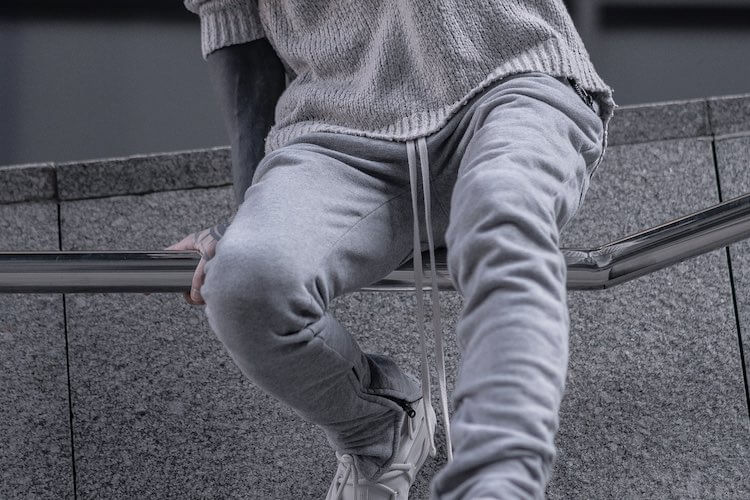 October 21, 2023 |
12 shares
Joggers for men have become an absolute wardrobe essential over the last 5 years. With brands now tapering the legs for a skinnier fit, they're a great alternative to skinny jeans when you want to mix up your looks each season.
For all the outfit inspiration you need plus tips on how to style them like a pro, we've put together this complete guide to what to wear with joggers. Like jeans, it pays to invest in this wardrobe staple so we've also included our picks of the best brands to shop:
What To Wear With Grey Joggers
Grey joggers for men are incredibly versatile and generally look good teamed up with black or white tees and trainers for a classic streetwear look. You can accessorize with matching caps and bags – just make sure your trainers are always box-fresh. To inject a hint of colour during the warmer months, opt for an orange cap or sunglasses for guaranteed sartorial success.
What To Wear With Navy Joggers
If you're looking to dress up your downtime looks, try a pair of tapered navy joggers worn with a grey marl sweater or crew neck t-shirt. It's a classic combo that works every time, with blue trainers completing the smart-casual outfit perfectly. You can afford to play around with incorporating other colours such as browns to add some richness to your outfit.
What To Wear With Black Joggers
Tapered black joggers are visually the closest alternative to skinny jeans, which means you can wear them with pretty much everything you'd wear your skinnies with. One of your favourite looks is to add a simple grey or white tee, iconic black trainers (like Adidas NMDs) and layer with a camo jacket. It's an easy outfit to pull off and the camouflage gives just the right amount of colour to keep it interesting.
What To Wear With Cargo Joggers
If you were previously a fan of cargo trousers before the slim-fit trend hit, cargo joggers may be the perfect style for you. Complete with multiple side pockets, the tapered cut creates a more stylish silhouette and they'll look less like classic joggers when you're hitting the shops. The most important thing when wearing cargo joggers for men is to keep the rest of the outfit simple – this means minimal accessories and plain tops without oversized logos or prints.
Best Brands To Shop For Men's Joggers
FAQs On How To Style Joggers For Men
What Shoes Should I Wear With Joggers?
Box-fresh trainers are our go to choice when it comes to tapered joggers. You can pull the hems up slightly to show off your latest kicks and the silhouette works perfectly every time. For semi-smart occasions, try a pair of black loafers worn with black joggers or Red Wing Moc Toe boots with cargo jogging bottoms.
How Long Should Joggers Be?
Your joggers should be the same length or slightly shorter than your skinny jeans, as generally you wear them slightly lower on the waist. They should fall at the same line as the top of your shoes but not over them (the tapered hem will help to prevent this from happening) so you can see just a small amount of ankle.
How Should Men's Joggers Fit?
Tapered joggers will feel quite snug when you first put them on, but will quickly feel more relaxed during the next couple of days. They should be tight enough on the waist that they don't feel like they're slipping down and should fit snugly on your ankles. If you have large calf muscles it's best to not choose a super skinny style so they don't look like leggings and you've got enough room to move freely.