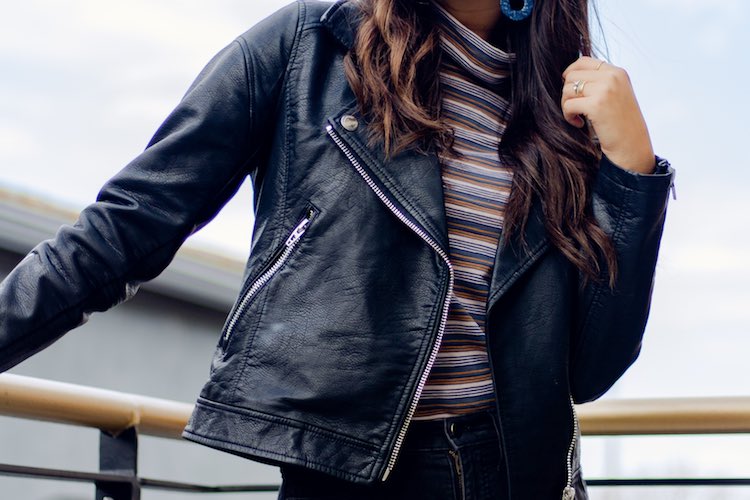 October 17, 2023 |
11 shares
If you don't already own a biker jacket – what have you been waiting for? A soft leather biker jacket is the ultimate investment piece.
Wear it with jeans and a sweater for a trip to the shops, or drape it over a chic cocktail dress for a red-carpet-ready look. Better yet, a classic biker jacket will never date – after all, they have been in fashion almost consistently since the 1940s.
Whether you're a long-time leather obsessive, or a more recent convert, follow our tips on how to wear biker jackets anytime, anywhere.
How to wear biker jackets... in winter
SHOP THE LOOK: Collared Biker Jackets | Ralph Lauren Cable Knits | Boyfriend Jeans
For most women, bikers are seen as a trans-seasonal kind of coat – for every season except winter. However, if you invest in good quality leather, your jacket will keep you warm throughout the coldest months.
For winter biker jackets, avoid overly fitted styles, as you will likely be wearing bulky knitwear underneath. Add a blanket scarf or a faux fur collar, and you will be stylish yet cosy no matter how low the temperatures drop.
How to wear biker jackets... in summer
SHOP THE LOOK: Slip Dresses | Birkenstock Strap Sandals | Grey Biker Jackets
The modern biker craze arguably began in the mid-00s, when the trend for wispy chiffon and pastel hues was reaching its peak.
Back then, an androgynous biker jacket toughened up an otherwise girly ensemble, and boho fashion icons such as Sienna Miller and Jessica Alba helped the look go global. Bring this classic combo up to date by throwing your biker jacket over a spaghetti-strapped slip dress, or a sleek midi.
How to wear biker jackets... to work
SHOP THE LOOK: Cigarette Trousers | White Shirts | Carvela Shoes
Thanks to their cropped length, biker jackets are one of the few coats that work with a midi skirt. This makes them perfect for the office, or as a smart-casual alternative.
Play with proportions by layering a biker jacket over a mannish white shirt and cigarette pants, or embrace Casual Fridays by combining a hoodie, biker and jeans.
How to wear biker jackets... on a night out
SHOP THE LOOK: Skinny Jeans | Bodysuits | Steve Madden Boots
A well-chosen biker jacket will never see the inside of a nightclub cloakroom. It will finish off your look and complement your outfit, and it should be light enough to stash in your bag or drape across your shoulders.
However, if you plan on wearing your biker all night, it's best to go for a faux-leather or fabric version that won't overheat. Make it unique by adding an embroidered slogan or quirky panel to the back.
How to wear biker jackets... at a formal event
SHOP THE LOOK: Midi Dresses | Court Shoes | Blue Biker Jackets
This may surprise you, but one of the most effective ways to wear a leather biker jacket is over a floor-length gown. In fact, look at any red-carpet fashion parade and you are guaranteed to see at least one stylish biker shielding cold shoulders from the elements.
Bikers add a rebellious edge to an otherwise formal look – in fact, they have become particularly popular with brides in recent years, as a cool (and re-wearable) alternative to a frumpy white shrug. Plus, the cropped length allows you to show off a fitted waist and full skirt without pulling focus.
Our Top Tips On Wearing Biker Jackets
Avoid fitted styles in the winter to allow enough room to wear layers under your biker jacket.


Suede biker jackets look great worn over a slip dress in the summer and natural fabrics will allow your skin to breathe.


For work look to cropped biker jackets and avoid embellishments – less is definitely more.


Opt for a faux-leather styles over suede on nights out so you can don't have to worry about it getting ruined with any spilled drinks.


Colour matching your biker jacket to your dress will give a fashion-forward look at formal events as an alternative to a shrug or cardigan.