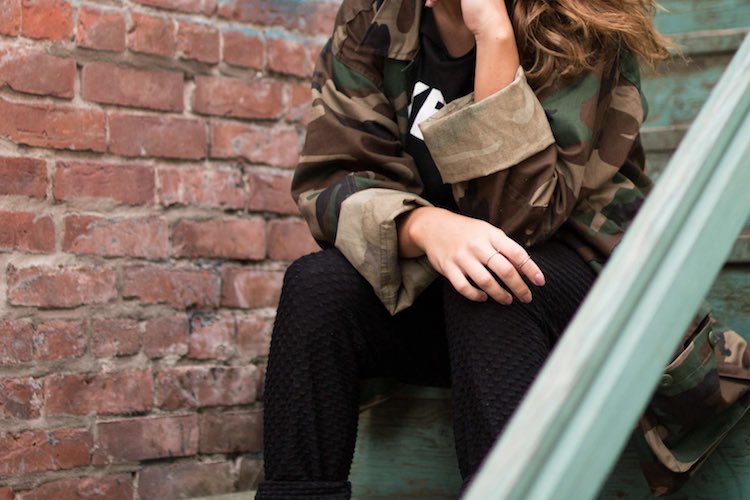 March 16, 2021 |
10 shares
Camo print has never been more popular, helping to instantly inject some attitude into your wardrobe. Forget any pre-conceptions about camo being solely reserved for baggy cargo trousers – you can now find the print across just about every style of clothing.
Not sure how to work camouflage fashion trend? Read on for our complete guide on how to wear camo print, or use the quick links below to jump straight to selected camo outfit ideas…
What To Wear With Camo Trousers
High-waisted camo print trousers have become a firm favourite for stylish Instagrammers over the last two years. They're a great alternative to black skinny jeans and can be dressed up with a pair of heeled courts or down with your fave pair of canvas trainers.
Try to stick to black, white or grey tops for sartorial success and keep accessories to a minimum – a leather tote bag and Scandi chic watch are all you need to complete the look. Checkout the further camo outfits below to see how you should be wearing your camo clothing for work and play…
What To Wear With Camo Skirts
Mix up your looks during the warmer months by pairing a camo mini skirt with a simple black cami or white cold-shoulder top. The military-inspired print is guaranteed to give your outfits an edge and the overall look can be easily softened with shoes and accessories in pastel hues.
If you prefer a bit more colour in your outfits, look to tops in orange or rust for an instant colour pop and pair with chestnut brown boots.
What To Wear With Camo Jeans
Camo print jeans are an easy way to work the trend into your wardrobe, with the main rule being to opt for a skinny or slim fit cut. Camo jeans look great worn with turtleneck tops in black or grey for 9 to 5 style points during the winter months, while a white shirt is all you need in summer.
Look to biker and denim jackets for stylish casual outfits with camo jeans and finish off with a pair of heeled court shoes or strappy sandals.
What To Wear With Camo Jackets
Both camo print trucker and utility jackets are bang on trend at the moment and have become the outerwear of choice for the sartorially savvy. Easy to throw on over your black or blue skinny jeans, they offer one of the simplest ways to work camouflage into your wardrobe this season.
Layer over a grey or black top if you're wearing a camo jacket with black jeans, or with either black or white tops if you're styling it with blue jeans. The outfit ideas below should see you through this season and many more to come.
What To Wear With Camo Leggings
Elevate your style to new heights both in and out of the gym by adding a pair of camo print leggings to your wardrobe. There's never been more choice when it comes to camo colour, with black, grey and white prints being our top choice for stylish activewear. The colour scheme of the print looks great with black sports tops and a burst of colour can be added with the addition of pink or neon trainers.
Out of the gym, try wearing your camo leggings with black jackets and boots in the colder months for easy off duty outfits throughout the season. When the summer comes around, swap your boots for metallic sandals and lighten the outfit by switching black tops to white or cream.
What To Wear With Camo Tops
Camo print t-shirts are perfect for wearing with denim shorts, instantly adding interest to the outfit compared to a pain cami or tee. On chillier days, look to camo hoodies teamed up with black leggings or skinny jeans to stand out from the crowd for all the right reasons.
Classic khaki camo prints tend to work best for tops so you have multiple outfit options with other items in your casual wardrobe. When you want to up the style stakes, try wearing your camo top with a green utility jacket to work the trend like a street style pro.
What To Wear With Camo Shorts
Camo print shorts can be one of the hardest looks to pull off, but the secret is to treat them like your usual denim shorts. That means keep them well above the knee and avoid wearing with exact colour matches. The camo shorts outfit showcased above is easy to put together and demonstrates the impact the classic print can have on the overall look.
For a softer vibe on your summer holiday, wear your camo shorts with a white vest top or tee and complete the look with on-trend metallic sandals. Pastel shades like coral also work particularly well with camo if you're after something more colourful.
Our Top Tips On How To Wear Camo
Stylish camouflage clothing generally looks best worn with black, grey or white so that the attention stays firmly on the print without the risk of colour clashing.


Opt for high-waisted camo trousers for outfit options to take you from work to play and complete the look with stiletto sandals or court shoes.


Camo skirts look best in a mini or midi length and can be paired with a white top plus pastel metallic accessories for on-trend outfits throughout the warmer months.


In winter, look to camo print jeans and jackets to work the military-inspired trend into your cold weather wardrobe. Wear with black or grey for effortless outfit options and keep accessories to a minimum.


Camo print leggings in monochromatic colour schemes will help to take your activewear to new levels, while also offering an easy switch for your favourite black skinnies on off-duty days. Look to metallic and neon shoes to add a colour pop to your downtime outfits.


Make a statement in summer by swapping your denim shorts for camo shorts and you won't be disappointed. Team up with a denim jacket and grey cami for street style success, or with pastel coral tops for laid-back holiday vibes.