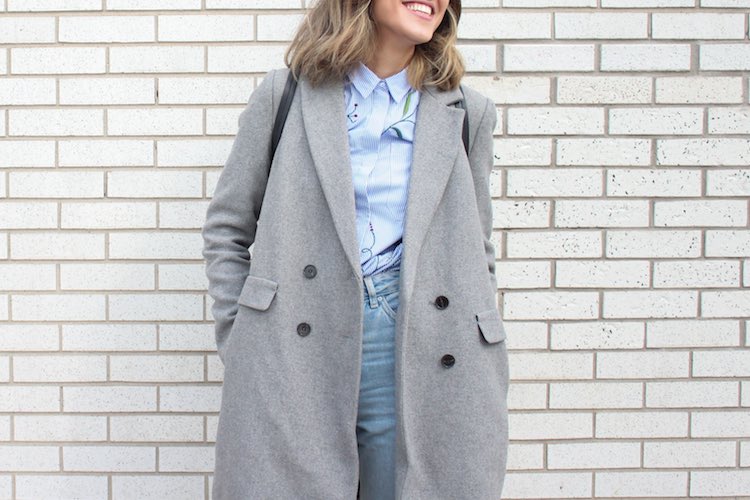 March 21, 2023 |
7 shares
Not so long ago, wearing denim to work was the ultimate faux pas. But thanks to casual Fridays, flexi-hours and the advent of 'smart' denim, these old fashion rules have been thrown out the window.
And thank God! Because denim is one of the most versatile and comfortable materials out there and there has never been a better array to choose from.
Whether you live in your jeans, love your denim shirts, or need a new way to wear a denim dress, we've got you covered. Here are our rules on how to wear denim at work...
How to wear a denim shirt to work
SHOP THE LOOK: Denim Shirts | Knitwear | Slim Fit Jeans
A chambray shirt is a wardrobe essential these days and it is incredibly versatile. However, when it comes to the office, the only way to wear it is buttoned-up and layered.
Denim shirts look great under a sweater or a pinafore dress – just avoid falling into the 'double denim' trap by pairing with jeans of a different shade.
How to wear jeans to work
SHOP THE LOOK: Skinny Jeans | Blouses | Blazers
The main rules are to stick with a dark wash and choose an appropriate fit. Darker tones tend to look a lot smarter than faded, frayed or bleached denim, while fitted styles are much easier to dress up than baggy or boyfriend-cut jeans.
Wear with anything, as long as it looks professional. Jeans look great with a belt and a blazer, or a slouchy cashmere knit – keep it simple and classic and you can't go far wrong.
How to wear dungarees to work
SHOP THE LOOK: Denim Dungarees | High Neck Tops | High Heels
This is probably the most challenging denim look to pull off in the office, but it can be done. First of all, choose a soft, feminine denim that fits your figure – you don't want your dungarees to bag around the middle or bunch up at the ankles.
Keep your accessories simple – a plain white shirt or a dark high-neck sweater can form a solid foundation for this look. Finally, roll up the hem and wear heels - this will elevate the outfit from casual to office-smart in an instant.
How to wear a denim dress to work
SHOP THE LOOK: Denim Dresses | White Roll Necks | Block Heel Shoes
Denim dresses are ideal for the office and there are plenty of styles to choose from. The pinafore dress has had a resurgence recently, with denim pinafores proving particularly popular.
Worn with a roll-neck top underneath, a denim pinafore is a perfect no-fuss look for the workplace. Alternatively, choose a chambray wrap dress or a classic denim button-down, worn with knee-high boots and neutral accessories, for an everyday outfit that you can throw on at a moment's notice.
How to wear a denim skirt to work
SHOP THE LOOK: Denim Skirts | White Shirts | Ballet Pumps
Once upon a time, denim skirts came in one colour (blue) and one style (mini). Not anymore. Modern denim comes in all shapes and sizes and there is a denim skirt to suit every mood.
While the short denim A-line is still popular, you can now choose from wrap skirts, gypsy skirts and even pencil skirts (which look surprisingly good in denim!).
If you're wearing a shorter denim skirt to the workplace, go for a preppy look, with thick black tights and a Breton sweater. Denim pencil skirts look great with heels and a roll-neck top, while A-line skirts work best with a buttoned-up blouse tucked in at the waist.
Our Top Tips On How To Wear Denim At Work
If you're wearing a blue denim shirt to work, layer it under a neutral jumper and pair with jeans of a different shade or black tailored trousers.


Dark wash slim fit jeans are less casual than a stone/bleach wash and look great worn with a white blouse and oversized blazer. Complete the look with nude court shoes.


You may think dungarees are too casual for the office, but they can be instantly dressed up with a dark high-neck jumper and heels. Just make sure you opt for a feminine fit and avoid baggy or short dungarees.


During the warmer months, a denim pinafore dress is a great alternative to jeans. Layer with a roll neck sweater on cooler days and keep accessories to a minimum for a fuss-free smart outfit.


When you want a change from blue denim, look to a light pink A-line denim skirt teamed up with a sleeveless white shirt and ballet pumps for an office-friendly look that'll see you through spring and summer.