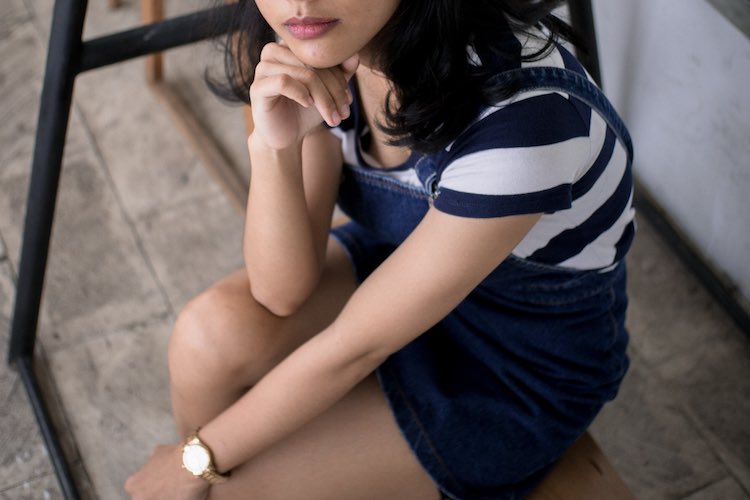 September 27, 2022 |
10 shares
Denim dresses are one of the most versatile styles to layer, making them perfect for year-round outfits when worn with the right items. They can also be either super casual, which is why they're a festival favourite, or dressed up for office-friendly ensembles.
From tips on how to wear a denim dress with leggings in winter to what shoes to wear with them in summer, our guide has it covered. Read on to discover the best denim dress outfits and style notes, or use the quick links below to jump straight to each section…
How To Wear A Denim Dress In Winter
For easy off-duty styling during the winter months, a denim dress with leggings is a tried and tested favourite that just about every girl can pull off. Start with a pair of black leggings and then opt for a blue or black denim dress. Shirt and tunic styles of denim dresses work particularly well and can be dressed up with a fitted cardigan or down with a bomber jacket.
When it comes to footwear, go for tall boots or UGGs for maximum comfort without sacrificing on style and complete the look with a checked scarf to inject colour into your winter denim dress outfit.
How To Wear A Denim Dress In Spring
As the thermometer reaches double figures and those chilly mornings are slightly less snappy, try layering your denim dress over a thick tee or knitwear for a stylish springtime outfit. We love the holiday vibe of the look above, showing just how well Breton tops work with denim and that a touch of rose gold will add all the colour you need.
How To Wear A Denim Dress In Summer
Embrace relaxed dressing during the summer months by wearing a denim shirt dress with Vans canvas trainers, or mix up your looks by swapping your dungarees for a denim pinafore dress. The perfect dress for both festivals and holiday breaks alike; it won't show the creases and can be teamed up with almost all accessories in your summer wardrobe.
How To Wear A Denim Dress In Autumn
Autumn is always a tricky time with the transitional weather, but denim dresses can make life a whole lot easier. On cooler days, try layering a navy pinafore dress over a long sleeve top and put on a pair of tights for added warmth. Alternatively, if the temperature is on the milder side, ditch the tights and layer longline knitwear over your denim dress for that added bit of warmth only when you need it.
How To Wear A Denim Dress To Work
Like we said at the top of this style guide, denim dresses can just as easily be dressed up as they can be dressed down. The most important thing is to pick the right dress cut in the first place, as unlike for casual occasions you need to opt for a more fitted or tailored fit.
As the denim dress outfit above shows, black denim can work particularly well and a long sleeve blouse will plus matching accessories will help to elevate the look to new heights. If you're wearing a blue denim dress to work, try keeping the colour palette clean by teaming up with a brown belt and matching bag, with bright shoes being your opportunity to add a colour hit to the outfit.
Our Top Tips On Wearing Denim Dresses
The best way to wear a denim dress and stay warm in winter is by layering it over a pair of black leggings. Then add tall leather boots to complete the look.


During spring, look to thick tees and knitwear to wear under your denim dress for some added warmth without compromising on style.


Summer is the perfect time to embrace denim dresses, with shirt dress styles working especially well with neutral accessories for festival-ready looks.


During autumn, master the art of layering to create multiple outfits with the same denim dress. Thick tights will keep the chill at bay on those fresh mornings, while knitted cardigans can easily be put on or taken off as the temperature swings.