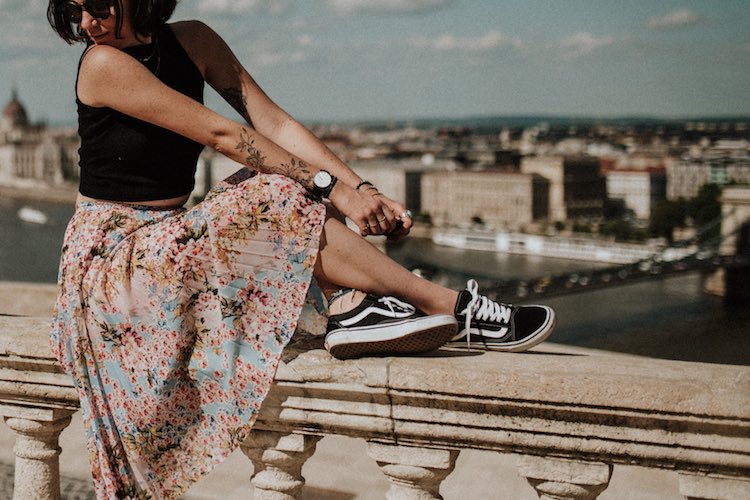 February 7, 2023 |
19 shares
Vans has been producing iconic skate shoes since 1966, but thanks to Instagram they've firmly made their way into mainstream fashion.
Influencers love them because you can style them with just about anything and the high top versions make them a great alternative to Chelsea boots. To give you some style inspiration, we've scoured the archives to bring you some of the best outfits to wear with Vans.
Read on for the full guide or use the quick links below to jump straight into each section:
How To Wear Vans With Jeans
The easiest way to start incorporating Vans into your wardrobe is by pairing them up with your favourite jeans. It's pretty hard to get it wrong and you can wear the same pair of Vans for both casual and more formal occasions. Below are some of our favourite outfit choices with denim, offering something for every day of the week.
Wearing High Top Vans With Skinny Jeans
This outfit features the high top Vans style with ripped knee skinny jeans and a smart black overcoat. It's the sort of outfit you'd usually wear with ankle boots, but the Vans give it an edgier look.
Wearing SK8 Hi Vans With Black Jeans
By wearing black Sk8 Hi Vans with black jeans, it'll help to elongate your legs and is a great look particularly for petite women. Add a pastel top like this powder pink jumper to inject some colour into the outfit and complete the look with colour pop accessories.
Wearing Old Skool Vans With High Waisted Jeans
Give a nod back to the 90s by opting for high waisted jeans to style with classic Old Skool Vans. Add your favourite top, or follow in the likes of Instagrammers worldwide by layering a cami over a logo tee.
How To Wear Vans With Shorts
Denim shorts look best worn with low/mid top Vans, instantly creating a festival friendly outfit that will see you through summer. Add a biker jacket when the temperature drops.
How To Wear Vans With Dungarees
In contrast to playsuits and jumpsuits, dungarees often work best with flat shoes. This makes them perfect for wearing with Vans trainers, whether it's to a festival or hitting the high street with the girls.
Wearing Authentic Vans With Denim Dungarees
Bored of blue? Opt for white denim dungarees this season and wear with a black vest plus black Vans to create the perfect monochrome ensemble.
Wearing Mid Top Vans With Checked Dungarees
This look works so well as each piece is perfectly balanced within the outfit. The checked dungarees instantly add interest, while the layering effect of the polo neck jumper is bang on trend. Adding a pair of mid-top Vans offsets any formality of the polo neck to bring the outfit together.
How To Wear Vans With Skirts
Like shorts, skirts are best worn with low top Vans to avoid looking like you've just stepped out of the 80s. Denim skirts work particularly well, but anything midi length or shorter will also look good. We love the simple styling of the outfit above, with a button front denim skirt styled with a cropped t-shirt. The two-tone outfit is completed with black leather Vans and a matching belt.
How To Wear Vans With Dresses
Vans generally work better than any other trainers with dresses. Slightly more structured than Converse sneakers and more fashion-focused than sportswear trainers, they make an easy swap for your flat Court shoes or ballet pumps. To show you just how versatile they are, check out the different options below for a range of dress styles!
Wearing White Vans With A Lace Up Dress
Dresses (like the one pictured above) with a lace up front are everywhere at the moment. They're the perfect style for downtime days and have a relaxed fit so they don't cling to your skin. Style yours with pristine white leather Vans and bold accessories.
Wearing Checkerboard Vans With A Lace Dress
This outfit showing checkerboard Vans with a white lace dress demonstrates why Vans trainers should be in every girl's wardrobe. Even when you pull out your lace dress you can trust your Vans not to let you down.
Wearing High Top Vans With A Slip Dress
This outfit really does do layering justice, showing just what's possible by teaming up items in your wardrobe you'd never think could work together. By wearing a black slip dress over a long sleeve Breton top you'll instantly look like an off-duty model, while the SK8 Hi Vans complete the look.
Wearing Slip On Vans With A Mini Dress
Wearing a mini dress isn't for everyone, but if the thought of wearing one with heels has been the reason you've resisted, it's time to re-assess your options. By wearing slip-on Vans instead of heels, the look is completely transformed into an unassuming daytime outfit.
Outfits To Wear With Black Vans
Black Vans will give you the most outfit options compared to other colours. Be inspired with looks for both work and play with some of our favourite ways to wear black Vans.
Wearing Authentic Black Vans To Work
Authentic black Vans are just about smart enough to wear to work and will help channel some Scandi chic into your outfits if worn with the right items. We love the subtlety of this 9 to 5 look, featuring skinny black jeans worn with a crisp white shirt and overcoat.
Wearing Black Vans With Cropped Trousers
The same pair of black Vans you wear to work look just as good when you want to channel your inner rock god. Look to low top styles and wear with cropped trousers and your favourite band tee. This outfit screams LA cool.
Wearing Black Vans With A Jumper Dress
During colder months, opt for maximum comfort with flat Vans worn with a cosy jumper dress and knitted coatigan (yes it's really a thing!). This outfit will look just as good worn on a date night as it will to your next meeting.
Wearing Black Vans With An All Black Outfit
We can't get enough of all black outfits this season. Start yours from the bottom up with black Vans high tops, black skinny jeans, a black crop top and a black bomber jacket. This outfit has attitude in droves.
Outfits To Wear With Checkerboard Vans
Previously seen solely at skate parks, checkerboard Vans have become one of the most popular colourways and help to add some fun into outfits. From clashing them with prints to working them into the double denim trend, below are some top outfits for your checkerboard Vans.
Wearing Checkerboard Vans With Double Denim
Double denim outfits have been done to the max, but now there's a new craze starting to sweep the fashion circles. By wearing checkerboard Vans with black jeans and a blue denim jacket or shirt, you too can join the crew.
Wearing Checkerboard Vans With Grey Jeans
Take your street style to new heights by swapping your Stan Smiths or Gazelles for black and white checkerboard slip on Vans. We love the use of different shades of black in this outfit, with the Vans tying it all together.
Wearing Checkerboard Vans With White Jeans
One of the hardest things to decide on with white jeans is what footwear to wear. White trainers never quite look as white as the denim, while sandals can look a bit mumsy. Enter checkerboard Vans, which give the outfit a youthful edge.
Wearing Checkerboard Vans With Prints
Clashing prints is always a brave look, but it works surprisingly well with checkerboard Vans. We love the deliberate mish-mash of this outfit, with a heavily printed dress and camouflage bag somehow looking like the perfect stylish match for the checkerboard design of the trainers.
Outfits To Wear With Pink Vans
Cards on the table – pink Vans don't give as many styling options compared to black or checkerboard, but that doesn't mean they should be dismissed. If you love wearing pink within your outfits and generally live in jeans, they may just be the perfect second colour for you to invest in. Checkout the couple of outfit ideas below if you don't believe us.
Wearing Authentic Pink Vans With A Biker Jacket
Bored of your standard black biker jacket? Opt for a blush pink one instead and wear with pink Vans for gorgeous springtime look.
Wearing Pink Checkerboard Vans With Leggings
Pink checkerboard Vans look great with black jeans or leggings and will be the star of the outfit. We love how much the trainers jump out in this outfit due to the carefully chosen toned down denim jacket and black bodysuit. A tried and tested winner.
Our Top Tips On How To Wear Vans
High top Vans generally look best with skinny or slim fit jeans, while high waisted jeans work best with low top trainer styles.


If you're wearing Vans with skirts or shorts, you should also opt for the low top Authentic, Old Skool or Slip On Vans.


Black is the most versatile of Vans to wear as it goes with everything from blue denim to white lace dresses.


Checkerboard Vans will add an extra element of fun to your outfits, while pink will inject a softer edge.