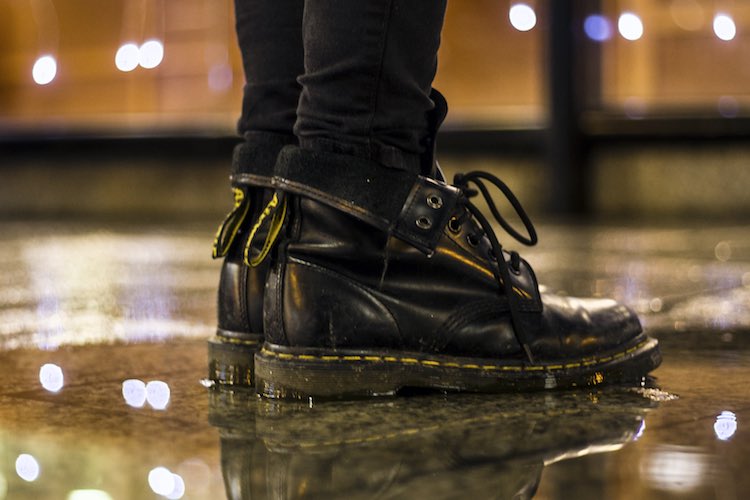 February 20, 2021 |
27 shares
Launched in 1960, Dr Martens has become a true British success story and is now famous the world over.
Instantly recognizable by the distinctive yellow welt stitch around the soles, the range of shoes and boots is now available in more designs and colours than ever.
Wondering how to style Doc Martens? Read on for the full guide or use the quick links below to jump directly to each section:
How To Wear Dr Martens With Jeans
Switch up your off-duty style by swapping trainers for a pair of Dr Martens to instantly add attitude to your downtime outfits. Checkout the ideas below to discover how to wear Dr Martens with all the jeans you own.
Wearing Dr Martens With Black Jeans
Dr Martens 1460 boots were the original style launched by the brand in 1960 and add a vintage feel to any outfit. They look especially good in red, teamed up with distressed black jeans and plain tee. Add a black leather biker jacket to complete the look.
Wearing Dr Martens With Blue Jeans
Dr Martens and blue jeans is an easy look just about anyone can pull off, but to elevate your outfit to the next level you should look at the different boot styles on offer. The outfit above features Dr Martens Capper boots, which are more of a work boot style, and when combined with a check shirt create a rough 'n' ready look for downtime days.
Wearing Dr Martens With Cropped Jeans
If you're planning on wearing Doc Martens with cropped jeans, always choose shoes over boots so there's a bit of ankle on display. Distressed detailing on the denim adds further interest to the outfit and the addition of a denim jacket layered over a hoodie results in the perfect street style look.
Wearing Dr Martens With Skinny Jeans
Wearing Doc Marten boots with skinny jeans has become one of the biggest trends in recent years. Opt for red boots with black jeans and black boots with blue jeans to keep the focus on your Dr Martens. Then add oversized cable knit jumpers or longline tees for multiple outfit options.
How To Wear Dr Martens With Shorts
Get inspiration for the warmer months with these outfits for Doc Martens with shorts. These looks aren't easy for everyone to pull off, but if you can they'll see you through this summer and many beyond.
Wearing Dr Martens Boots With Shorts
Shoes are generally easy to style with shorts, but Doc Marten boots can work if you opt for 1470 or 101 styles over the taller 1490 boots. The outfit above works street style trends to the max, but can be pulled back by switching the cropped sweater for a regular fit.
Wearing Dr Martens Shoes With Shorts
Dr Martens shoes look great with tailored chino shorts, instantly giving an edgier look than standard summer loafers or boat shoes. Make sure you ditch the socks and keep the rest of the outfit simple with a simple white t-shirt and plus your favourite sunnies.
How To Wear Dr Martens With Chinos
A favourite off-duty look for A-listers worldwide, the chinos and Dr Martens combo is a classic one that's not going anywhere soon. Bring the look bang up to date by wearing with a denim chambray shirt and layer with a fur-trimmed parka when the temperature drops.
Dr Martens Street Style Outfits
Keep your street style seriously on point with these effortlessly cool Dr Martens outfits. They won't be for everyone but if you want to stand out from the crowd, here's how to do it with your DMs.
Dr Martens Boots Street Style
Featuring the less common Dr Martens 101 boots, the outfit above shows how breaking the rules isn't always a bad thing. The brown mac goes brilliantly well with the black boots and jeans, while the white shirt brings the outfit together.
Dr Martens Shoes Street Style
Refine your street style by swapping your pristine white trainers for a pair of Dr Martens 1461 shoes and you won't be disappointed. This outfit will work for a range of occasions by just changing the t-shirt for a shirt or jumper and the varsity jacket for an overcoat.
Dr Martens Work Outfits
Checkout the outfits below for 9-5 style inspiration, showing how to incorporate Dr Martens shoes into your workwear wardrobe. That's right – the brand doesn't just make boots and there are some seriously smart shoe styles available.
Wearing Dr Martens With A Suit
Dr Martens 3989 brogues have become a firm favourite for wearing with suits. Constructed using the traditional Goodyear welt technique, they'll survive the pounding of your daily commute and keep you looking sharp in the process. The outfit above is deceptively simple, showing just how well a turtleneck can work with a suit instead of a shirt.
Wearing Dr Martens With Cropped Smart Trousers
If you're wearing cropped trousers it's best to go for a statement shoe as the eye is drawn to that area – enter iconic Dr Martens shoes. This look is all about standing out from the office crowd, bringing in the best pieces from your capsule wardrobe for a sophisticated 9-5 outfit.
Wearing Dr Martens With Black Chinos
Black chinos offer a work-friendly alternative to black jeans and will go with all shirts in your wardrobe. Pair with Dr Martens 1461 shoes for a timeless look and layer with a pea coat to keep stylishly warm during your daily commute.
Most Popular Styles of Dr Martens for Men
Looking after your Dr Martens
Although Dr Martens were originally designed as a work boot, nobody exactly wants them to look like they've suffered from years of stomping the streets. Follow the tips below to keep your Dr Martens looking good for longer:
Protect the heels from unnecessary wear by using a shoehorn to put on your Doc Martens shoes or boots.


Use only a damp cloth to wipe away any dirt and avoid putting detergent on the leather.


Keep the laces clean by regularly washing them in your machine with similar colours.


Condition the leather by using Dr Martens Wonder Balsam or similar to restore colour and shine.


If your Dr Martens get soaked through, allow them to dry naturally away from a direct heat source.