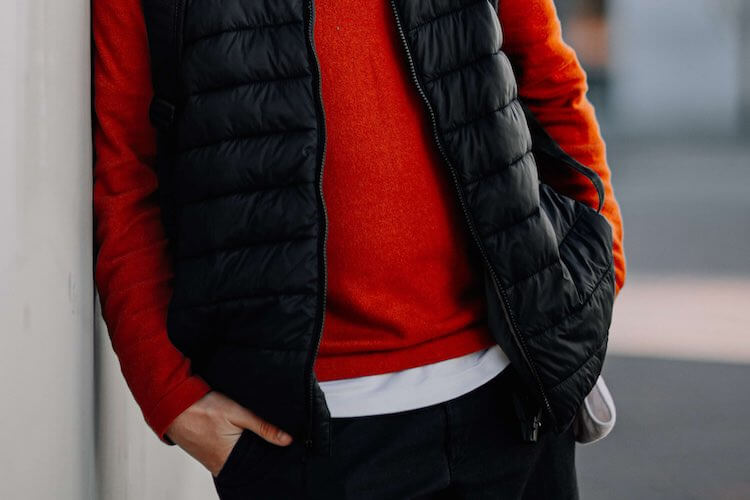 September 23, 2023 |
9 shares
Gilets (originating from the French word for 'vests') were one synonymous with country attire. Fast forward to now and there's never been a wider choice of men's gilet styles to choose from. Due to the sleeveless design, they're perfect for transcending the seasons and are a worthy wardrobe staple for any gent's wardrobe.
Get the most out of yours with our tips on how to wear a gilet this season, or use the quick links below to jump straight to each section:
How should a gilet fit?
As a gilet is designed to be worn as a layer, it's important to try them on over the tops you plan to wear it over. Generally, gilets should fit snuggly over the under garment, which means if you are looking to wear a gilet with a hoodie you may need to go for a looser fit so there's enough space in the arm holes.
Regardless of what you plan to wear a gilet with, the length should always be similar to your everyday t-shirts and sweaters. This is even more important when wearing it over these tops.
Men's Gilet Outfit Ideas
Now you know how a gilet should fit, below are some outfit ideas to give you inspiration on what to wear with a gilet throughout the year. The great thing about men's gilets is that they are incredibly versatile and you'll soon find them an essential part of your wardrobe…
Casual Gilet & Hoodie Outfit
The gilet and hoodie look is the easiest to pull off and you're almost guaranteed sartorial success. Our go to style is to opt for a contrasting hoodie so the gilet stands out, like the men's gilet outfit above. Team yours up with your favourite kicks and slim fit bottoms.
Smart Gilet & Suit Outfit
Look to knitted gilets in neutral colours to inject some variety into your 9-5 wardrobe. Grey gilets work really well with navy suits, offering more warmth than a traditional waistcoat during the colder months. A smart gilet can also act as a great alternative to a blazer during the warmer months. Wear yours over a plain shirt to complete the look.
Summer Gilet & Shorts Outfit
A gilet is easy to layer in summer for extra warmth in the chillier mornings, making it the perfect transitional piece. Throw a slim fit gilet on over a basic tee when it's too warm for a jacket, or over a thin Harrington jacket if you really feel the cold. Look to non-quilted gilets for a summer take on this wardrobe classic.
Hooded Gilet Outfit
Gilets with hoodies are an easy wardrobe swap for your favourite hoodies when you're looking to mix up your looks. You can smarten the outfit up by wearing over a knitted sweater and completing the look with smart chukka boots or brogues.
Activewear Gilet Outfit
Elevate your streetwear game to new heights with premium gilets from the like of Pantagonia. These lightweight body warmers aren't cheap, but they're worth every penny and you'll get year-round usage. For downtime days we love a toned down activewear look, with a cobalt men's gilet paired with an all-black outfit.
Camouflage Gilet Outfit
A camouflage gilet makes it simple to embrace one of the biggest trends around, without looking like you're off on an off-grid adventure. It's important to stick to just one print and keep the rest of the outfit simple. A grey, white or black top will complement the camo print, while classic trainers will finish the look off perfectly.
Best Men's Gilet Brands
Our top tips on how to wear a men's gilet
Quilted gilets are perfect for a more casual look, especially when worn over a hoodie and paired with cotton joggers.
For a smart look opt for a knitted gilet and keep the shades neutral - generally grey, black and navy gilets work best for the office.
Lightweight body warmers are best for the warmer summer months and can be paired with everything from chino shorts to slim fit denim.
Printed designs like camouflage gilets look best when worn without other prints and patterns so you avoid the dreaded print clash. When in doubt, always wear with a plain white, grey or black t-shirt.