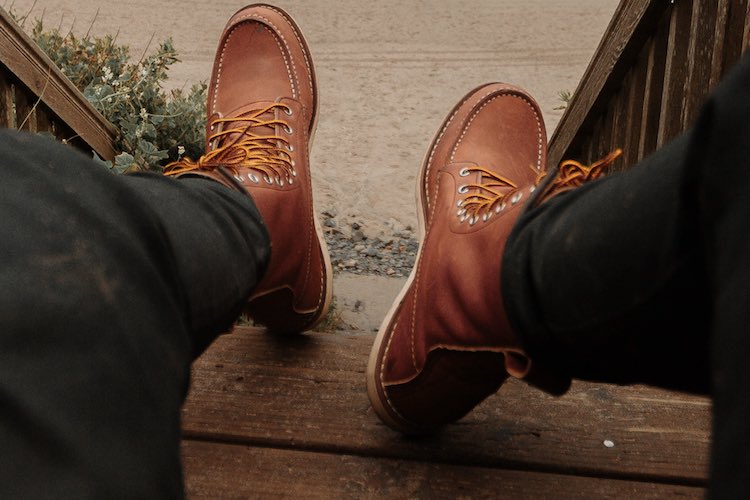 January 9, 2022 |
18 shares
Launched by Charles Beckman in 1905, the Red Wing Shoes Company has become renowned for its range of premium Goodyear welted work boots.
Gaining a loyal following of celebrity fans including the likes of David Beckham and Ryan Gosling in the process, Red Wing boots are now one of the must-have items on all modern gents' wish lists.
Whether you already own a pair or are looking to invest in this wardrobe classic, read on for our top tips on how to wear Red Wing boots…
How To Wear Red Wing Boots With Jeans
Red Wing Moc Toe boots look great worn with distressed jeans due to their work boot style. Opt for a slim fit cut and roll up the hem of your jeans to showcase the boots at their best. Complete the look with a dark tee and layer with a parka or pea coat when the temperature drops.
Skinny fit styles are the best jeans to wear with Iron Rangers or Sheldons because the boots are narrower than Moc Toe so you'll get a better silhouette.
How To Wear Red Wing Boots With A Suit
Red Wing boots work surprisingly well with a suit if you opt for a narrower style such as Iron Ranger boots or chukkas. For year round outfit options opt for dark brown leather Red Wing Iron Ranger boots and wear with a light grey suit. Alternatively, choose black Red Wing chukka boots if you only own a black suit as any other colour won't work.
Out of the office, team up your Iron Rangers with blue skinny jeans or tailored beige chinos. Complete the look with a wool overcoat during the colder months and a bomber jacket as the temperatures rise.
How To Wear Red Wing Boots With Chinos
Follow in style icon David Beckham's lead by making your casual outfits look a little more put together by wearing heritage Red Wing boot styles with your downtime chinos. This look is all about keeping things simple, with a plain dark tee and minimal accessories. Use a belt that matches the colour of your boots to pull the elements together.

How To Wear Red Wing Boots With Shorts
Wearing Red Wing boots with shorts is not an easy look to pull off, but done correctly you'll turn heads for all the right reasons. Look to tailored chino shorts as a base and incorporate subtle pastel elements such as a pink tee to add interest to the outfit without detracting from the star of the show – your heritage boots.
Different Red Wing Boot Styles
As Red Wing has grown, the range has expanded also and no longer comprises purely work boots. There's now a style for every occasion. Use our tips below to discover what to wear with Red Wing Boots off all varieties and colourways.
Red Wing Moc Toe Boots
+Wear with: regular fit jeans, chino shorts, regular chinos
Red Wing 8-INCH Moc Toe Boots
+Wear with: sweatpants, slim fit jeans
Red Wing Iron Ranger Boots
+Wear with: skinny suits, business casual chinos
Red Wing Cooper Moc Boots
+Wear with: light blue denim, navy chinos
Red Wing Beckman Boots
+Wear with: slim fit suits, wool trousers
Red Wing Sheldon Boots
+Wear with: skinny suits, slim/skinny jeans
Red Wing Classic Chukka Boots
+Wear with: straight leg jeans, chinos
Red Wing Foreman Chukka boots
+Wear with: skinny jeans, tailored chinos
Red Wing Rover Boots
+Wear with: sweatpants, slim fit jeans
Red Wing Blacksmith Boots
+Wear with: skinny jeans, tailored trousers
Red Neck Merchant Boots
+Wear with: chinos, tailored trousers
Red Wing Rough Neck Boots
+Wear with: cargo trousers, distressed jeans
How Red Wing Boots Should Fit
All styles of Red Wing boots generally fit larger than other brands, so you'll probably need to go for half or a full size down compared to what you normally buy.
So how should red wing boots fit? Before they're worn in they will feel quite stiff due to the new leather, however even when brand new they shouldn't feel like they're pushing your toes back. If your toes feel cramped and there's not a finger-width gap between the ends of your toes and the shoes, you've got the wrong size.
As the Red Wing boots sizing differs from other brands, it's best to buy the boots in a store rather than online so you can get additional advice on what size is best for you. You should also wear them inside a lot before venturing outdoors, just in case you realize the size isn't working so you've got the opportunity to return them.
How To Break In Red Wing Boots
So now you know that they'll be pretty stiff to start off with, there are a few ways to break in Red Wing boots.
Depending on how often you wear them, the usual Red Wing boots break in period is around 2 weeks if you manage to keep them on for a few hours each day.
It may be tempting to break in Red Wing boots fast, but you'll end up with heel blisters and ankle pain if you try to rush the process. Start by wearing them indoors for 30 minutes over a couple of days to make sure you've got the best size for you.
Then start to build up to an hour, a couple of hours and then a full day over a 1 – 3 week period. You'll notice the leather will start to get more supple and the boots will feel comfortable to wear.
If you've got narrow feet, you'll find a pair of thick socks will also help the process and reduce the chance of getting a blister.
It's also worth noting that that how long in takes to break in your Red Wing boots will also depend on the style. The Red Wing Iron Ranger break in time is likely to be longer due to the double leather toe caps and incredibly hard wearing uppers.