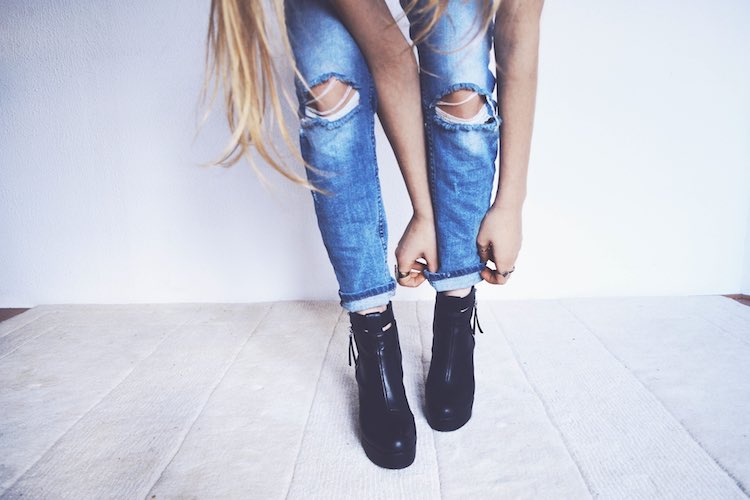 July 22, 2020 |
10 shares
Skinny jeans are an absolute wardrobe hero for both work and play, but some shoe styles work best with them for certain occasions. Be it the colour of the boots or the height of the heels, subtle nuances can make the difference between achieving sartorial success and failing with a fashion faux pas.
Read on for our complete guide to what shoes to wear with skinny jeans, or use the quick links below to discover outfit options and tips for each style of shoes…
How To Wear Skinny Jeans With Loafers
Women's loafers are often overlooked, but they're great for wearing with skinny jeans both in and out of the office. Always opt for skinny jeans that sit well above the ankle and go for black loafers to max out your wardrobe options. The same pair can be worn with ripped jeans for off-duty style points, or teamed up with raw denim and a longline blazer for 9 to 5 outfits.
How To Wear Skinny Jeans With Classic Trainers
Classic vintage trainers are classic for a reason – they never go out of fashion. If you're wearing skinny jeans with classic trainers it's best to start with Vans, Converse and Puma (the suede collection) as they're all iconic brands and well worth the investment. Steal one of Alexa Chung's best looks by teaming hi-tops with ripped knee jeans, or opt for smarter suede styles for date-friendly outfit options.
Related Style Guides: How To Wear Converse / How To Wear Vans / How To Wear Puma
How To Wear Skinny Jeans With Ballet Pumps
If you've got larger than average feet, pointed ballet pumps aren't the most flattering shoes to wear with skinny jeans as they'll accentuate your feet due to the tapered style of the jeans. Instead, opt for a rounded toe like the outfit featured above or ones with a small heel. For everyone else, ballet shoes of all styles look great with skinnies but stick to classic colours like black, navy, nude and grey for maximum outfit options.
How To Wear Skinny Jeans With White Trainers
The white trainers and skinny jeans combo has worked its way across Instagram over the last two years and instantly creates an easy to pull off street style look for downtime days. Make sure your white trainers are pristine and avoid distressed denim to keep your streetwear game on point. If you can keep them clean, they're the best casual shoes to wear with skinny jeans in winter for maximum comfort without compromising on style.
How To Wear Skinny Jeans With Court Shoes
Court shoes are the perfect all-round heels to wear with skinny jeans. Black and nude courts specifically look amazing with both black and blue denim as all of the outfits above show.
The slender heel of the court shoes coupled with the silhouette of the jeans helps to elongate your legs, creating an off-duty supermodel look that's easy to replicate. When it comes to tops to wear with skinny jeans and heels, look to shirts and camis for the office and fitted t-shirts on more casual occasions.
How To Wear Skinny Jeans With High Heels
For a standout look, nothing quite beats a pair of high heel stilettos and skinny jeans. They'll elevate your style game to new heights if you get it right and are guaranteed to impress. Dark jeans generally work best as you can wear them with a plain cami and then add a kimono or blazer for an office-friendly look.
Related Style Guide: How To Wear Denim At Work
How To Wear Skinny Jeans With Strappy Heeled Sandals
Swap your stilettos for heeled strappy sandals in summer for a seriously sexy look during the warmer months. We love how Gigi Hadid often works white skinny jeans with matching strappy sandals, showing us all how it should be done. Just make sure the hem always sits above the sandals and roll up if necessary to showcase the straps in all their glory.
How To Wear Skinny Jeans With Sandals
Flat sandals are the perfect summer alternative to trainers when you're wondering what to wear with skinny jeans in summer and want to let your feet breathe. Women's Birkenstocks are the go to style to take on your summer vacay, while strappy styles are perfect for wearing with skinnies for both work and play.
Related Style Guide: How To Wear Birkenstock Sandals
How To Wear Skinny Jeans With Mules
If you're after a smarter alternative to sandals to wear with your skinnies, a pair of mules might be the perfect solution. The backless style has continued to rise in popularity in recent years and there's never been more choice available. Block heel mules work particularly well with cropped skinny jeans for work, while brightly coloured flat mules will brighten up your downtime outfits.
How To Wear Skinny Jeans With Ankle Boots
Heeled ankle boots are the best boots to wear with skinny jeans as an alternative to court shoes during the colder months. Make sure your skinnies are long enough to meet the top of the boots so you don't have a slither of skin showing and when in doubt, opt for black ankle boots to wear with skinny jeans.
Related Style Guide: How To Style Ankle Boots
How To Wear Skinny Jeans With Knee High Boots
Wearing knee high boots with skinny jeans isn't an easy look to pull off, but get it right and you're guaranteed sartorial success. The key is to avoid bright colours and think about your existing collection of skinnies.
If you usually wear black or blue denim, opt for black over the knee boots and use similar hues for the rest of the outfit. Alternatively, if you love your white denim go for knee high boots in brown or grey suede.
Related Style Guide: How To Wear Knee High Boots
How To Wear Skinny Jeans With Ugg Boots
The UGG boots with skinny jeans combo is far from dead, but that doesn't mean you should wear them in the same way as you have been for years. Short UGGs look great with rolled up skinnies and a tee in summer, while dark brown UGG boots worn with dark blue jeans creates the perfect winter ensemble for a cheeky weekend city break.