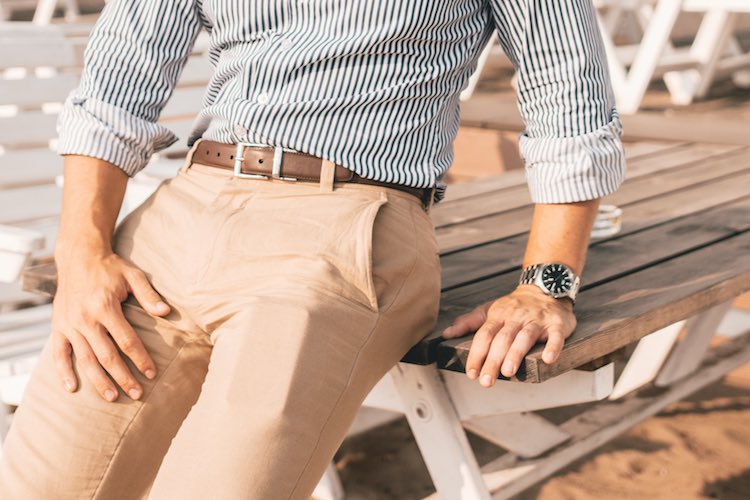 August 7, 2021 |
9 shares
For the uninitiated, chinos are those crease-fronted beige trousers beloved by the Royal Family. But they have undergone a transformation over the past few years. Suddenly, chinos are cool.
Available in a range of colours, fits and fabrics, they are as versatile as jeans, and can easily be dressed up for more formal occasions. In fact, you can wear chinos just about anywhere – to the office, on a date, or on holiday.
Just make sure that you choose the right top and shoes, and you can rock a different look with the same chinos every day of the week.
How to wear chinos... to work
SHOP THE LOOK: Beige Chinos | White Shirts | Blue Blazers | Loafers
Chinos are a great alternative to suit trousers. The light fabric is a lot more breathable than the synthetic mix of most formal trousers, and the fitted cut mimics good tailoring, making them great for the office.
Pair with a white shirt and blazer, for a versatile office look. Keep it relatively formal by matching your belt and shoes – brown leather looks great with pale chinos, while black works well with dark khaki and navy.
How to wear chinos... on a date
SHOP THE LOOK: Grey Chinos | Ted Baker Shirts | Chukka Boots
Dark-coloured chinos are super-comfortable, and not quite as stuffy as a suit. If you're taking your date to a nice restaurant, wear them with a nice shirt and a cashmere jumper, and keep your accessories to a minimum. Chukka boots work well with this sort of outfit, but Oxfords are also a safe bet.
For more casual dates, choose a lighter colour of chinos, and wear with a denim shirt or a t-shirt, and your best sneakers.
How to wear chinos... to a BBQ
SHOP THE LOOK: Blue Chinos | New Balance Plimsolls | Fred Perry Polos
Everyone wears jeans to a BBQ, so if you wear chinos you're sure to set yourself apart. BBQs are casual, friendly events, so you can get a bit playful with your choice of outfit – just as long as you aren't worried about spilling ketchup over it.
Pick a pair of colourful chinos paired with plimsolls or boat shoes, a plain shirt and a Panama hat, and enjoy the frivolous mood of the day.
How to wear chinos... on holiday
SHOP THE LOOK: Pink Chinos | White Tees | Vans Plimsolls
This is your chance to experiment with your chinos. Pastel shades are incredibly fashionable at the moment, so mix things up on holiday with lemon-yellow or pale pink chinos.
Keep it simple with a plain white tee or a short sleeved linen shirt, and finish off the look with some chunky leather sandals or a pair of slip-on trainers.
How to wear chinos... to a wedding
SHOP THE LOOK: Beige Chinos | Light Blue Shirts | Leather Brogues
Chinos are a great option for a summer wedding when it's too hot for a suit. Go for a classic pair of pale beige chinos and match them with complementary shades of blue and brown – a light blue shirt, dark blue blazer, brown pocket square and shoes will look smart and stylish.
Alternatively, make a statement with a pair of deep blue chinos worn with a white shirt, braces and a bowtie.
At weddings, it's always better to be a little overdressed than underdressed, so try to layer your chino-based outfit in a way that offers you some versatility. For instance, you could wear a smart, tailored blazer to the ceremony itself, then hang it on a chair, roll up your sleeves, and hit the dancefloor when the reception kicks off!
Our Top Tips On How To Wear Men's Chinos
Chinos are a great alternative to tailored trousers for the office and can be paired with a white shirt and navy blazer for an on-trend look.


Dark shades of chino trousers work well for smart casual events and can be worn with chukka boots or Oxford shoes.


Pick a pair of coloured chinos (such as blue or pink) for casual summer events like BBQs and pair with white trainers.


Pastel shades of chinos are bang on-trend at the moment and work best on holiday styled with leather sandals or slip on plimsolls.


Opt for classic beige chinos if you're wearing them to a wedding. Complete the look with a light blue formal shirt, navy blazer and brown brogues.