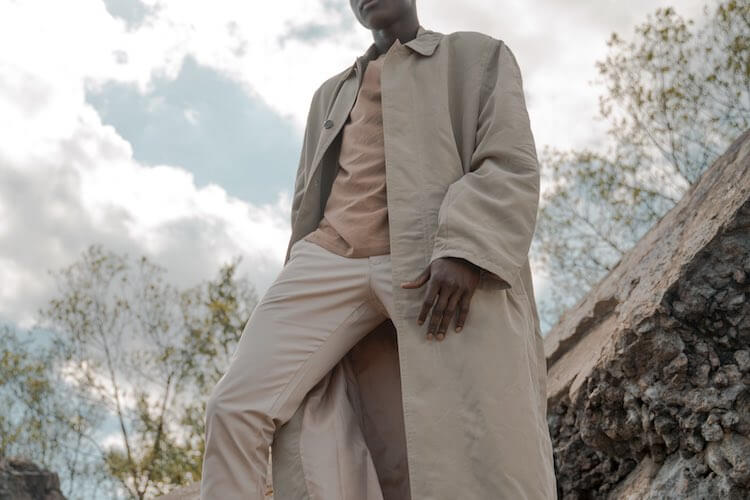 January 22, 2022 |
10 shares
Traditionally thought of as a winter layering essential, trench coats can be worn all year round if you pick the right style. Timeless in design, they'll see you through season after season and are one of the best wardrobe investments you can buy.
Not sure how to wear yours? Read on for our complete men's trench coat style guide, including outfit ideas for all seasons and top tips on what to look for when buying one this year…
What To Wear With Trench Coats In Winter
Trench coats look just as good worn over a suit to keep the rain at bay during winter as they do layered over a knitted jumper and jeans. Unless you're going for an old school detective look, it's best to avoid full-length trench coats and instead opt for mid-length styles.
If you generally wear black suits, a black trench coat like the one above will set you apart from the crowd and will also look great paired with grey jeans or tailored trousers. Alternatively, keep it classic with a beige trench coat and try mixing up your looks by layering it over a denim jacket when the temperature really drops.
What To Wear With Trench Coats In Summer
During the summer months, look to lightweight trench coats as a warm weather alternative to overcoats for guaranteed sartorial success. They can easily be thrown on over a pair of skinny jeans and t-shirt for easy downtime styling, with colours like yellow or orange helping to inject some summer vibes into your outfits.
For smarter occasions, pair a light brown trench coat with beige chinos or white jeans and complete the look with tassel loafers. Check out the outfits below for more inspiration on how to wear a men's trench coat this year.
What To Wear With Trench Coats In Spring/Autumn
Navy trench coats are perfect for autumn, as the colour will work effortlessly with the other autumnal hues in your wardrobe. Try wearing yours with dark denim, brown or rust knitwear and a pair of tan Chelsea boots for a smart-casual outfit that'll transcend from day to play.
In spring, look to stone or beige trench coats for maximum wardrobe versatility and layer over shirts, sweaters and long sleeve tees for endless outfit options for off-duty days. Then layer over a navy or grey suit when the new week ticks around for 9 to 5 style points.
How To Wear A Trench Coat Casually
Just like wool overcoats, trench coats work really well with ripped denim for Insta-ready streetwear outfits to keep your street style strong. Just add a branded tee and classic trainers like Vans or Adidas Originals to complete the look.
During the colder months, swap the tee for a crew neck sweater and the trainers for your favourite pair of chukka boots for a stylish casual trench coat outfit without compromising on comfort.
Men's Trench Coat Buying Guide
Looking to buy a new trench coat? We've got your back with stylist tips based on the most common questions men ask about trench coats…
What Are The Best Brands For Trench Coats?
What Colour Trench Coat Should I Buy?
Winter – black or beige
Spring – stone or beige
Summer – beige, yellow or coloured
Autumn – navy or brown
How Should A Trench Coat Fit?
Generally a tailored trench coat should fit like a blazer, however as you will likely be wearing it over multiple layers it's best to try it on over what you expect to be wearing it with in case you need to go a size up. You should be able to button up the trench coat and move your arms without any tightness with your blazer underneath.
If you'll be wearing the coat for casual occasions, opt for a more relaxed fit so that you can roll up the sleeves if necessary and there's plenty of room for knitwear and sweaters.
When it comes to length, the trench coat should sit a few inches above the knee if you opt for a mid-length style. Traditional full-length styles should fall around the bottom of the knee. If you're shorter than average, always go for a shorter style so that you don't look swamped in it.
Our Top Tips On How To Wear A Trench Coat
Black trench coats look great in winter worn over suits and will instantly elevate your 9 to 5 style game while keeping showers at bay.


Look to trench coats in stone or beige during the milder months and team up with jeans or chinos for easy downtime outfits.


During summer, opt for a lightweight trench coat in yellow or orange to inject a colour boost into your warm weather wardrobe.


Dress down a trench coat for casual occasions by wearing it with ripped denim and complete the look with iconic trainers or chukka boots.