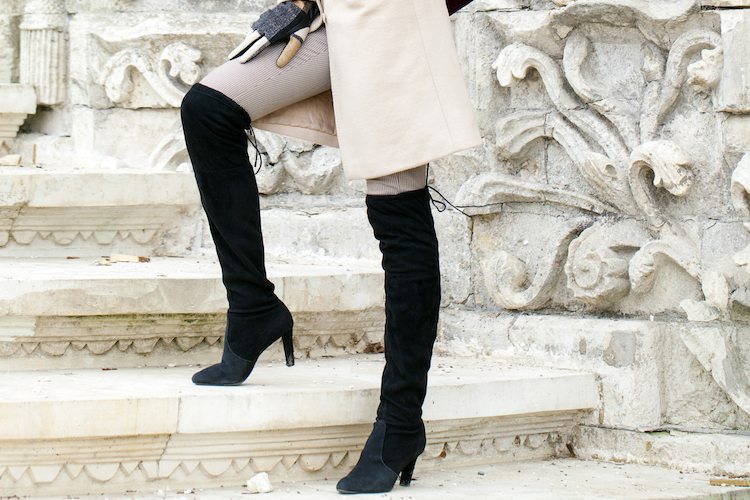 September 13, 2022 |
7 shares
It's been a long time since over the knee (OTK) boots were in fashion. Almost thirty years, in fact – when Julia Roberts pulled on her famous patent boots in the opening scenes of Pretty Woman.
This time around, OTK boots are less 'pretty' woman and more 'sophisticated' woman. Sported by the likes of Kate Moss, Kim Kardashian and Miranda Kerr, they are a chic (and surprisingly comfortable) take on trans-seasonal style.
What's more, the High Street is coming down with a multitude of styles which are suited to any occasion. Read on for three of our favourite ways to wear over the knee boots right now...
1. Mini-dress with over the knee boots
SHOP THE LOOK: Over The Knee Boots | Jumper Dresses | Biker Jackets
Known as 'lampshading' in fashion circles, this trend started in Calabasas around a year ago, and has become surprisingly popular. It essentially involves wearing a high-neck, wide-hemmed jumper dress (ideally in a jersey or knit fabric) with OTK boots (usually suede) which come up to or a little lower than the hem of the dress.
This creates a lampshade silhouette which shows off a sliver of skin when you walk. It's sexy in a subtle way, and works on any body shape.
+ Best suited to... a night out with the girls, or a hot date
2. Over the knee boots with jeans
SHOP THE LOOK: Black OTK Boots | Skinny Jeans | Longline Cardigans
The 'boots over jeans' look is nothing new, but it very much depends on the type of boots you wear. Knee-high boots still look a little bit Sloaney, while UGGs work best with loungewear.
But over the knee boots can transform even a simple pair of jeans, elevating the entire outfit to new fashion heights.
It goes without saying that this look only really works with skinny knees, as the boots are worn over the top. However, that's pretty much the only rule. Ripped jeans, faded jeans, jeggings, leather trousers – they all look great under OTK boots, especially if you can more or less match up the colours involved.
Wear with a slouchy sweater or t-shirt for a dressed-down vibe, or dress up with a pretty blouse and jacket – this is a versatile look that will refresh any wardrobe staple.
+ Best suited to... weekends and casual outings
3. Pencil skirt with over the knee boots
SHOP THE LOOK: Pencil Skirts | Shirts | Handbags
OTK boots don't need to be obvious. Fashion mavens such as Jennifer Lopez and Victoria Beckham have been working an office-friendly version of OTK boots for a few months now, and it's worth a try!
Choose a slim-fitting pair of boots in fitted jersey, soft leather or suede, and wear them underneath a knee-length pencil skirt or midi dress. There should be no skin whatsoever on display, and you should try to keep your colour palate as similar as possible, for a slimming, stylish look.
The different textures of the boots and skirt will keep the look interesting, even if it is all in black. The result is a fierce and fabulous look which will look just as good in the boardroom as it will in the cocktail bar after work.
+ Best suited to... the office or any other professional occasion
Our Top Tips On How To Wear Over The Knee Boots
If you're wearing a dress with above the knee boots, opt for a mini style in a jersey or knit fabric and complete the look with a leather biker jacket.


Update the classic knee high boots over jeans look by choosing a high-waisted cut and layer with a longline cardigan for multiple outfit options on downtime days.


Over the knee boots look great in the office, especially when paired with a knee-length pencil skirt. Just make sure there's no skin on display and try to mix up the textures to add interest to the outfit.


For a slimming effect, choose heeled over the knee boots that are the same colour as your jeans or skirt.