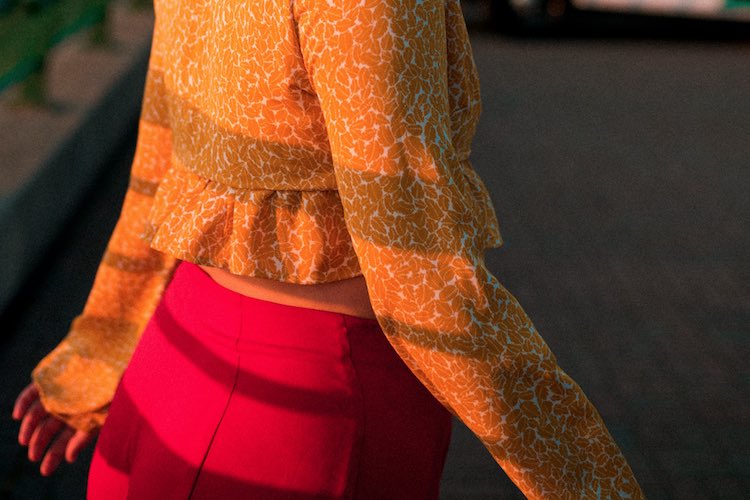 September 14, 2021 |
10 shares
The leaves are changing colour and so are our wardrobes!
Autumnal colours are back in the stores, just in time to replace summer's pastel palette. But one colour is proving to be more popular than most - RED.
Red has been causing a stir among designers for a while now. In fact, 'revolutionary red' is widely seen as the natural successor to 'millenium pink' – a serious, grown-up colour for politically charged times.
This is a bold, brave colour that stands out from the crowd. And whether you prefer burgundy, cherry, mahogany or burnt umber, there's a shade of red to suit your existing wardrobe this autumn.
The easiest way to get in on this trend is by investing in a pair of red trousers this autumn. However, in order to make the colour pop, you need to accessorise them properly.
Read on for our guide on how to wear red trousers with style...
How to wear red leggings
SHOP THE LOOK: Red Leggings | High Heels | Shirts
Red leggings can be a risky item of clothing as they conjure up images of 1980s workout videos. However, paired with the right items of clothing, they can be sleek and chic.
Choose a darker shade of red, and always wear some sort of heels with them, to elongate your legs. Add a simple shirt or blouse in a neutral colour such as white or black.
Then layer over a knitted scarf and an oversized cardi, and you have a perfect trans-seasonal look.
How to wear red jeans
SHOP THE LOOK: Red Jeans | Biker Jackets | Dr Marten Boots
Red jeans are a quirky, preppy alternative to blue jeans, and can be worn with the same sorts of colours and accessories.
Black, brown, green, white and camel tones look cosy and stylish when paired with slim-fitting red jeans. At night, just add an old band t-shirt and Doc Martens for a cool, retro look.
How to wear red tailored trousers
SHOP THE LOOK: Red Trousers | Court Shoes | Red Blazers
Red tailored trousers and chinos are a lot more sophisticated than red leggings or jeans.
While it is perfectly possible to dress them down with an oversized knit or a white shirt, these trousers deserve to steal the spotlight.
Go full 'revolutionary red' with red trousers, a matching red blazer and killer heels. Or channel this season's colour blocking trend by adding a structured red top in a similar shade. Keep accessories to a minimum, and prepare to be noticed.
How to wear red wide-leg trousers
SHOP THE LOOK: Red Wide Leg Trousers | Adidas Trainers | Black Tops
Palazzo pants were a big summer trend that is set to carry over into the autumn. Update your red wide leg trousers for colder weather by wearing them with bright white Stan Smiths and a simple black long-sleeved t-shirt.
White or black Bardot tops look glamorous and stylish when worn with red wide-leg trousers, and you can cover up cold shoulders with a season-appropriate leather biker jacket.
Our Top Tips On How To Wear Red Trousers in Autumn
Choose a dark shade of red leggings and add a simple black or white top. Heeled shoes will help to elongate your legs.


Wear red jeans with a black band tee and chunky boots for a festival-ready look, or with white and camel tones for everyday stylish outfits.


Red chinos or tailored trousers work best for work and look great worn with a matching red blazer and heels.


Wide-leg trousers are still a huge trend and work well in red. Just add a pair of white trainers, a long sleeve tee and biker jacket to complete the look.