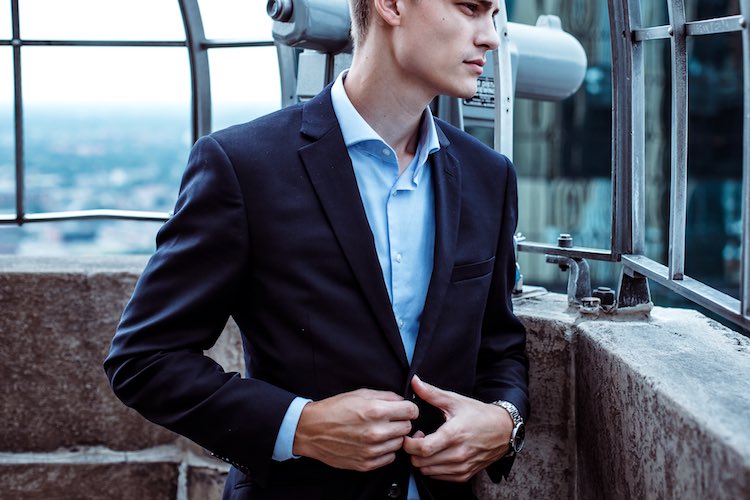 April 17, 2021 |
16 shares
Choose wisely and a blazer can be the hardest working item in your wardrobe. Perfect for smartening up a casual outfit, while also offering a less formal look than a traditional suit jacket.
Yet many men often don't know where to start and end up with ill-fitting blazers and a mishmash of colours with their outfit choices.
If this sounds familiar, read on for our stylist guide to blazers which covers:
How To Measure For a Blazer
Before even thinking about buying a new blazer, make sure you measure yourself correctly as even the most expensive blazers won't elevate your style game if the fit is poor.
Luckily, it's a pretty straightforward process and takes less than a minute (or you can get it done at your nearest suit tailor).
Chest Measurement
Use a tape measure to measure the full circumference of your chest at the widest point.
Keep the measure level and wrap it across your shoulder blades, under your arms and over your chest. Take a note of the measurement in inches.
Sleeve length
Unless you're purchasing an expensive blazer you're unlikely to need this, but it helps to have it handy.
Ask someone to measure down from the centre of the back of your neck, across the top of the shoulder and down your arm to the wrist.
Extra Measurements
When buying a blazer you'll usually see the chest size (e.g. 38) followed by a letter (e.g. S, R or L). These letters refer to the length of the blazer and often the sleeve length as well.
S = Short
R = Regular
L = Long/Tall
If you're shorter than average, opt for the short option if it's available as the blazer won't be as long and you shouldn't need to have the sleeves separately tailored for a better fit.


Likewise, opt for the long/tall option if you're taller than average so that the blazer sleeves don't stop half way down your arms.
EU Blazer Measurements
If you see a blazer with EU sizing, just subtract 10 to find your correct chest size. For example a blazer with a size listed as EU46 is the equivalent of a 36-inch chest.
Types of Men's Blazers
Blazers are generally available in three fits – regular, slim and skinny (although you may also find super skinny at some stores).
Regular Fit Blazers
If you have wide shoulders and don't like your clothes to be too tight, a regular fit blazer is your best option. Cut with a more relaxed fit than the slim and skinny styles, you'll be able to button up without too much breathing in and wear the blazer over jumpers in the winter.
Slim Fit Blazers
For all guys with an athletic build, slim fit blazers are a great choice as they'll look more tailored than regular fit styles. They're cut with narrower shoulders and chest, resulting in a streamlined silhouette for fashion-forward outfits. Generally speaking, a slim fit blazer will offer the most flattering look for most men.
Skinny Fit Blazers
The skinny fit has only been around for a few years but is seen as the most modern cut. If you don't have a slim build this isn't the style for you as you'll struggle to move your arms in the blazer and it'll look two sizes too small. If you've got the body shape to pull it off, a skinny fit blazer will look great over both chinos and jeans.
When it comes to style, men's blazers are often single-breasted, but double-breasted blazers have had a recent resurgence.
Single-Breasted Blazers
This should be your go to style for blazers, as it's a timeless look and flatters most body shapes. You'll usually find two or three buttons and it's easy to wear single-breasted blazers unbuttoned for a more casual look.
Double-Breasted Blazers
The double-breasted blazer was a big hit in the 1980s and has recently started to gain popularity again. The style only works if you have the blazer buttoned up, so if you prefer to wear your blazers open this is't the style for you. Double-breasted blazers are flattering for most builds and especially good for anyone carrying a few extra pounds as these can be hidden behind the blazer when buttoned up.
After deciding on what fit and style is best for you, it's then just a case of choosing the fabric based on when you plan to wear the blazer. The simplest option is to split the year in two – spring/summer and autumn/winter.
Blazers for Spring/Summer
During warmer months you should stay clear of wool blazers and instead opt for cotton or linen. It's important to choose a natural fabric as it's more breathable than polyester and will help you to remain sweat-free. If you're planning on wearing your blazer over a t-shirt or shirt in summer you can afford to go for a slim fit due to the lack of layers. However, you may want to stay away from super skinny cuts when the temperature peaks as they're likely to leave you hot and bothered pretty quickly.

+ Look to pastel hues and navy if you regularly wear chinos, or grey if you'll be wearing your summer blazer with denim.
Blazers for Autumn/Winter
Autumn/winter is the perfect time to invest in a natural wool or tweed blazer. It'll keep you warm during your commute and if you pick the right one will show off your quintessential British style at its best. It's worth considering what you plan to wear your winter blazer over. If it's just a shirt opt for your normal fit. If you expect to wear the blazer layered over a jumper, opt for a more relaxed fit so there's enough room to layer up. 
+ Autumnal earthy colours tend to work best as your blazer will go with both black and blue trousers for multiple outfit options.
The Best Brands for Blazers
You know your measurements, have picked a fit you like and nailed down the perfect type of blazer for your wardrobe. Now it's time to start looking at options.
The budget you have available will have a huge impact on what blazer you'll end up with but to give you some guidance, here are some of the best blazer brands available across different price points.
High Street Brands (under £100)
Topman
ASOS
Jack & Jones
Zara
Burton
New Look
Mid-Range Brands (under £350)
Reiss
Montedoro
Selected Homme
Boss
Chester Barrie
Scotch & Soda
Designer Brands
Paul Smith
Club Monaco
Incotex
Boglioli
Canali
Hackett
Oliver Spencer
Thom Browne
The Best Blazer Colour Combinations
SHOP GREY BLAZERS
Grey Blazers
+ Best to wear with: blue, black, red, white, light pink

A grey blazer is one of the most versatile colours, working just as well with blue denim as it does with smart black trousers. If you're only looking to have one blazer in your wardrobe each season, grey will offer the most outfit options for both smart and casual occasions.
SHOP BLACK BLAZERS
Black Blazers
+ Best to wear with: grey, white, stone, light brown

Black blazers can look like suit jackets and if you regularly wear black trousers opt for a grey blazer instead. However, a black blazer looks great with light grey trousers and jeans, with a white shirt completing the look. On casual days, you can wear a black blazer with stone chinos paired with chukka boots.
SHOP NAVY BLAZERS
Navy Blazers
+ Best to wear with: light brown, white, light grey

A navy blazer worn with brown chinos is a timeless look that's unlikely to go out of fashion anytime soon. It looks more casual than black on downtime days and works perfectly with grey trousers for formal events or the office. Just don't go for one with gold buttons – this may have been the trend in the 1980s but that's exactly where it should stay.
SHOP BROWN BLAZERS
Brown Blazers
+ Best to wear with: other shades of brown, white, black, grey

It's best to pair a brown blazer with other natural colours such as earthy greys and browns to make sure the whole outfit works. Get it wrong it's a pretty unforgiving look. Although brown blazers tend to work best in the autumn/winter, they can look great in the warmer months if you opt for a light brown linen blazer over a white top and blue/grey trousers. Avoid wearing with black shoes though at all costs.
SHOP GREEN BLAZERS
Green Blazers
+ Best to wear with: black, cream, white

Green is probably the hardest colour to pull off. You don't see many guys walking around in green blazers and there's a reason for this – good colour combinations are lacking. Generally, the best way to wear a green blazer is with black trousers/jeans and a white top. With any other colours you'll be at risk of looking like you've picked out random elements of your wardrobe and thrown them together.
SHOP RED BLAZERS
Red Blazers
+ Best to wear with: white, black, light grey

A red blazer can add a colour boost to your outfit but it's unlikely you'll want to wear one everyday. It is more restrictive than other colours such as grey and blue, but for special occasions or to impress your next Tinder date it'll show you care about your style. Burgundy tends to work best and can be teamed up with black jeans/trousers, black shoes and a crisp white shirt for sartorial success.
How to Wear a Blazer
Now you know which brands are best for blazers it's time to start thinking about outfit options.
There's no point investing in a blazer and then only wearing it once a year (unless you're loaded), so look at your existing wardrobe and take inspiration from the tips below to make sure you buy a blazer that will work best for your style.
Wearing a Blazer with Jeans
The chances are this is your go to outfit for both date nights and the office. If you usually wear a blazer with blue jeans, mix it up when you're out of work by opting for black denim.
Always wear a blazer with skinny or slim fit jeans for a tailored look and make sure any top you wear isn't longer than the blazer (the longline trend doesn't work here!).
Wearing a Blazer with Chinos
A blazer and chinos is one of the most popular smart casual combinations during the warmer months. It's also one of the easiest looks to get right.
Start with a navy blazer and slim fit chinos and add brogues, chukka boots or loafers.
Then go for a classic white shirt or inject some extra colour into your outfit with a light pink shirt to set you apart from the crowd.
Wearing a Blazer with Smart Trousers
There are just two rules with the trousers – 1) they shouldn't be baggy and 2) they should be a different colour to the blazer.
Wearing a blazer with tailored trousers is at the smarter end of the smart casual spectrum and can be an acceptable alternative to wearing a suit.
If you usually wear black trousers, go for a grey blazer. If you're more of a fan of grey trousers, opt for a navy blazer rather than black as it's easier to style with chinos and light denim on downtime days.
Wearing a Blazer with Shorts
The most important element to focus on when you're wearing a blazer with shorts is the jacket length. You can easily dress the outfit up or down based on your footwear choices, but an oversized blazer will instantly ruin the look.
A blazer paired with chino shorts is perfect for smart casual events like BBQs – add a pair of tassel loafers to complete the look.
How To Look After Your Blazer
Taking care of your new blazer will help to extend its life, as well as making sure it always looks great every time you wear it. These top tips will help to look after your blazer and they're all easy to do:
1. Use a hanger – it sounds basic but we've all been guilty of throwing a blazer over the back of a chair rather than hanging it up properly after use.
If possible, use a wooden hanger, as it will offer more support around the shoulders.
By getting into the habit of hanging your blazer up it'll help to maintain its shape for longer so you don't have to get it pressed at the dry cleaners.
2. Dry clean it sparingly – it's good practice to dry clean your blazer a couple of times a year if you wear it regularly.
This will help to prevent a build up of stains, BUT you don't need to get it dry-cleaned anymore frequently as the chemicals will start to break down the fabric.
3. Use garment bags – if your blazer is going to be hung up for a while (for example your summer blazer during the colder months), place it in a garment bag to avoid a build up of dust and keep any potential moths at bay.
It's best to get it dry cleaned first so it's pristine and ready to go when it finally comes out of hiding.
4. Don't use the washing machine – even if the label says you can, just don't. It's likely you'll struggle to get the blazer back to its original shape which means you will end up taking it to the dry cleaners away.