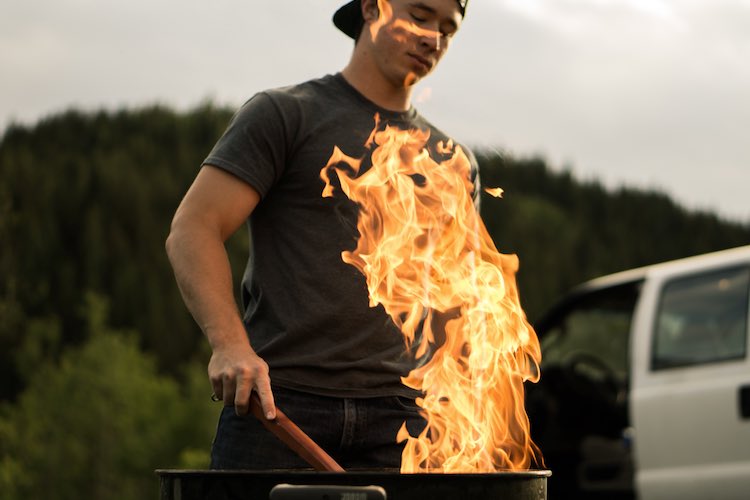 August 7, 2017 |
6 shares
Barbeque season is in full swing, and with more hot weather predicted for the weeks ahead, the chances are you'll be heading to a few more before the summer is through. There's no escaping the lure of the BBQ in the UK.
Whether you're relaxing in the park with your friends and a disposable grill, mingling with your in-laws or powering through multiple rain showers, it's still one of the best meals you'll have all year.
No two BBQs are the same, which is why you need to alter your outfit depending on the occasion, the weather and the company.
If you're wondering what to wear to a BBQ this summer, we've got you covered. Read on for all the style inspiration you'll need for the season...
What to wear to a BBQ… with friends
SHOP THE LOOK: Denim Shorts | Tees | Converse Canvas Trainers
This is the best kind of BBQ. It usually starts mid-afternoon with a few beers, and carries on late into the night. Needless to say, the dress code is super-casual – jeans or denim shorts, a t-shirt and trainers are all you need.
However, it's worth bringing a few optional layers with you in case the weather turns (and, let's face it, it usually does in the UK). Faded sweatshirts are the cover-up of choice for summer, the baggier the better. Alternatively, pack a flannel shirt in your bag so you can throw it on if the temperature drops.
What to wear to a BBQ… on a cold day
SHOP THE LOOK: Distressed Jeans | Clarks Chukka Boots | Long Sleeve Tees
The weather would need to be really, really bad to get in the way of a pre-planned BBQ, and the chances are that you'll have to contend with at least one cold-weather grilling session this year. No one wants to be the first person to retreat indoors, so you need to arrive prepared.
Workman boots or chukkas will protect your feet from muddy ground, while blue jeans are heavy enough to keep you warm and won't get sodden if it starts to rain. Layers are your friend in weather like this - wear a long-sleeved t-shirt and/or a shirt, underneath a lightweight jumper. A waterproof jacket is non-negotiable.
What to wear to a BBQ… during a heatwave
SHOP THE LOOK: Chino Shorts | White T-Shirts | Birkenstock Sandals
A less common weather concern, but it does happen. When the weather gets really, really hot, you need to be able to stay cool without being borderline indecent.
Unless you're in very familiar company, it's never appropriate to go shirtless. Aside from anything else, you don't want to be half-naked within spitting distance of burning embers. Instead, stay stylish during a heatwave by opting for lightweight shorts (chinos or linen shorts) with a white t-shirt, Birkenstocks and a straw fedora. Accessorise with a cold can of beer.
What to wear to a BBQ… with your in-laws
SHOP THE LOOK: Blue Chino Shorts | Short Sleeve Shirts | Loafers
This is probably the only BBQ in the world where you can't go 100% casual. When you're entertaining your in-laws, you have to look relatively smart.
Dark blue chino shorts are on-trend, look nice, and will hide all manner of spattered meat juice and condiments. Pair them with a dark t-shirt (again, to minimise any potential stains) or a light shirt, and wear boat shoes or a pair of brown loafers.
Our Top Tips On What To Wear To a BBQ
Opt for denim shorts and a casual tee if you're having a BBQ with friends. Then throw on a faded sweater if the temperature drops.


If it's too cold to wear shorts at the BBQ, choose distressed jeans and pair with leather chukka boots to protect your feet from a (potentially) muddy lawn.


During a heat wave, make sure you wear natural fabrics (e.g. linen shorts) to the BBQ so your clothes don't stick to you. Complete the look with sandals and a straw fedora.


For all semi-smart BBQs (e.g. at work or with the in-laws), go for chino shorts in a dark colour to hide any ketchup spills. Add a white short sleeve shirt and brown loafers for an on-trend look.