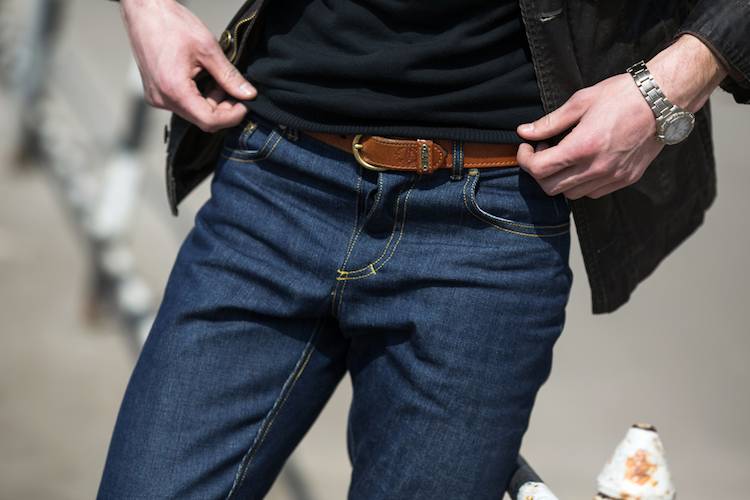 January 10, 2016 |
5 shares
Jeans – everyone needs them, everyone has them and everyone loves them.
There are so many different styles and shapes to choose from that stepping into the denim section of your favourite store or buying jeans online can be bewildering at the best of times.
Do your research first and the whole process will be a lot less daunting, quicker and undoubtedly more successful.
Follow our simple style guide to find your perfect pair of jeans or use the links below to jump directly into each section:
What size am I?
Getting the right fit is important − you may think that an inch here or there on the length won't make much difference, but getting the exact fit for your measurements is essential if you want your new jeans to look sharp.
Bootcut jeans that are slightly too long will drag sadly, getting chewed up along the way, and skinny jeans that are too tight around the waist can create that undesirable tyre effect underneath your t-shirt. To avoid this there are two simple measurements you need to take. Use a tape measure and measure in inches.
Waist: stand with your feet apart and wrap a tape measure around the smallest part of your natural waist.
Inside leg: stand up straight and measure from your crotch to the hem of your jeans or trousers, do not bend your knees when you reach down. It is easier and likely to be more accurate if you get someone else to measure for you.
Some brands label jeans as Short (30inch), Regular (32inch) and Long (34inch).
What shape should I choose?
These are the five main jean cuts for men:
Skinny Jeans
The favourite of rock stars and Hoxtonites, also known as drainpipes, skinny jeans will leave little to the imagination. Made from stretch cotton with an all over body-hugging fit on the hips and legs. Super-stylish if you can get away with it but not ideal if you have had a few too many kebabs.
Slim Fit Jeans
Cut closely to the hip and thigh with a straight leg, these jeans will give you a tailored fit to create a long, streamlined look that's still easy to wear.
Straight Fit Jeans
The classic straight leg fit will flatter all builds.
Tapered Jeans
Cut closely to the hip and thigh, these jeans stay slim on the leg to create a narrower leg opening. Tapered jeans work well on slimmer builds; those with a bulkier frame should go for a slim or straight leg cut instead.
Bootcut Jeans
Bootcut jeans are a relaxed option with a straight leg finished off with a gentle flare at the bottom. These jeans look good worn with boots – the clue is in the name. Bootcut jeans will complement most builds.
What about the colour?
There are three main denim groups to choose from - light-wash, mid-wash and dark.
Dark: Dark-wash jeans are a flattering option and can be worn during the day or at night. If you want to wear jeans to a smart event, the darker the shade the better.
Mid: Jeans in this colour are versatile and can be worn with anything.
Light: These are your baby blues and your light greys. Great in summer worn with a simple white t-shirt. The faded and worn-in finish can be personalised with rips and scuffing if that's your thing.
How can I keep my jeans looking good?
Wash your jeans inside out


Always check the label, some jeans may be cold wash or hand-wash only


Select the gentle cycle on your washing machine


Do not tumble dry unless you have to, and check that the label says it is ok


Dry away from sunlight


The dye in dark denim can transfer onto light fabrics so wash your new jeans before wearing them for the first time