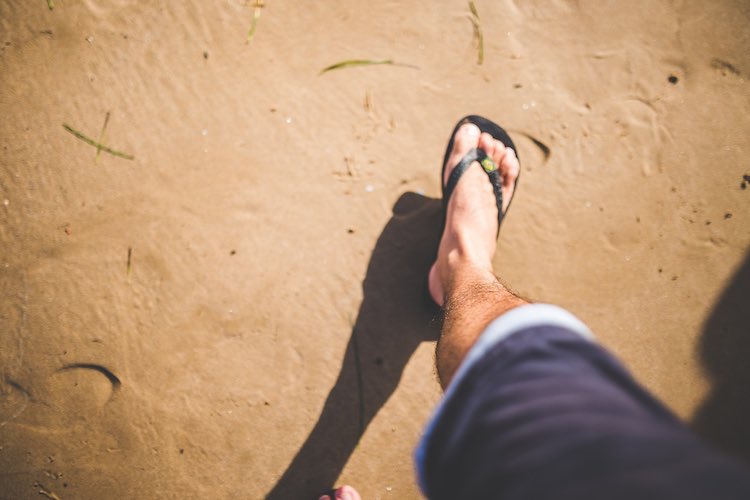 August 21, 2022 |
8 shares
Nobody likes packing. But forget to pack a couple of essentials, and you'll regret it for your whole holiday. Once you've put aside your passport, your travel money, a plug adaptor and your sunnies, it's time to start thinking about your all-important holiday wardrobe.
So here's our guide to smart packing, with the most important men's holiday wardrobe essentials you don't want to leave at home...
Holiday T-shirts
You need to pack at least two t-shirts – one plain, and one printed or striped. It should go without saying that all the clothes you pack should match. There's no point in packing a red t-shirt and red shorts, unless you're actively going for the human lobster look. If you're travelling somewhere hot, choose light coloured tees, in a breathable fabric such as cotton. That way you minimise your chances of sweating through your clothes on day one.
Swimwear for the Pool & Sea
If you plan to be anywhere near a body of water you're going to need at least two pairs of swim shorts. That way, one pair can be drying off while you wear the other. It's also worth alternating your trunks between the pool and sea. As the chlorine can start to disintegrate the fabric over time it's best to keep your designer swimwear for the sea only as salt water is much kinder.
More than Enough Underwear
The golden rule is that you pack a pair for every day you're away, plus another two just in case it is THAT sweaty. Turning your underwear inside out doesn't work on holiday as the heat really does mean they take a hammering with all that extra sweat. And no, you cannot wear swimming trunks as underwear.
Shorts for all occasions
When you're on holiday, your shorts are basically your trousers. Instead of jeans, pack denim shorts. If you're addicted to chinos, pack chino shorts. If you love athleisure, pack a pair of jersey shorts. You will need at least two pairs of shorts per trip, one smart and one casual. Again, think about what you plan to wear them with – there's no point in packing a nice pair of chino shorts if you're just going to wear them with flip flops all holiday long.
A Lightweight Jacket
Ideally, you won't need to wear a jacket at all during your holiday, but there will always be the odd chilly night (not to mention the trip back from the airport). One lightweight jacket is all you need to pack – but choose it wisely. A linen blazer can easily be dressed up or down, whereas a denim jacket is far too casual to wear to a nice dinner.
Flip flops/sliders
Thank God for sliders. Before 2017, flip flops were the only real options for holiday footwear, despite the fact that they chafe, fall off and make it impossible to walk at a leisurely pace. Sliders are a much cooler alternative, although flip flops are still perfectly fine for die-hard fans. Pack one pair, and wear them every day of your holiday.
Smart Casual Shirts
It's always worth bringing a crisp white shirt with you on holiday - because you never know when you're going to want to look a little more presentable. A white shirt can be ironed to perfection, or worn loose over shorts when you need to cover up a bit. Don't worry about travel-creases – most hotel rooms come with their own iron so you can sort it out when you arrive.
A decent hat (or two)
If you're still holding on to the cap you've been wearing since your teens, it's time to invest in a new one. Whether it's just to cover your hair for that 6am flight or to keep the sun off your head on holiday, a decent hat is an absolute essential. A baseball cap is still the classic go-to style due to its versatility – you can use it to either dress down your chino shorts or dress up your casual tees. Opt for premium brands like Ralph Lauren and keep colours muted to grey or blue. If a baseball cap doesn't do it for you and you want something smarter, fedoras take the humble straw hat to the next level and are just smart enough to be worn during an evening meal under the stars at a posh restaurant.
Boat shoes
A pair of boat shoes will see you through a wealth of holiday moments: date nights, walking tours, and yes – boat trips. Choose a classic colour such as navy or tan, and take your holiday wardrobe to the next level this year.
Chinos (if you just can't deal with shorts)
These are the only pair of trousers you need when you're on holiday if you're averse to wearing shorts. Lightweight and versatile, they're a fall back for cold days, and a smart option for a night out. Stick with classic shades of cream, khaki and beige, or opt for summery pinks to inject some colour into your holiday outfits. Don't forget to pack a tan belt and a decent shirt to complete the look.