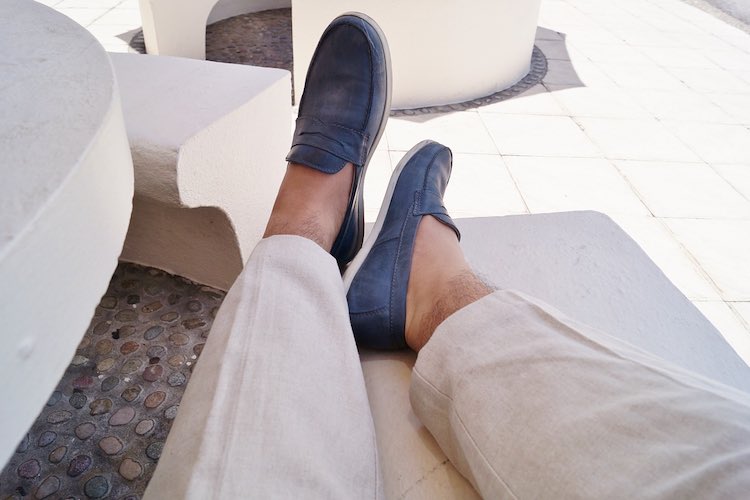 August 8, 2016 |
5 shares
Navy is the new black when it comes to dress shoes. Toned down enough for formal wear, navy adds a little individual flair to any smart outfit.
From navy brogues to navy Oxfords, we've found five of the best new season navy shoes on the high street.
The Navy Suede Brogues
Men's Navy Suede 'Xander' Brogues, £255, Paul Smith
Durable and dapper, these navy suede brogues with tan lining boast chunky leather soles and cushioned leather footbeds to give you that spring in your step. Wear them with an offbeat print shirt for a quirky look.
The Navy Lace-ups
Poste Dario Lace Up, £89.99, Office
Smarten-up with these navy leather lace-ups from luxury Italian brand Poste. Wear them with a suit or sleek blazer, no need to fly to Milan for a bite of Italian style.
The Navy Desert Boots
Men's Navy Suede 'Wilf' Desert Boots, £195, Paul Smith
The ultimate smart casual shoe, dress these navy suede Paul Smith boots up or down – wear them with a shirt and herringbone blazer or chino shorts and a tee, they're so versatile they'll go with pretty much anything.
The Navy Loafers
G.H Bass Weejun Larkin Reverso, £125, Office
Ah, the good old navy tassel loafer, a favourite of your grandpa's and now back on the fashion radar. With hand-stitched seems and contrasting tan soles you can put your best foot forward in these suede beauties.
The Navy Derby Brogues
Gryene Burnished Leather Derby Brogues, £135, Ted Baker
Another admirable navy brogue, this time from Ted Baker – look primp and polished with these leather derby brogues with punctuated detailing and contrasting laces.
Styling Tips for Wearing Navy Shoes
Wear your navy shoes with a grey suit, print tie and crisp white shirt. Or style navy loafers with camel-toned chinos and a navy blazer.