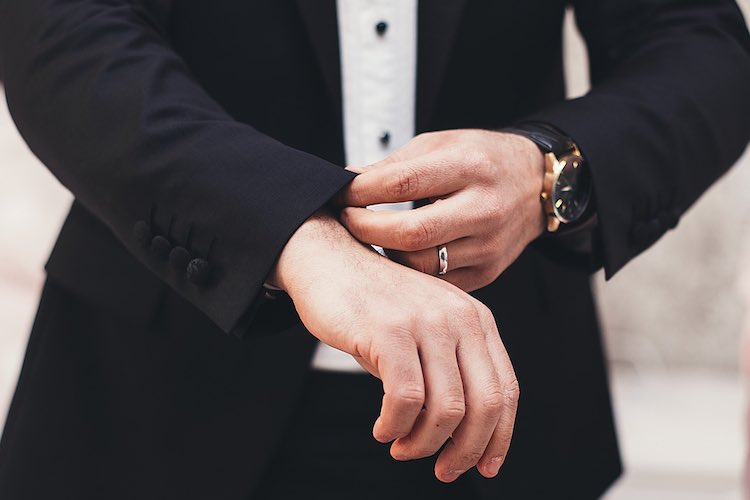 A bad fitting suit is a waste of money and potential. Little details like getting the right sleeve length and choosing a suit style that flatters your build make all the difference.
Follow this easy guide to get your size right and choose the best two piece or three piece suit for you.
Step 1: Get Measured
The first and foremost thing you need to do before buying a suit is get measured. The best option is to visit a professional tailor or shop where they provide an in-store complementary measuring service.
If this isn't possible follow the tips below to measure yourself. There are 5 measurements that you need to know − chest, arm, waist, jacket length and leg.
1. Chest
Measure across the fullest part of your chest, keeping the tape straight as it passes under the arms and around the back.
2. Arm (sleeve length)
Measure from where the shoulder seam meets the top of the arm down to the edge of the cuff. Remember that there should be around half an inch of shirt cuff on show behind the cuff of your jacket.
3. Waist
Line up the measuring tape with your navel and measure the circumferance around your waist.
4. Jacket length
Measure from the back of your neck, where your shirt collar would be, down to just below your hips or desired hem length. You can choose a short, medium or long jacket length and this will vary depending on the style of the suit.
5. Leg (trouser length)
To find out your leg measurement measure the inside of one leg from crotch to ankle bone.
Step 2: pick the suit fit
Super-skinny suit
Create a style statement in the skinniest suit cut around, often made with a stretch fabric for an even closer cut. Super-skinny suits are best pulled off by young, trendy types in bands with a slight frame.
The jacket is ultra skinny across the shoulders and chest with a shorter jacket length. Trousers fit very closely and cling to the thigh and calf. Check out Topman and ASOS for super skinny suits.
Skinny-fit suit
Trend-led tailoring takes a fresh look at the suit with the striking skinny-fit suit. Skinny-fit suits create a modern look with a jacket that is fitted through the shoulders and chest and a shorter jacket length.
Trousers fit closely around the thigh and calf. Individual skinny-fit suit separates can be worn together, or mix and match to create a smart casual look.
Skinny-fit suit trousers look chic with a trendy roll-neck or wear your skinny-fit suit jacket over a fitted V-neck with dark chinos.
Slim-fit suit
A slim-fit suit is the easiest suit cut to wear for most men. More fashion-forward and modern than the classic suit, the slim-fit suit is flattering for most builds.
A slim-fit suit has narrower shoulders, chest, waist and sleeves than a classic fit suit but is not as daunting as a skinny-fit suit.
Slim-fit suit trousers are longer in the rise with a more relaxed leg than in a skinny-fit suit and the suit jacket tapers in on the waist to give a slim silhouette. Reiss, Hawes & Curtis, Burton, Austin Reid and Moss Bros. are good places to start.
Classic fit suit
If you need a suit for a formal event with a conservative dress code, a classic fit suit is the one you want. Classic fit suit jackets have wider shoulders than slim-fit jackets.
The jacket is looser around the waist and longer in length. The suit trousers are cut straight, leaving more room to move about in. TM Lewin have a good range of classic fit suits.
Step 3: Choose a jacket style
Once you know which fit you want you can then consider the type of suit jacket you would like – one button suit, two button suit or double breasted.
One Button Suit Jacket
A modern option that looks fashionable, one button suits complement smaller frames.
Two Button Suit Jacket
This suit jacket style is always on-trend and particularly flattering on men of a medium or tall build.
Double-Breasted Jacket
Traditional but still good to go, a double-breasted jacket looks good on most body types. Double-breasted jackets have extra material so always wear this jacket done up − leave this jacket unfastened and it can look messy.
The finished look
A well-fitting suit should make you feel like you can take on the world. It should be comfortable and create a smooth silhouette.
Jacket shoulders should fit snugly but not look too tight and the jacket should fasten easily, not too tight or too loose, having a flattening effect across the midriff.
Warning signs that you've not got it right
Trousers should be smooth with no bunching. The trouser hem should fall just above the top of the shoes with no ankle on show. Any excess fabric or wrinkles mean you need a slimmer fit or smaller size.
Warning signs that you've gone wrong somewhere when choosing your suit jacket include:
Excess fabric
(There should be around half an inch of shirt cuff on show behind the cuff of your jacket. If the shirt cuffs are covered then your jacket sleeves are too long.)


Bunching on top of the shoulder
(This can be due to the the jacket being a couple of inches two small, resulting in the shoulder pads bunching. It can also be caused by the jacket being too large, resulting in extra fabric.)


Upper arm wrinkles
(If there are wrinkle lines going outwards from where your fastened jacket button is, creating an unsightly x-shape, this is a sure-fire sign that your jacket is too tight!)