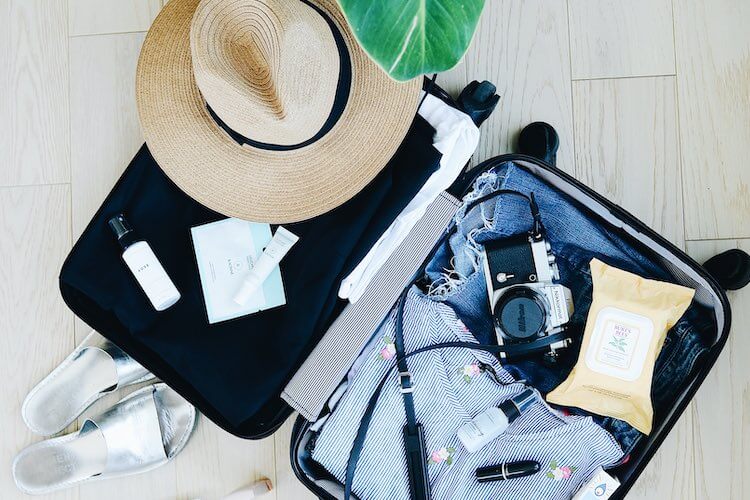 January 24, 2023 |
6 shares
Travelling carry-on only for short trips is a no brainer. Save money on your flights and time at the airport. What you need to bring depends on the type of adventure you're embarking on.
That said, when it comes to packing carry-on only these ten tips and tricks will always come in handy.
1) Pack for a week
Only ever attempt to pack a week's worth of clothes – even if you plan on going away for two. If you're going for longer than a week you can do laundry along the way.
Most hotels offer a laundry and dry cleaning service or you can pack some travel soap with you and do it the old fashioned way.
2) Wear it don't pack it
If you have any bulky items that you need to take, such as a thick jumper or a coat, wear them during check in.
You can take them off on the plane and this will free up a huge amount of space in your carry-on.
3) Pick a colour palette
Think about the key pieces that you want to take and edit your selection into a colour palette – such as greys, blues, black and white.
Each piece that you take with should go with all the other pieces. Interchangeable pieces add more value, as they can be worn as part of several different outfits.
If you take three tops, one pair of trousers and one pair of shorts that can all be worn together interchangeably, you potentially have six different outfits.
If however, the one pair of shorts you take are bright pink with polka dots and only go with one of the tops, your total number of outfits is four.
4) The art of layering
Layering is the easiest way to save space in your carry-on and ensure you have all situations covered. Five or six jersey basics take up the same amount of space as one chunky wool jumper.
Pack lightweight, versatile pieces such as cotton-jersey strap tops, short sleeve tees, long sleeve tees and lightweight knits.
Layering allows you to move between day and night seamlessly without having to go back to the hotel to change. Obviously this isn't going to do if you're trekking in the arctic.
5) Roll-up to maximise space
By rolling your clothes instead of folding them you instantly minimise wrinkles and maximise space. Compression travel bags are worth using if you really want to stuff it all in!
Avoid rolling delicates or silk shirts. Simply lay them flat on the bottom of your carry-on suitcase, one on top of the other.
6) Two or three pairs of shoes
You need two pairs of shoes for most trips – a pair of comfortable trainers and another pair of flats – sandals, espadrilles or boat shoes for example.
Wear your trainers or bulkiest shoes on the plane. Fold-up ballet pumps with flexible soles are great if you need an office-friendly shoe for business trips, you can fit them in your day bag too.
If you simply must have three pairs to choose from, a sandal with a thin sole can always slide in somewhere.
7) Glitz & glam
Evening wear doesn't need to take up a lot of space. The slip dress is on trend and rolls up so small you'll forget it's even there! Pick a silky slip dress for added luxe.
Packing a pair of heels takes up space, so if you can avoid it. Choose flat jewelled sandals with a thin sole and slip them into the front pocket of your carry-on bag.
8) Underwear & towel
Seven pairs of bikini briefs or thongs will take up barely any space at all. Pack a multi-strap t-shirt bra that is invisible under clothes and can be worn strapless or as a halter neck – great for summer looks and the bandeau trend.
If you're going camping or to a festival, a travel towel takes up minimal space and dries quickly.
9) Tissue paper to the rescue
It's not only overstuffing a suitcase that can damage your clothing. Empty spaces can also cause creasing and luggage mishaps.
Fill empty spaces with white tissue paper and put a towel over the top of everything once you have packed your carry-on.
10) Bits & bobs in the handbag
Any fashion queen will want to keep her carry-on exclusively reserved for clothes and shoes. All other bits and bobs can go in the other handbag allowed as part of the carry-on luggage allowance.
Paperbacks or not, packing actual real books is a Stone Age error. Get travel-savvy and invest in a kindle.
Either purchase travel-sized beauty products or buy some small containers for liquids and transfer your beauty products from home into them.