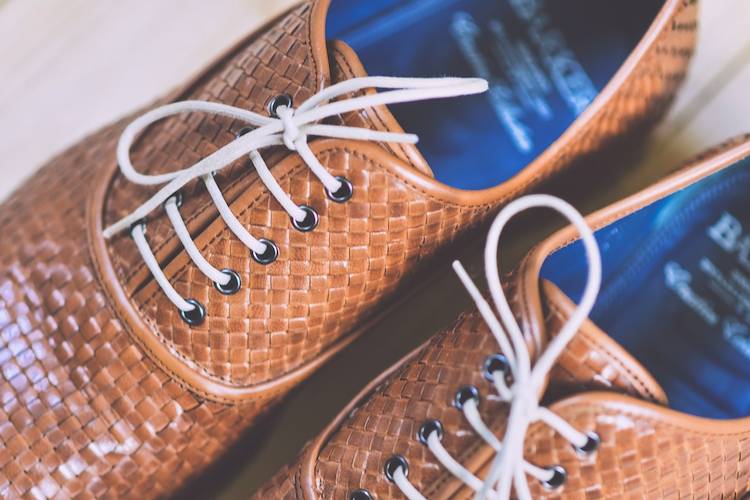 April 12, 2016 |
13 shares
Don't sweat it if you're not a shoe guy. There's no need to be over-excessive when it comes to shoes. In fact, keeping things minimalist in the shoe department can be liberating, but that's no excuse to stomp around in the same scuffed-up pair day in day out.
At the minimum every man needs three pairs of good quality shoes to be covered for all occasions and outfits.
A simple, fuss-free black lace-up (Oxford or Derby) for formal wear and smart casual looks is an essential, as is a pair of brown or tan leather loafers or brogues.
Desert boots, in sand or navy, are ideal for your off-duty look and super practical and comfy. A pair of Timberland boat shoes is a stylish addition for the sunnier months.
These are the 8 shoe styles for men that you need to know. Keep them pristine and polished and who knows where they will take you this year...
Oxfords
Oxfords, or Balmoral shoes (they originated in Scotland) are your classic dress shoe. They are recognisable by their closed front with shoelace eyelets underneath the vamp. The term Oxford is normally used when the shoe has a plain toecap. Leather Oxfords are the traditional shoe for a black tie event.
Derby Shoes
You can tell a Derby from an Oxford by the laces. Derby shoes have the shoelace eyelet tabs stitched on top of the vamp so that they are visible, whereas in an Oxford they are concealed. Derby shoes are a slightly more casual option than Oxfords and can be worn with denim.
Brogues
Brogues are lace-up shoes easily identified by the perforated patterns punched into the leather. There are 3 types of brogues – the wing tip (full brogues), semi-brogues (half brogues) and quarter brogues.
A wing tip brogue is recognisable by the W shape at the front of the shoe which the perforated pattern follows. Wing tips are the most formal brogue and the smartest option. Semi-brogues are characterised by a toecap filled with decorative perforations, wear semi-brogues if you want to dress-down a suit.
On quarter-brogues only the edge of the toecap is perforated, the centre of the toecap is plain, making for a much more casual shoe. Quarter brogues look great with chinos or denim. If you can afford to splurge, Grenson brogues are some of the best you can buy and are still handmade in England.
Chelsea Boots
Chelsea boots are close-fitting, ankle boots with an elastic side panel. They often have a loop or tab of fabric at the back of the boot making it easy for the boot to be pulled on.
Monk Strap shoes
Monk shoes are recognisable by the strap buckle fastening. Less formal than a lace-up but more formal than a slip-on.
Loafers
Loafers are slip-on shoes without laces or a buckle with a rounded front and a broad, flat heel and sometimes a tassel. Penny loafers are recognisable by the wide strip round the top. Loafers create a more casual look than lace-up dress shoes and are perfect for wearing with a suit in summer.
Boat Shoes
Comfy boat shoes or deck shoes are made from leather or canvas and slip-on and off easily. Boat shoes are not just for sailing; they are now one of the most stylish summer shoe styles a man can wear.
Water-repellant uppers and grippy white rubber soles feature (perfect for a boat). Traditionally-styled boat shoes have a 360 degree lacing system with feature eyelets. Take note - boat shoes are designed to be worn WITHOUT socks.
Desert Boots
Desert boots are a lightweight boot with suede uppers and crepe rubber soles. Desert boots are a variation of chukka boots and were originally worn by British forces in World War II as part of the Western Desert Campaign.