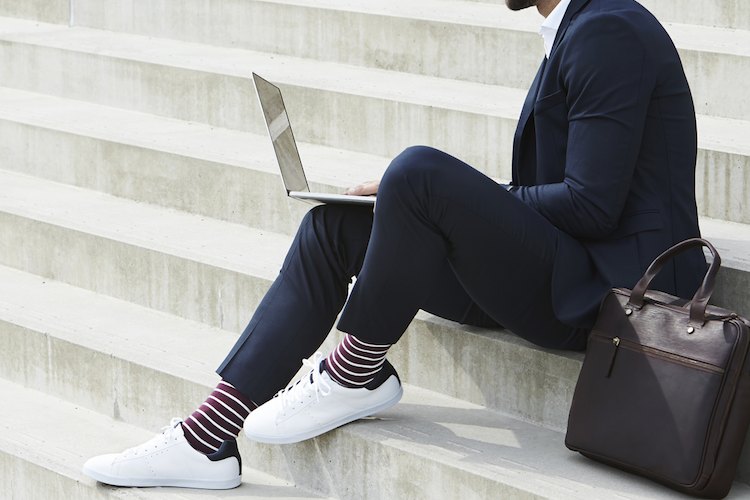 October 23, 2022 |
7 shares
Every man looks better in a suit, but it's not always appropriate to pull out the full 'tops and tails' look on a day to day basis.
Thankfully, there are plenty of ways to dress down a suit, so you can make the most of the smart, flattering lines of your suit trousers and jacket, without looking like you're on your way to a court appearance. Read on for our tips on how to wear a suit casually...
Add some knitwear
This is the latest trend in menswear, and it is just starting to trickle down from the catwalk to the high street. Drawing on a long-established Scandinavian trend, it basically involves wearing a sweater or cardigan under your suit jacket, with or without a shirt underneath.
Slim-fitting sweaters are best for the office, as you can comfortably layer them under your jacket. But for a fashion-forward look, choose a chunky cable-knit sweater or cardi and pair with suit trousers, boots and a smart overcoat.
Get the perfect cut
When you're dressing down a suit, simplicity is key – you want a tailored fit so dressed down doesn't turn into mess when you ditch some of the more formal accessories.
Check out our suit fit guide for more details, but generally opt for the slimmest cut you can get away with and opt for a shorter trouser length if you're looking to pair with trainers.
Try and steer away from black (and especially pinstripes), instead choose blue or light grey to keep the look sharp while still casual enough to wear out of the office. No one wants to see a badly fitting suit so the cut is even more crucial when you're dressing it down.
Change your shoes
Nothing says 'casual' like a pair of trainers, but if you're worried about looking too much like Paul McCartney, there are plenty of suit-friendly alternatives.
Desert boots look great with suit trousers, while tough boots such as Timberlands or Doc Martens add a touch of much-needed anarchy to a classic suit. However, just as long as you stay away from highly-polished suit shoes, you'll be fine.
Wear a t-shirt
Tinie Tempah, David Beckham and Ryan Gosling are all fans of this look, which is incredibly easy to pull off. Just substitute your shirt for a t-shirt and you're good to go!
Of course, there are a few rules when it comes to getting this right. Always wear a plain-coloured tee (patterned t-shirts are so 2001), ideally in white or in a colour that matches your suit. And avoid the deep V-neck as far as possible – a subtle V-neck is fine but no one needs to see your chest hair, or worse, your cleavage.
Invest in accessories
Dressing down a suit is all in the details - the removal of a tie, the addition of a brightly-coloured belt, or even something as simple as swapping your suit jacket for a bomber.
The right accessories can change the entire vibe of your outfit, so have some fun with them. Wear a retro Casio instead of your usual leather-strapped gentleman's watch, add a hat to your ensemble, or carry a rucksack rather than a briefcase.
Our Top Tips On How To Dress Down A Suit
Adding some knitwear is one of the easiest ways to dress down a suit. All you have to do is layer a jumper over your shirt for a more casual office outfit during the colder months.


By changing your standard Oxford shoes or brogues for a pair of chukka boots (or white trainers outside of the office), you can make the suited and booted look more casual whatever the season.


For a fashion-forward look on date nights, swap your shirt for a plain crew neck tee and follow the likes of David Beckham and Ryan Gosling with this dressing down outfit trick.


Accessories can instantly change the feel of your outfit. Try a brightly coloured belt (such as red) teamed up with a grey suit, or use a Sandqvist backpack instead of a laptop bag.