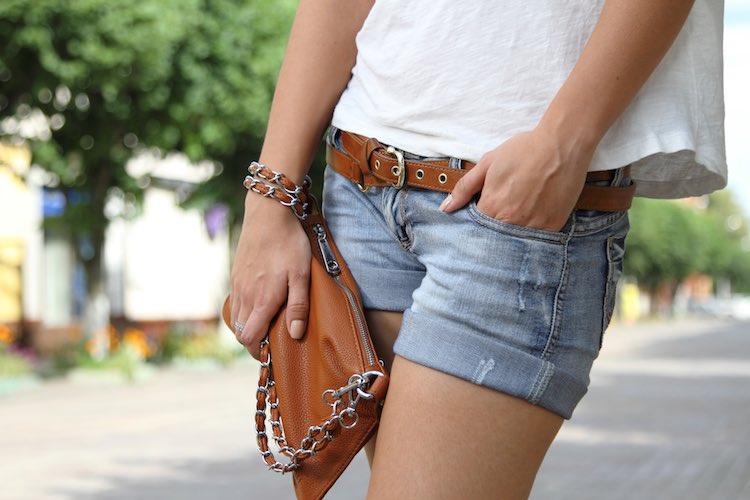 August 22, 2023 |
12 shares
Nothing says summer like denim shorts. As versatile as they are stylish, they are synonymous with festivals, trips to the beach and lazy days in the park.
And the best thing about them is that they never go out of fashion – those ripped Daisy Dukes that you bought ten years ago will still look fresh today, as long as you pair it with the right accessories.
Wearing denim shorts is easy. The challenge is knowing what to wear them with. So we've put together some tips on how to wear denim shorts all summer long...
Wearing Denim Shorts With a Hawaiian Shirt
SHOP THE LOOK: Hawaiian Prints | Glamorous Denim Shorts | Flatform Sandals
Every summer brings with it a quirky trend that no one saw coming. And this year, it's the Hawaiian shirt. Just the right side of tacky, these brightly coloured shirts are loud and proud, so they need to be paired with a neutral, laid-back outfit. Denim shorts and jeans are pretty much the only options.
Wear yours open and billowing with denim shorts and a swimsuit for a stylish beach cover-up. Away from the beach, wear it tucked into a pair of high-waisted denim shorts with a pair of flatforms and you'll be sure to stand out from the crowd.
Wearing Denim Shorts With Crochet
SHOP THE LOOK: Crochet Clothing | Blue Denim Shorts | Carvela Sandals
Coachella was full of crochet this year, from embroidered crochet bralettes to wide-gauge waistcoats. Celebrity fans include Vanessa Hudgens (who always wears crochet with her trusty denim shorts), Jourdan Dunn, and Emma Roberts – who all wore it with their favourite ripped jean shorts.
Crochet looks amazing against denim and it is such an easy look to pull off. All you need is an artistically ripped pair of jean shorts, vintage crochet and the perfect Instagram filter. Complete the boho vibe with a fringed bag, loose hair and bare feet.
Wearing Denim Shorts With Whites
SHOP THE LOOK: Ralph Lauren Polos | Belts | Michael Kors Toe-Post Sandals
You can tell Wimbledon is approaching when the stores suddenly fill up with tennis whites. From bright white plimsolls to gleaming polos and crisp white shirts, there's no shortage of options if you want to take on fashion's most high maintenance trend.
Denim and white is at the same time both casual and sophisticated – the sort of combination you'd wear to a fancy BBQ or an afternoon of punting.
Choose a light wash denim, and keep the rest of your colour palate to a minimum – a tan belt and matching sandals is all you need to finish off this look, although heeled ankle boots can also work.
Wearing Denim Shorts With a Bodysuit
SHOP THE LOOK: Bodysuits | Vans Trainers | High Waist Denim Shorts
American Apparel might be gone, but its legacy lives on across the High Street. Plain coloured bodysuits have rapidly become a must-have basic for a whole generation of hipsters.
They can be layered under chiffon or crochet, or worn 90s style à la Kendall Jenner, with high waisted denim shorts and a simple choker.
Wearing Denim Shorts With a Gingham Shirt
SHOP THE LOOK: Gingham Shirts | Black Denim Shorts | Vero Moda Boots
We've said it before and we'll say it again – gingham is the new plaid. Whether you opt for red and white checks, blue and white checks or black and white checks, there will be no getting away from the trend this summer.
Luckily, gingham is the perfect match for denim of any description – black denim, acid-washed denim or all-American blue denim. Choose a peasant-style top or a classic gingham shirt tied at the waist and wear with heels or cowboy boots for that Americana feeling.
Our Top Tips On How To Wear Denim Shorts
Style denim shorts over your bikini at the beach for easy cover-up options. Add a Hawaiian shirt to complete the look both on and off the beach.


Crotchet tops look great worn with distressed denim shorts for a boho festival look and can be easily accessorized with a fringed bag.


If you're wearing denim shorts to a BBQ, opt for a light wash denim and team up with a white polo shirt. Keep the rest of the outfit simple with tan sandals plus a matching belt.


High-waisted denim shorts and a black bodysuit are a match made in heaven for downtime days. Style with canvas Vans trainers or flatforms for a laidback outfit that'll see you through the summer.


For an all-American look, wear blue or black denim Daisy Dukes with a gingham shirt. Complete the look with suede ankle boots sans socks.